The 1959 NFL draft was full of Famous Lasts. It was last draft that was 30 rounds long. (It was reduced to 20 the next year.) It was the last draft of Bert Bell's commissionership. (He dropped dead at an Eagles-Steelers game the following October.) It was the last draft — for a decade, anyway — that didn't have the shadow of the rival AFL hanging over it. (Though the CFL siphoned off some talent in the '50s.)  And it was the last, first and only draft in which one team — the Los Angeles Rams — picked 12 players before another team — the Pittsburgh Steelers — picked any.
Think about the Rams/Steelers thing for a moment. It would be almost impossible, after all, for it to happen today. A general manager would have to pull a (modified) Mike Ditka and trade away his entire draft, while another accumulated — through deals, compensatory picks, what have you — five extra selections. Good luck with that.
It was unusual enough for 1959, even with each club getting 30 picks. Everything just came together, perfect-storm-like. You had a Rams team, with a GM named Pete Rozelle, taking the stockpiling of selections to a new level; and you had a a Steelers team, with wheeler-dealer coach Buddy Parker pulling the strings, trading picks for veterans at an unprecedented rate (one that wouldn't be duplicated until George Allen and his Over the Hill Gang invaded Washington).
When the pre-draft dust settled, the Rams had a dozen selections in the first seven rounds — all in the first 80 picks. (There were only 12 franchises then, remember.) The Steelers, meanwhile, had traded their first seven choices and didn't pick until midway through Round 8, when they took Purdue running back Tom Barnett.
This, as you can imagine, caused something of a stir. Chicago Cardinals GM Walter Wolfner, not a big fan of swapping the Future for the Present to begin with, compared what the Steelers did to "borrowing money from a loan shark to pay somebody else.
"I am bitterly opposed to trading away draft choices because it defeats the purpose of the draft, which is supposed to equalize strength in the league," he said. "By trading [for additional] draft choices, strong teams can afford to draft 'redshirts,' and in that way the strong get stronger and the weak weaker."
(FYI: Redshirts were players who had been in college for four years (which made them eligible for the draft) but still had some eligibility left. They also were called "futures" because, even after being selected, they usually returned to school for their final season before turning pro. The better NFL clubs — clubs that might not be as desperate for immediate help — could use more of their picks on these players . . . and perhaps steal a guy or two they might never have had a shot at.)
Not everyone agreed with Wolfner, though. To other GMs, an asset — be it a player or a draft choice — was an asset, to be used as a team saw fit. As Rozelle put it, the swapping of veterans for picks "has helped us and we believe has been helpful to other clubs. No one can say the Eagles didn't help themselves by getting [quarterback Norm] Van Brocklin [for, among other things, a No. 1]. Some of the clubs who do not have the budgets for scouting and cannot utilize their choices to the extent others can, through astute trading oft times help themselves."
The Rams invested heavily in their player-personnel department. In fact, they were trailblazers in that area. Art Rooney's Steelers, on the other hand, were more of a mom-and-pop operation, though Parker was trying to change that. Buddy, who merely wanted to turn around a habitually losing franchise as quickly as possible, had no misgivings about the extreme lengths he was going to. "There is no adverse effect on the public," he said, "– as long as we win."
And the thing is, Parker was making progress. His second Steelers team, in 1958, had gone 7-4-1 — the second-best record in franchise history. As for the Rams, their draft-driven rebuild was nearly complete. Or so they thought. They'd finished a game out of first in the Western Conference in '58 and, with all the high picks in '59, were determined to overtake the title-winning Colts.
Anyway, here's how it all unfolded, how the Rams wound up with 12 selections in the first seven rounds and the Steelers with none:
RAMS PICKS
● 1 (2nd overall) — From the Eagles for QB Norm Van Brocklin. Drafted: RB Dick Bass. Bass still had a year of eligibility at Pacific and didn't join the Rams until 1960.
● 1 (9) — Own pick. Drafted: T-DT Paul Dickson.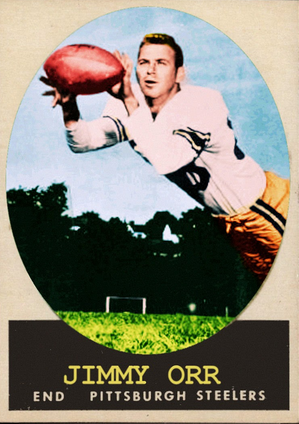 ● 2 (16) — From the Redskins for QB Rudy Bukich (who Washington waived before the end of the '58 season). Drafted: QB Buddy Humphrey.
● 2 (20) — Own pick. Drafted: HB Don Brown.
● 3 (31) — Own pick. Drafted: FB Larry Hickman.
● 3 (33) — From the Steelers for WR Jimmy Orr and DE Billy Ray Smith.  Drafted: DB Tom Franckhauser.
● 4 (43) — Own pick. Drafted: FB Blanche Martin.
● 4 (44) — From the Bears for DB Jesse Whittenton and WR Bob Carey. The Rams were supposed to get OT Kline Gilbert, but he decided to retire. So they settled for a fourth-rounder (which would be a mid-second-rounder now). Drafted: LB John Tracey.
● 4 (45) — From the Steelers for FB Tank Younger. Drafted: DE Bob Reifsnyder.
● 5 (56) — Own pick. Drafted: E John Lands.
● 6 (69) — Own pick. Drafted: C Dave Painter.
● 7 (80) — Own pick. Drafted: DB Eddie Meador.
STEELERS PICKS
1 (8) — To the 49ers for QB Earl Morrall and OG Mike Sandusky. 49ers drafted: OT Dan James.
2 (19) — To the Lions for Hall of Fame QB Bobby Layne. Lions drafted: OG Mike Rabold.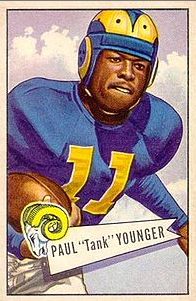 3 (33) — To the Rams for WR Jimmy Orr and DE Billy Ray Smith. Rams drafted: DB Tom Franckhauser.
4 (45) — To the Rams for FB Tank Younger. Rams drafted: DE Bob Reifsnyder.
5 (55) — To the Packers for HB Dick Christy. Packers drafted: OG Andy Cvercko.
6 (67) — To the Lions for HB Tom Tracy. Lions drafted: DT Dick Guesman.
7 (79) — To the Redskins for LB Ralph Felton. Redskins drafted: QB Mitch Ogiego.
(Note: If a player doesn't have any stats to click on, it's because he never played in the NFL or AFL.)
Layne, Orr and Tracy were terrific additions to the Steelers offense. The Rams' biggest "hits" in the draft were Bass, a two-time 1,000-yard rusher (and three-time Pro Bowler), and Meador, who intercepted 46 passes (and went to six Pro Bowls). What's more, two months later, Rozelle had enough of a surplus to swap nine players for Ollie Matson, the Cardinals' Hall of Fame back. Brown (20th pick), Hickman (31) and Tracey (44) were included in the deal.
But the Steelers and Rams both went backward in '59 — Pittsburgh to 6-5-1, L.A. to a ghastly 2-10 (which cost coach Sid Gillman his job). Not long after that, Rozelle was running the league from the commissioner's office in New York, and Parker was busily trading away even more draft picks. In 1960 he had only two selections in the first six rounds.
It's one of the more fascinating aspects of the early NFL: the extremes. There simply wasn't the parity that exists today — not nearly. Some franchises had money to spend, some had a lot less money to spend. The difference between the best teams and the worst teams was often much greater. And, of course, one club could make 12 draft picks before another club could make even one. Strange, but true.
Source: pro-football-reference.com, prosportstransactions.com, Pittsburgh Press, Pittsburgh Post-Gazette.