It's doubtful anybody in the Packers locker room Sunday will be shouting, "Let's win this one for Curly!" But if Green Bay can't stop the streaking Patriots, Bill Belichick will be one win away from tying Curly Lambeau on the all-time coaching victories list.
Lambeau had 229, good for fourth place, in 33 seasons (1921-53). Belichick has 227 in 20 much longer seasons. It isn't an entirely fair fight, 12-game schedules vs. 16-game schedules, but that's the NFL record book for you. Players and coaches from bygone days are just sheep to the slaughter.
Lambeau, I'll merely point out, won six NFL titles, including three in a row (1929-31) in the years before championship games were staged. Belichick has won three titles, two of them back-to-back (2003-04). Will much be made of this when Bill blows by Curly? You'd like to think so, but I wouldn't count on it. The league — and its chroniclers — tend to live in the here and now.
What's interesting is that nobody has passed Curly — or even come close — in three decades, since the Dolphins' Don Shula won No. 230 in 1984 en route to his record total of 347. That, by the way, was Shula's last Super Bowl season, his sixth. If the Patriots get to the Super Bowl this year, it'll be Belichick's sixth as a head coach as well.
In a meat-grinder profession like this, it's pretty clear what you have to do to rack up that many victories: start early and try to keep from burning out. Shula got his first head-coaching gig at 33. Halas (324) and Lambeau were even younger because they were player-coaches. Tom Landry (270) was 36 in his rookie season with the expansion Cowboys. Belichick, meanwhile, was 39 when the Browns gave him his first shot.
It's reasonable to wonder whether it'll be another three decades, if not longer, before the next Belichick stirs Lambeau's ghost. After all, the job, which has always taken a tremendous toll, is unrelenting now — 24/7/365. It simply isn't conducive to a lengthy career, the kind you'd need to win 229 games. Then, too, coaches' salaries have improved enough to allow them to retire early and duck into TV or administrative jobs (see Tony Dungy, Bill Cowher, Mike Holmgren, etc.). As Bruce Ogilvie, the famed sports psychologist, put it, "When you are discussing a successful coach, you are not necessarily drawing a profile of an entirely healthy person."
Some would say: And that goes double for Belichick, who maintains a level of secrecy in Foxborough that falls somewhere between George Allen and a CIA black site. The difference with him is that it's in his DNA. His father, Steve, was a longtime college assistant, and young Bill spent hour after hour in meeting rooms, the smell of chalk in the air. It's not so much that he's become a coach; he's always, in a sense, been a coach. That, I'm convinced, helps explain his longevity — that and having a quarterback like Tom Brady fall in his lap.
But back to "The Belgian," as Lambeau was called. A player once told me that, during the offseason, when Curly was driving around Wisconsin making speeches, he'd always stop at the local sporting goods store and check out its selection of footballs. If he found one that felt a little slimmer than the others, a little more suited to passing — especially in the era of the fat ball — he'd buy it to use in games. (And fans think today's coaches are detail-oriented.)
One more Curly story. After the 1932 season, the Packers' barnstorming tour took them all the way to Hawaii, where they played a couple of games against local teams. On the trip there — via the SS Mariposa — two players got into an argument over a Young Lovely they'd met on the ship, a former Miss California named Billie Copeland.
Lambeau — worried that the next words he'd hear would be "Man overboard!" — quickly defused the situation. "If that's the way you're going to behave," he said, "then neither of you can talk to her."
We pause now for dramatic effect — just as the early Packer who told me this tale did. The punch line:
"That woman," he said, "became Mrs. Lambeau No. 2."
The second of three Mrs. Lambeaus, for those of you scoring at home. The Belgian loved the ladies.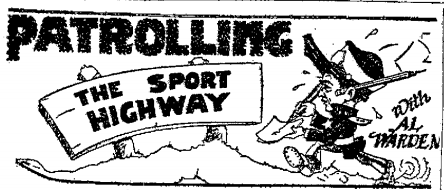 Source: pro-football-reference.com