As you may already know, one of my hobbies is gathering photos of early NFL players plying their trade without a helmet. I do this because (a.) they were nuts;  (b.) it serves as reminder of how far the game has come.
Back in November I posted a shot of Link Lyman, the Bears' Hall of Fame tackle, standing bareheaded on a goal line play. Today — thanks, once again, to The New York Times — we have Redskins tackle Jim Barber (15) running around, sans headgear, against the Giants in 1939. (Barber, by the way, was a first-team all-pro that season.)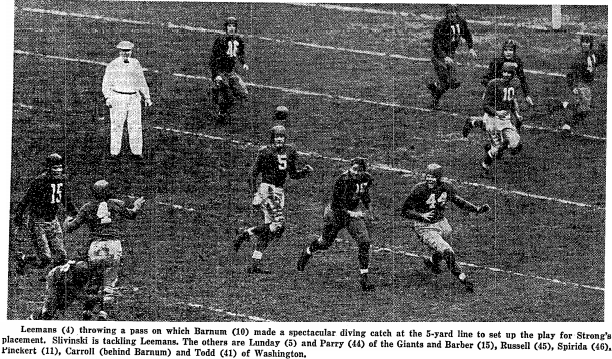 What I'm not sure of is whether Barber played without a helmet all the time or just occasionally. Some guys would shed their headgear if it was a really hot day — clearly not the case here (it was December 3) — or if the action on the field got particularly contentious.
The legendary Ernie Nevers was famous for the latter. It was his way of saying, "All righty, then. Let's get down to business!"