There isn't much in the NFL record book that dates to the 1920s — as far as individual marks go, especially. Ernie Nevers' six touchdowns (since tied) and 40 points (still unmatched) in a single game survive, but not a whole lot else. It's just a long time ago, you know? Besides, the league didn't start keeping official statistics until 1932. Any record before that got grandfathered into the book, so to speak.
So I was happy to receive an email the other day from Gary Selby, who's come across a potentially intriguing piece of history. Gary mentioned the item in my book, The National Forgotten League, about the Bears' Joe Zeller possibly intercepting six passes in a game against the Eagles in the '30s — two more than the current record. I say "possibly" because it happened before the NFL kept track of individual INTs (and before newspapers made much note of them in their game stories). So I wasn't able to confirm Zeller's feat; all I could do was throw it out there as a Great Big Maybe.
My source was the 1935 edition of Who's Who in Major League Football, a kind of media guide published by the league. Zeller's entry read like this: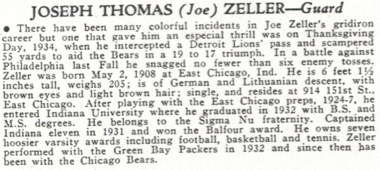 Selby, however, had this to add to the discussion: "Last summer, while doing some research for the Pro Football Researcher's Association, I found an interesting article in the Milwaukee Sentinel. It reported that Milton Romney of the Racine Legion intercepted six passes against the Minneapolis Marines on Dec. 2, 1923. It was the last game of the season for both teams."
Here's the first paragraph of the article Selby was talking about:
The two franchises are long gone, of course, but they were indeed members of the NFL in Year 4. As an added bonus, Milton Romney, otherwise known as Mitt, is related to the Mitt Romney who ran for president in 2008. Cousin Milt broke in with Racine before spending the bulk of his six-year pro career as a quarterback for George Halas' Bears.
Anyway, in this case — unlike Zeller's — we have at least a bit of corroborating evidence. The thing is, it's hard to know how reliable that bit is. After all, there often was confusion in the early days about who did what on the field. Jersey numbers weren't as visible then as they are now, and dirt and mud could make players even harder to identify. Then, too, there was no television coverage . . . and thus, no instant replay to help a sportswriter confirm what he thought he saw. I've researched games in which three different players were given credit for a touchdown, depending on which paper you read.
The Milwaukee Journal's account of the game notes only one Romney pick — and doesn't say anything about any others. "On the first play after the kickoff," it reports, "Romney intercepted a forward [pass] on Minneapolis' 35-yard line and Rollie Williams got away for a touchdown on the next play." The score increased the Racine lead to 17-0.
So who knows, really? As Selby pointed out, it was the season finale for the two teams, and some strange things have happened in these games over the decades. In 1937, for instance, the Cardinals' Gus Tinsley caught a pass in the early December darkness and went 97 yards for a touchdown before the crowd — and many of the Bears — realized he had the ball. (It was, at the time, the longest TD catch in NFL history.)
Still, Romney's "feat" is fun to think about. And let's face it, if a player was ever going to rack up six picks in a game, it was in the '20s, when the ball was fatter and harder to throw and INTs were epidemic. Consider: Six interceptions would have been almost enough to lead the league last season. (Lions safety Glover Quin was tops with seven.)
Sources: Google newspapers, pro-football-reference.com.