Rarely do two things of historical significance happen in the same game. But it's great when they do — such as in the Browns' 42-21 win over the Bears on Nov. 25, 1951.
For starters, Cleveland back Dub Jones scored six touchdowns, tying the record he now shares with Ernie Nevers (1929) and Gale Sayers (1965). Even more amazing: He scored the last five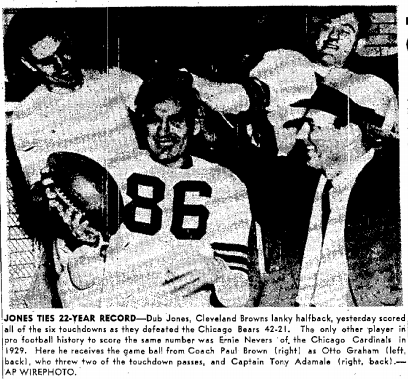 times he touched the ball. While Jones was running amok, though, the teams were racking up a combined 37 penalties for 374 yards, two more records. The normally disciplined Browns were hit with 209 yards (yet another mark that has since been broken), the typically rowdy Bears 165. Sounds like the guys might have gotten a little, uh, vindictive.
In his story for The Plain Dealer, Harold Sauerbrei wrote:
It is merely in strict adherence to good reporting, not the intention to question the officiating, to record that the Browns were assessed 299 [sic] yards for 21 "infractions."

In one series of downs with the Bears on the offensive, the Browns three times were charged with 15 yards for a personal foul. Two of them nullified intercepted passes, the second of which was returned 94 yards to an apparent touchdown by Don Shula.
Wait, that's a third thing of historical significance that happened in the game. Shula had a 94-yard TD wiped out that, had it stood, would have been the only score of his NFL career.
No wonder his Colts and Dolphins clubs were so penalty-averse.