In case you missed last week's annotated play-by-play of the 1940 NFL title game — Bears 73, Redskins nil — here's another shot at it. Since the game was played Dec. 8, I thought I'd zero in on another aspect of it today: a block thrown by Chicago's George Wilson on the second play from scrimmage.
If Wilson is remembered for anything in pro football, it's probably for coaching the Lions to their last championship in 1957. (He was also the first coach of the Dolphins and, in his playing days, a fine two-way end for George Halas' Monsters of the Midway in the '40s.)
But what Wilson should be remembered for, above all, is the aforementioned block. It came on a 68-yard touchdown run by fullback Bill Osmanski that got the Bears off to a quick 7-0 lead (and foreshadowed the avalanche of points to come). Osmanski did a nice job of bouncing outside and into the clear, but it was Wilson's downfield boom-lowering that turned it into walk-in (had his teammate so chosen). George wiped out the last two Redskins pursuers — Ed Justice (13) and Jimmy Johnston (31) — with one well-placed shoulder:
Here's just the clip of The Block, so it's easier to watch it over . . . and over . . . and over. No wonder Halas called it the greatest he'd ever seen. And let's not forget: Without it, Osmanski might not have scored — and the Bears might have won only 66-0.
Finally, this is as close as I can come to a freeze frame: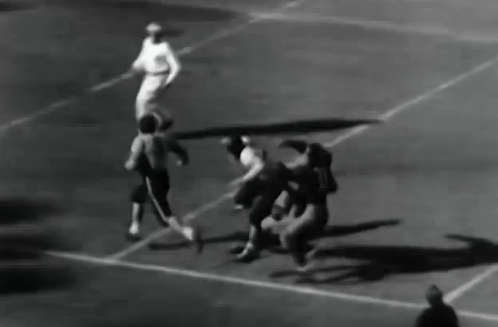 Source: pro-football-reference.com