Since it's Ryder Cup Sunday, why don't we explore the following question:
Which NFL players, past or present, have been the best golfers?
Among current players, the consensus seems to be that the Cowboys' Tony Romo — "with a handicap that's been as low as plus-3.3," according to Golf Digest — is Numero Uno (though two other quarterbacks, the Broncos' Peyton Manning and Steelers' Ben Roethlisberger, are deemed quite capable). Romo, you may recall, partnered with Tiger Woods in the 2012 AT&T Pebble Beach National Pro-Am.
A bit farther back, Al Del Greco, the Titans kicker, shot a 7-under 65 in the final round of the 2000 American Century Celebrity Golf Championship to win by three over former Dolphins safety Dick Anderson. Yeah, you might say Al could play a little.
But I'm going to start with the guy who finished third behind Del Greco and Anderson: John Brodie, erstwhile star quarterback for the 49ers. For starters, Brodie, a month shy of his 65th birthday, was much older than Al (38) and Dick (54). Aside from that, though, he was probably the best golfer the NFL has seen.
In his early years with the Niners, Brodie played in the occasional PGA Tour event during the offseason and even qualified once for the U.S. Open. In one pro tournament, the 1960 Yorba Linda (Calif.) Open, he had the low second round, a 5-under 67, which put him ahead of a couple of fellows named Arnold Palmer and Billy Casper. Alas, he faded the last two days and ended up taking home a check for . . . $112.50. But hey, he still finished tied with five players who had won or would win majors: Jack Burke (1956 Masters, '56 PGA), Tommy Bolt ('58 U.S. Open), Dow Finsterwald ('58 PGA), Art Wall ('59 Masters) and Tony Lema ('64 British Open).
Here, for your amusement, is Brodie's agate line in the newspaper ("winnings" and all):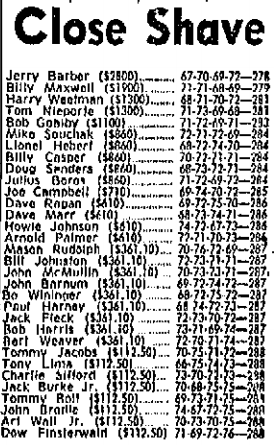 After 11 seasons as an analyst on NBC's NFL broadcasts, Brodie got serious about golf again and joined the Senior (now the Champions) Tour. He finally broke through in his 158th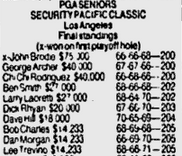 tournament, beating Chi Chi Rodriguez and 1969 Masters champ George Archer in a playoff to take the 1991 Security Pacific Senior Classic.
"Being able to play a game of this competitive level at over 50 years old is an even better feeling [than winning football games gave him]," he said after tapping in his winning birdie. "I enjoyed broadcasting, but I don't think I'll have too many people come up to me and say, 'Why did you quit?'"
Three other golfing NFLers of note:
● Kyle Rote — Rote, the first pick in the 1951 draft out of SMU, could do just about anything. Before he even played for the New York Giants, he hit .348 in 66 at bats (with seven homers) for the Corpus Christi Aces of the Gulf Coast League. Midway through his NFL career, he moved from running back to wide receiver — something nobody does anymore — and had some nice seasons, catching 10 touchdown passes in 1960.
Rote was a terrific golfer, too. In June of '51, before reporting to the Giants' training camp as a rookie, he competed in a celebrity tournament in Washington, D.C. This is from The Sporting News:
"Rote was placed in the football division and easily took that prize with rounds of 75 and 70. There were 15 pros in the event, and Kyle's total would have ranked seventh among them. His round of 70 was the best for the entire event except for a 69 shot by Cary Middlecoff."
Middlecoff, of course, is a Hall of Famer who won two U.S. Opens (1949, '56) and a Masters ('55).
● Joe Maniaci — It's hard to say how Maniaci, a running back with the Bears in the '30s and '40s, compared to the others, but his golf exploits did get noticed. In 1939 this brief item ran in newspapers across the country: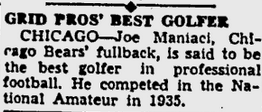 Joe once said he picked up the sport because his brother Sam, who played football at Columbia, was pretty good at it, "and I just have the idea in my head I can beat him."
"I became seriously interested in golf on the Pacific Coast. [The Bears] were out there to play a football game [against] the National [Football] League All-Stars. Jimmy Thomson and several other [pro] golfers were staying at the same hotel. Somehow, I outdrove Thomson a lot and was ahead of him for 14 holes in a match we got up one day. [Note: This is the same Thomson who finished second in the 1935 U.S. Open and '36 PGA and was one of the biggest hitters in the game.]

"Thomson advised me: 'If I were you, I'd take this game seriously.' I've been hitting drives from 240 to 260 yards. I have broken four driver club heads without hitting the ground in getting power into my tee shots. Harry Cooper [another famed pro] told me that he'd like to tutor me in Chicago, said I'd make a pretty good amateur golfer."
Maniaci must have added some distance to his tee shots, because this ran in Hugh Fullerton's Associated Press column in 1944:
"Lt. Joe Maniaci . . . won the officers' and chiefs' golf tournament at the Bainbridge Naval Training Center, shooting a 77. Joe had a 335-yard drive on one hole and didn't fumble once."
● Joe Namath — OK, the Jets' legendary quarterback wasn't nearly as good with the sticks as Brodie, Rote and Maniaci, but he did give us one Memorable Golf Moment. Playing in an NFL/MLB event in Puerto Rico in 1973, he "overslept" and kept his partner, baseball great Willie Mays, waiting on the first tee for 40 minutes.
Willie was pissed — and threatened to walk out until he was repaired with Cardinals running back Donny Anderson. Broadway Joe wound up playing with Pirates pitcher Steve Blass.
"I don't give a damn who it is," Mays said. "I warmed up and was ready to play. My partner ought to be ready, too."
The classic headline:

Namath's apology rang a little hollow. After all, AP reported, the day before he'd "kept his partners — John Meyers, publisher of Sports Illustrated; Joseph Schroeder, clothing manufacturer, and columnist Buddy Martin of Gannett newspapers — waiting for close to two hours in the preliminary pro-am."
Joe, Joe, Joe. Will you never learn? (Apparently not.)
Enjoy the golf today. When you're not watching football, that is.