You won't find Steve Pelluer's name on any All-Time Greatest Quarterback lists. He was 9-20-1 as a starter with the Cowboys and Chiefs in the late '80s and had a career passer rating of 71.6. When Tom Landry's Hall of Fame career came to an ignominious end in 1988, Pelluer was his QB.
Steve did have a few nice moments, though. In fact, on this day in 1986, he played — for my money, at least – one of the most amazing games by a quarterback the NFL has seen. He didn't do this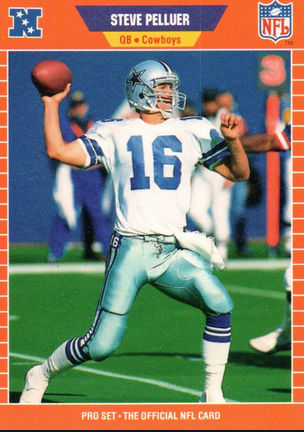 by throwing for a bunch of yards or touchdowns, either; he did it by surviving. Even though the Chargers sacked him 11 times (one off the record) for 93 yards, he didn't throw a single interception, completing 18 of 33 passes for 246 yards and a touchdown.
But here's the best part: In the late going, he took Dallas down the field, 61 yards in four plays, for the deciding score in a 24-21 victory — and did the honors himself by running two yards around right end. I ask you: How many QBs in pro football history have been more resolute than Pelluer was that afternoon in San Diego?
Twice, he was sacked on back-to-back plays. Another time, he was flushed from the pocket — such as it was — and managed to pick up a couple of yards (thus avoiding sack No. 12). Another time, Chargers defensive end Earl Wilson roughed him for a 15-yard penalty. But Pelluer never flinched, despite spending much of the game with rookie Leslie O'Neal (five sacks for 43 yards), the future Pro Bowl pass rusher, on top of him. His 11 sackings:
1. First quarter, 2nd and 7, Dallas 25 — Loss of 10 (sacked by O'Neal).
2. Second quarter, 1st and 10, Dallas 27 — Loss of 8 (NT Chuck Ehin).
3. Second quarter, 3rd and 6, Dallas 11 — Loss of 8 (O'Neal). Fumble (Pelluer recovered).
4. Second quarter, 2nd and 16, Dallas 38 — Loss of 12 (O'Neal). Fumble (OT Mark Tuinei recovered).
5. Second quarter, 1st and 10, Dallas 39 — Loss of 11 (DE Lee Williams).
6. Third quarter, 2nd and 4, San Diego 35 — Loss of 7 (Ehin).
7. Third quarter, 3rd and 11, Dallas 42 — Loss of 7 (DE Dee Hardison).
8. Third quarter, 1st and 10, Dallas 45 — Loss of 6 (Williams and LB Gary Plummer).
9. Fourth quarter, 1st and 10, San Diego 40 — Loss of 5 (O'Neal).
10. Fourth quarter, 3rd and 15, San Diego 45 — Loss of 11 (Williams).
11. Fourth quarter, 2nd and 8, San Diego 42 — Loss of 8 (O'Neal).
After that last sack, which forced a punt, the Cowboys trailed 21-17 with 4:18 left. They got the ball back at the 2:09 mark, and then this happened:

Completion, completion, completion — followed by a quarterback keeper for a TD. How's that for a finish to an 11-sack game?
Two weeks later, the Eagles' Randall Cunningham was sacked 12 times in a 33-27 overtime win over the Raiders. He, too, ran for the deciding score. So why aren't I writing about that performance? Because (a.) Cunningham threw a pick in the last two minutes of regulation to enable the Raiders to send it into OT, and (b.) because it was the Philadelphia defense that ultimately won the game, forcing a fumble that strong safety Andre Waters returned to the Raiders 4. (Why the Eagles punched it in from there instead of kicking a field goal, only Buddy Ryan knows.)
Usually when a team's quarterback(s) get sacked 11 or more times, the result is pretty predictable. Since 1960, clubs are 2-28 in those situations.
But Steve Pelluer bucked the odds — and for that, Pro Football Daly salutes him.
(Which isn't to say he was totally unaffected by the San Diego stampede. "On one play," he said afterward, "I handed off to the wrong guy. That was a play after I got hit. It was that kind of rush.")
Source: pro-football-reference.com