Gatorade, Stokely-Van Camp's answer to salt pills, celebrates its 50th anniversary this year. Indeed, the company jumped the gun in late December with an ad we're sure to get sick of before it runs its course, just as we've tired of Gatorade dunks like this one:
That, by the way, is supposedly the first Gatorade dunk in sports history — the Giants' Jim Burt showering coach Bill Parcells near the end of a 37-13 wipeout of the Redskins on Oct. 28, 1984. (It just dawned on me. I covered that game.) But, really, who can say for sure? Maybe it's just the first televised Gatorade dunk in sports history.
Gatorade has become so ubiquitous that it's hard to remember the world without it. So I thought I'd amuse you with this ad, which ran in newspapers in 1928, for the Super Sports Drink of the Red Grange Era. Postum, it was called (for reasons that have been lost to the ages).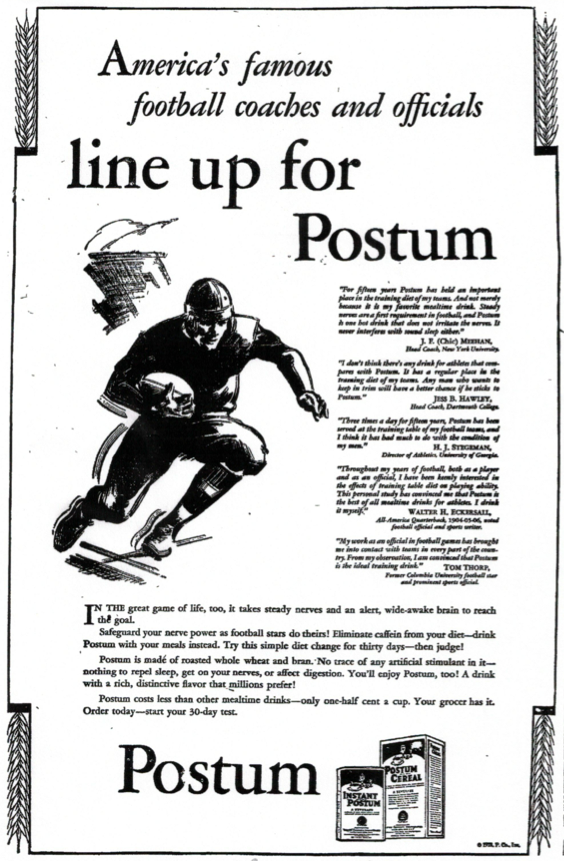 Chick Meehan, the football coach at NYU, supplied this testimonial: "For 15 years Postum has held an important place in the training diet of my teams. And not merely because it is my favorite mealtime drink. Steady nerves are a first requirement in football, and Postum is one hot drink that does not irritate the nerves. It never interferes with sound sleep, either."
Take that, Gatorade. (I mean, when has Gatorade ever claimed it "does not irritate the nerves")?
Dartmouth coach Jess Hawley, meanwhile, said, "Any man who wants to keep in trim will have a better chance if he sticks to Postum." And Tom Thorp, who officiated NFL games, called Postum "the ideal training drink." Sounds like a winner to me.
At some point, Postum — which was "made of roasted whole wheat and bran" — fell out of fashion. Somebody probably came up with something that was more effective at helping "Safeguard your nerve power as football stars do theirs!" Just as well, I suppose. It doesn't seem like a Postum dunk would be too pleasant.
In the late '60s, before Gatorade became Gatorade, a competitor called Quick Kick surfaced. Wish I could find an ad for it, but the best I could do was a couple of newspaper stories. In 1969, San Antonio Express columnist Karl O'Quinn wrote that Houston Oilers founder Bud Adams "owns a sizable portion of the company that makes the stuff and it is available in sporting goods stores now. It will be marketed in a major grocery chain soon."
According to O'Quinn, Quick Kick "tastes like Gatorade but isn't as sweet because of the use of saccharine instead sugar. . . . Quick Kick is spotting Gatorade a big head start in sales and advertising, but it has one advantage over the Florida product. It will come in four flavors — grape, orange, strawberry and lemon-lime [the only flavor Gatorade came in for years]."
Here's my favorite passage, though: "I tried a big cup of the lemon-lime flavor. It won't make much of a dent in the cola market, but it's not bad, and they say if you mix it with alcohol you get what the name implies — a quick kick."
Adams had the Oilers gulping down the stuff in training camp that year. "A man named Blackie Howell in Baton Rouge" concocted Quick Kick, O'Quinn reported. "The LSU Tigers used it for quite a while before Adams got wind of it and bought into the company. Then it was called Bengal Punch."
So there you have it: a brief, far-from-complete review of early sports drinks.
What might have been.