Sunday in the New England twilight, Tom Brady and Peyton Manning will meet for the 16th time when the Patriots play the Broncos at Gillette Stadium. But we'll get to that classic rivalry later in the week, as the game gets closer. Today we're going to revisit the first meeting between two Hall of Fame quarterbacks: the Redskins' Sammy Baugh and the Bears' Sid Luckman.
Baugh and Luckman were the Brady and Manning of their era, squaring off 11 times from 1940 to '49, including three championship games in four years ('40, '42 and '43). They were so famous, they once appeared in a hat ad together in Life magazine.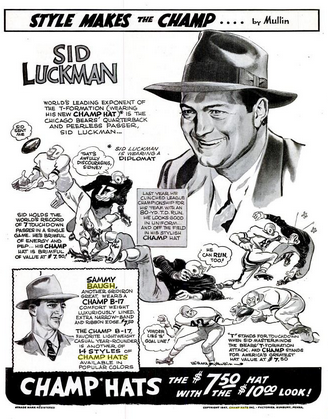 (Sorry, I just had to slip that in.)
When they first crossed paths at a New York hotel in 1938, Baugh was midway through his second NFL season and Luckman was closing out his college career at Columbia. They were joined by a third QB who's also in Canton: Benny Friedman, then the coach at CCNY. It was quite the scene, as you shall see. Here's the story:
The Quarterback Colloquium of 1938
You won't find Thomas Gainsborough's Blue Boy in any pro football encyclopedias, though he did dress a little like a Seattle Seahawk. For one thing, there was no NFL draft in the 18th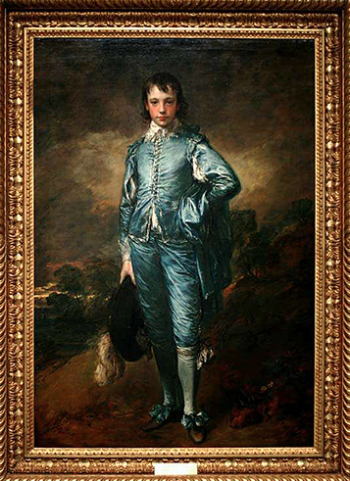 century. But let the record show that Sammy Baugh once threw a pass to him — or rather, at him. It happened 76 years ago in a room at New York's Commodore Hotel.
The occasion was one of those wonderful historical convergences: the gathering during the 1938 season of Baugh, Benny Friedman and Sid Luckman, arguably the three greatest passers in the league's first 25 years. Only Slingin' Sammy was in the NFL at the time. Benny, the former New York Giant, was the coach at CCNY, and Sid was a senior at Columbia (and being eyed by the Chicago Bears' George Halas with increasing interest).
Decades later, when I talked to them about it, neither Baugh nor Luckman could remember how the meeting came about. Maybe Lou Little, Sid's college coach, arranged it — to reward his star tailback and further his football education. Or perhaps it was Cliff Battles, Sammy's ex-teammate with the Washington Redskins, who set it up. Battles was in his first year as an assistant under Little after retiring at 27 because of a contract dispute.
Whoever brought them together, he probably never envisioned the event being revisited today. His main objective, no doubt, was to generate publicity for that weekend's games — for the Redskins-Dodgers battle in Brooklyn, the Columbia-Cornell matchup on Morningside Heights and City College's home date against unbeaten Lowell Textile.
To set the scene: There the quarterbacks were in their double-breasted suits, posing for photographers, fielding questions from sportswriters and, in between, swapping stories and passing tips. Soon enough, three footballs materialized. That's when the real fun started.
Friedman pointed to a doorknob across the meeting room and imagined it to be an open receiver. He "faded behind a chair and, with a table blocking for him, rifled one that spun the knob so violently that the door opened," Henry McLemore of the United Press reported.
Then it was Baugh's turn. With a theatrical leap, he fired a spiral that hit The Blue Boy square in the chest. The picture rocked back and forth — and may well have required medical attention
afterward — but to its credit, clung stubbornly to the wall, if not the ball. (Fortunately for Sammy it was only a print, otherwise he would have had some explaining to do.)
Finally, Luckman "picked out a spot and smacked it with a lazy floater that drifted through the smoke of the room," McLemore wrote. '"Just practicing for those Cornells on Saturday,' he said."
Even in the late '30s, when the single wing was king, the forward pass was beginning to turn football on its head. Friedman had started the process by throwing for an unheard of 20 touchdowns in 1929, despite a fat ball and rules that conspired against quarterbacks (e.g., an incompletion in the end zone cost you possession of the ball). Benny was so far ahead of his time — catching one of his passes, Paul Gallico said, was as easy as "picking a grapefruit" — that he seemed like a visitor from another planet. Consider: Those 20 TD passes would have been enough to lead the league in 1972.
Baugh also had an otherworldly quality about him. As a rookie in 1937, he not only topped the NFL record for passing yards in a game, he did it in the championship game, totaling 335 (29 more than the regular-season mark) in a 28-21 win over the Bears. Though he was only 24 when he strolled into Room 1100 at the Commodore, he was already a mythic figure, pro football's biggest attraction since Red Grange.
As for Luckman, his grinning, dirt-smudged face had appeared on the cover of Life only the week before, accompanied by the acclamation, "Best Passer." He would finish third in the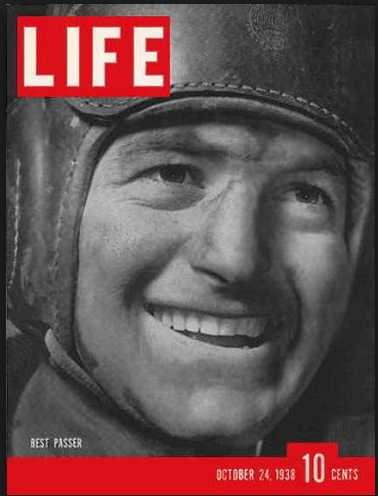 Heisman Trophy voting that year, despite playing for a 3-6 team. But the story behind the story — the story no one ever wrote — was even more remarkable: While Sid was leading Columbia to a 20-18 upset of Army at West Point, rallying the Lions from a 12-point deficit in the second half, his father Meyer was serving a murder sentence at Sing Sing, 20 miles up the Hudson River.
The get-together at the hotel wasn't the first time Luckman had met Friedman. In his 1949 autobiography, Luckman at Quarterback, Sid reminisces about the day, as a young Brooklyn boy, he waited with his father outside the Giants dressing room after a game. When Benny emerged, Meyer approached him and said, "I have a prospective pro for you."
"Friedman . . . looked down at the stocky kid and then winked at my dad," Luckman writes. "Both of them laughed. He went back to the dressing room to get a football, and then demonstrated [his] grip. His fingers were strong and hard. I stood there gawking at them, with all the adulation a punk could muster. So that's how the great Benny Friedman handled it, I mused."
You get the feeling Luckman did a fair amount of gawking at the Commodore, too. Another reporter, Drew Middleton of The Associated Press, called him "a quiet, unassuming boy who blushes when asked a direct question." But Sid was there mostly to listen, anyway, to soak up whatever knowledge his two elders were willing to dispense.
"I don't tip the ball none," Baugh told him. "If it's a long pass, I nose the ball up, but mostly I throw them flat — chest high. Downfield I try to get 'em a little ahead and a little higher. 'Course, I always lead the receiver on flat passes."
Luckman: "We throw some flat ones, too. I don't think we do it as well as you fellows, but we have a play almost like that pass you throw to [Charley] Malone."
Benny: "You should have seen the stuff we had. About three [pass] plays. . . . When I started, passing was just a supplementary attack. Now it's 50 percent of the offense."
Oh, to have been a fly on the wall. (On second thought, scratch that. They probably would have had a contest to see who could hit the pesky critter at 20 paces.)
The colloquium lasted two hours and covered a range of topics. It was agreed upon, for instance, that wrist snap rather than arm strength was more important to a passer. After all, Baugh said, "a lot of linemen can throw the ball farther than a back."
The No. 1 necessity, they decided, was courage. "I hope it's courage, anyway," Sammy said. "Maybe it's just plum craziness that makes a fellow hold onto that ball until he picks out his receiver when a pair of 200-pounders are charging him with murder in their eyes."
The sportswriters, meanwhile, took note of the quarterbacks' various hand sizes. Luckman's fingers were described as "short and stubby," Baugh's as "longer [and] "slender" like a "pianist" and Friedman's as "modeled after a ham." These are hardly insignificant details. In fact, they're an indication of how radically the game had changed. As Hall of Famer Jimmy Conzelman once put it, "Anybody who threw the old and bigger football had to have a hand like a ham even to grip the ball. Then it was cut down to its present size, and almost anybody could throw it — and this was a tremendous boost for the game."
One of the benefits of the slimmer ball, Friedman said, was that it made most present-day passers "more accurate than I was." This was a major concession for Benny, who had the highest of regards for his own abilities. (In 1953, let's not forget, he wrote a piece for Sport magazine titled, "I Could Play Pro Football – And I'm 48!")
Another advantage enjoyed by the younger generation, Friedman added, is that "the boys get more experience and coaching in passing before they get to college now."
Baugh: "That's right. Down in the Southwest, where I come from, the kids start passing when they're in [grade school]. They pass almost as much down there as they rush."
In his story, McLemore mentioned the "terrible beating" Luckman had been taking that season playing behind Columbia's shaky line. Knee, ribs, nose – no part of Sid, it seemed, went unscathed. "I could scarcely drag myself from classroom to classroom," he said years later.
That's why, when the writers at the Commodore asked him about his pro aspirations, he said, "No, not me. I'd like to go into business and do a little coaching on the side, maybe, but no professional football."
But Luckman did turn pro, of course. By the time he retired in 1950, he and Baugh pretty much owned the record book — the passing section, at least — and had six championships between them. And now all three quarterbacks are in the Pro Football Hall of Fame, Friedman gaining admittance as a veterans candidate in 2005.
"I tried so hard to pick their brains," Luckman told me. "I learned an awful lot about humility from Sammy. Humbleness. And from Benny — and from Baugh, too — I learned a lot of football. Benny was a very technically oriented guy. A very, very smart football man. And Sammy, of course, . . . folksy."
Over the decades, Luckman got to know them even better. Friedman became "a good friend," he said, one he helped out in business "when Benny was having a tough time." As for Sid's rivalry/relationship with Baugh, it was similar to Tom Brady's with Peyton Manning today. They defined each other — and, happily for fans, were always crossing paths on the field (including three times in the title game).
"When he retired [after the 1952 season], we had lunch together one day in Washington," Luckman said. "And we made a pact — we shook hands on it — that whenever he made a speech, he'd say I was the greatest, and whenever I made a speech, I'd say he was the greatest."
Problem was, Baugh hated to travel and rarely left Texas. So Sid would be "off making these speeches to these different charities and whatever, and he'd be back on his ranch making money. I never heard anybody once say I was the greatest, because he never made a speech. That was a bad deal I made with him. He got the best of that deal."
But that's OK. On Oct. 28, 1938, it was Luckman, the kid quarterback from Columbia, who got the best of it when the past, present and future of the passing game assembled at a New York hotel — along with The Blue Boy, that is, the Wes Welker of the 1770s.
*     *     *
Postscript: Two days later, the Redskins fought the Dodgers to a 6-6 tie at Ebbets Field. Luckman and the rest of his Columbia team were in attendance. We know this because The Brooklyn Eagle said so.