What in the world has gotten into Ben Roethlisberger? It's as if he's entered another matrix these past two weeks. Throwing for six touchdowns in back-to-back games against the Colts and Ravens? Even nowadays, in the Flag Football Era, that's extraordinary.
When Roethlisberger tossed No. 12 late Sunday night to Matt Spaeth, he broke the record of 11 TD passes over two games shared by Tom Brady (in his lustrous 2007 season for the Patriots) and Tom Flores (in his less sparkly 1963 season for the Raiders).
Let's talk about the Other Tom — Flores — for a few paragraphs. That '63 season, after all, was a turning point for the Oakland franchise. The year before, the Raiders had been by far the worst team in the AFL, going 1-13 under Marty Feldman (who lasted five games) and Red Conkright (who took over for the last nine). In the offseason, owner Wayne Valley tapped a Chargers assistant as his new coach, and that coach — Al Davis — transformed the Raiders into a pro football powerhouse.
In Davis' first year, Oakland improved from 1-13 to 10-4, winning its last eight. It's arguably the best turnaround in NFL/AFL history. It was in the final two games, vs. Denver and Houston, that Flores threw 11 TD passes. The final score in the latter was Raiders 52, Oilers 49. (Mike Mercer broke a 49-49 tie with a 39-yard field goal in the last few minutes.)
Here's a great stat from that game, courtesy of The Associated Press: "All told, the Raiders gained 588 yards Sunday [not counting sack yardage] after going through the first quarter without a first down." Let's see somebody do that again (without the benefit of overtime).
But I'm getting off topic. What I wanted to tell you about was what preceded those two magical games for Flores. In 1962, you see, when the Raiders were scraping bottom, he didn't suit up at all. He was on the Physically Unable to Perform list, or whatever they called it then, after contracting a disease "described as bronchiectasis, a chronic lung condition which requires rest," the Oakland Tribune reported. "He was told the healing process will take only a few months."
So Flores sat out the year and, to keep himself occupied, wrote a regular column for the Tribune sports section. And what did the paper call it? Monday Morning Quarterback. (Attention: Peter King.) Here's the promo the Trib ran in August: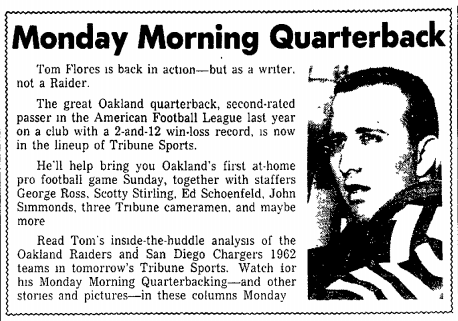 This may well have been the first football X's-and-O's column to appear in a newspaper. (I haven't found an earlier one, and I've done a lot of looking.) Up to then, there was a lot of mystery surrounding strategy and tactics. Every once in a while you'd see the diagram of a successful play in the sports pages – or of a new offensive or defensive wrinkle – but beyond that . . . .
Flores, to his everlasting credit, took his job seriously and wrote pieces that were very educational. He was – how shall I put this? – a really good explainer, which is one of the reasons, no doubt, he went on to win two Super Bowls as a coach.
His wheelhouse, of course, was the quarterback position. That's where he was at his best. On an upcoming game between the 49ers and Johnny Unitas' Baltimore Colts:
With receivers like [R.C.] Owens, Ray Berry, Jimmy Orr, Dee Mackey and, of course, the great All-Pro Lenny Moore, it's no wonder most of Baltimore's offense is through the air. I'd look for a lot of throwing Sunday with Owens and Berry on the short patterns – sidelines, hitches, hooks – and Moore and Orr used more on the longer throws such as sideline and ups, hook and goes, and posts.
This may sound pretty basic in 2014, but in 1962 it was virtually unheard of. You just didn't get analysis like that. In an earlier column, Flores had discussed these various pass routes. The graphic that ran with it: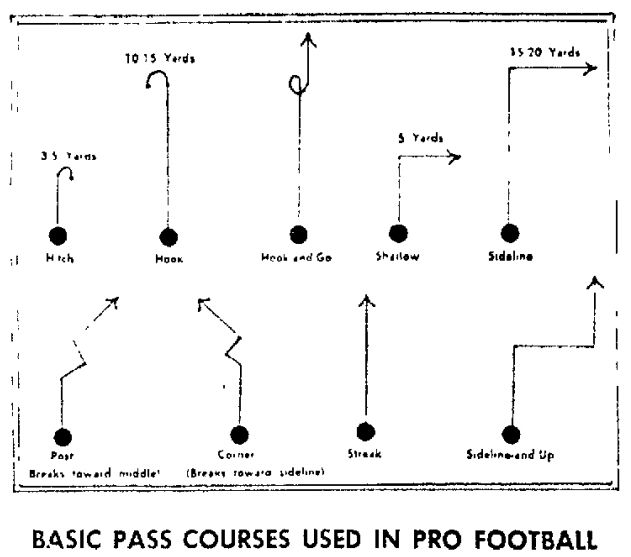 All I can say, again, is: not bad for 1962. "Oakland has to make its short passing game go in order to have a better balanced offense," he wrote. ". . . The short passing game is vital to ball control. Passes like hitches, hooks, shallows, sidelines, swings, screens and flares get a lot of short yardage and help sustain drives."
Sounds like the philosophy behind the West Coast Offense, doesn't it?
"Don't watch the ball so much," he told his readers. "If you watch the patterns forming, you will see that almost every play has at least one deep receiver and at least one short one, spreading the defense and giving the thrower alternate targets. . . . Defensive linemen are too big and too quick nowadays to try to grind out yards along the ground all the time. The passing game is at least 50 percent of the offense of most teams, and more than that with some."
It was a wonderfully experimental time for football. Coaches would try just about anything. The year before, the 49ers had used a shotgun offense in which the quarterback – Billy Kilmer in particular – often played much like a tailback in the single wing. In '62, the Raiders unveiled their own version of it, the "Runnin' Gun formation." Here's Flores column on the subject (complete with diagram):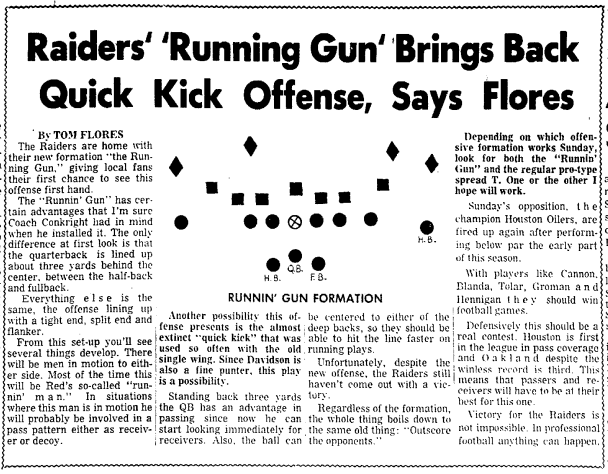 Flores: "From this set-up you'll see several things develop. There will be men in motion to either side. Most of the time this will be Red [Conkright]'s so-called 'runnin' man.' In situations where this man is in motion he will probably be involved in a pass pattern either as receiver or decoy.
"Another possibility this offense presents is the almost extinct 'quick kick' that was used so often with the old single wing. Since [Raiders quarterback Cotton] Davidson is also a fine punter, this play is a possibility.
"Standing back three yards the QB has an advantage in passing since he can now start looking immediately for receivers. Also, the ball can be centered to either of the deep backs, so they should be able to hit the line faster on running plays."
Interesting we don't see more of that today – direct snaps to the running back on quick-hitting plays. Coaches probably figure it's enough to ask centers to just snap the ball to the quarterback, though centers in the old days would snap it to any of a number of players, including this one:
OK, I've had my fun. Anyway, Flores hung up his typewriter after that season and, his lungs improved, returned to the Raiders in '63. He backed up Davidson for the first five games, then took over the offense and, in a two-week span, threw for 11 TDs. Fifty-one years later, in a much different landscape for quarterbacks, Ben Roethlisberger has thrown for 12. Wonder what kind of sports columnist he'd make.
Source: pro-football-reference.com