Thanks to a bye week between the Bears' first two games in 1937, Bronko Nagurski, their legendary fullback, defended his heavyweight wrestling championship seven times in 10 days. He continued to slip in matches that season — all over the country — whenever the football schedule permitted. The sports world had never seen anything like it . . . and never would again. The story of his adventures:
---
During the 1937 season, Nagurski's schedule was packed with 13 football games — including two non-league exhibitions — and 13 wrestling bouts. His itinerary went like this: Green Bay; Duluth, Minn; Portland, Ore.; Vancouver, B.C.; Seattle; Phoenix; Los Angeles; Oakland; Salt Lake City; (pant, pant); Pittsburgh; Erie, Pa; Philadelphia; Cleveland; Minneapolis; New York; Philadelphia; New York; L.A.; Detroit (with seven games in Chicago sprinkled in).
---
As fullbacks go, Bronko Nagurski was a Category 5. Tackling the 6-foot-2, 230-pound Chicago Bears Hall of Famer required more than just malice aforethought, it also took a plan — for self-preservation's sake. With a football under his arm, the Bronk was a glorious advertisement for Newton's Laws of Motion, especially the one that states, roughly: To every lowered shoulder there is an equal and opposite reaction, sometimes even a broken collarbone.
Packers great Cal Hubbard, no pushover himself at 6-2, 253, considered Nagurski "the toughest guy [in the early years] to bring down. If he was in stride, you didn't have much of a chance. He'd run right over you and hit you before you hit him. And if you tried to make a flying tackle, you'd probably get a knee in the chin."
To Sid Luckman, the Bears' iconic quarterback, Bronko was "the nearest thing to perfection. I would refuse to tackle him [in scrimmages]. I just jumped on his back and rode him piggyback as best I could."
Brooklyn Dodgers back Joe Maniaci, who was dealt to Chicago after Nagurski retired, might have had the most creative approach to impeding Bronko's progress. Rather than meet force with force — a losing if not injurious proposition — he "stepped aside and tackled him from the rear," he once told me. "I think that might have been why [George] Halas traded for me. The players said he loved to show the film of me making that tackle. He'd say, 'Look, here's a man who tackles to play another day.'"
There was nothing, it seemed, Nagurski couldn't do. He was big enough to play tackle (his first position with the Bears), fast enough to line up in the backfield and a good enough thrower to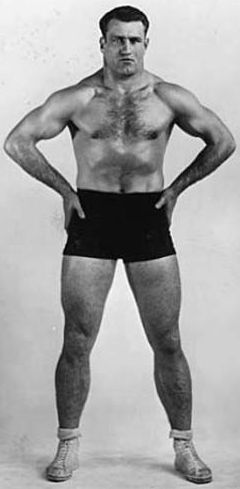 toss touchdown passes in two NFL championship games. So when he branched out into professional wrestling in 1933, to make a few bucks in the offseason and cash in on his popularity, it figured to be only a matter of time before he was a success in that racket, too.
But no one envisioned the spectacle that unfolded in 1937. That was the year Nagurski became the heavyweight champion — or one of them, anyway — and defended his crown 13 times during the Bears' season. He had matches in the East, West and points in between, filling arenas almost everywhere he went. Had it been any other player, Bears coach George Halas likely would have balked, but what Bronko wanted, Bronko got.
"Never before has the kingpin of one sport tried to maintain his pre-eminence in another sport," Jack Cuddy of the United Press wrote. Art Cohn, the Oakland Tribune columnist, called it "one of the most amazing chapters sport[s] history has known." It was certainly the most Bronko thing Nagurski ever did, a feat that made him a year-round fixture in the sports pages.
This was no small accomplishment. Pro football, after all, wasn't the colossus back then that it is today. In fact, it didn't get much media attention beyond game coverage. But Nagurski, with his chiseled jaw and thighs the size of beer kegs, was an object of great fascination. So much so that a Wisconsin newspaper once ran the following note: "A United Press story today to the effect that George Halas is satisfied with his Chicago Bear[s] backfield seems to dispel a rumor circulated in Stevens Point last night that Bronko Nagurski was killed in an automobile accident."
Flipping through a newspaper in 1937, you might come across an ad for a "Bronko Nagurski Jr." regulation football. Or maybe, beneath the listing for the Clark Gable-Carole Lombard film, No Man of Her Own, you'd see the following short subject: "World Champion Wrestling Match with Nagurski-Lopez."
Football players in the pre-television era tended to be anonymous creatures, but Bronko's Mt. Rushmore face was widely known — thanks, in part, to photos that showed him manhandling wrestling opponents, hoisting them on his shoulders or hurling them to the mat. (Typical cutline: "Bronko Nagurski, the pro footballer who claims the world's rassling title, made a valiant attempt to ram Dean Detton's head right through the ring in their match in Los Angeles, but the floor stood up under the strain.")
Nagurski was hardly the first NFL player to go into the grunt-and-groan business. In the 1920s, Gus Sonnenberg, the Providence Steam Rollers' 5-6, 200-pound dynamo, took the title from the famed Strangler Lewis, subduing him with his signature weapon, the flying tackle. Other players, scores of them, also climbed through the ropes.
Indeed, you could put together a pretty good team in those years of gridders-turned-grapplers. In the backfield you'd have Bronko, Wildcat Wilson, Joe Savoldi and Father Lumpkin, and up front you'd have Sonnenberg, Tarzan White, Jim McMillen, Sammy Stein, Buckets Goldenberg, John Spellman and Pete Mehringer. (The latter two won Olympic gold medals in the sport.) Sometimes they were even matched against each other. Now that could be fun.
"A two-man football game will be played at the Oakland Auditorium tomorrow night," Cohn wrote before a Nagurski-Sonnenberg bout in late September. "No helmets. No pads. No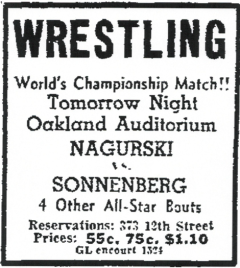 coaches. No ball . . . and, best of all, no rules!" (Here's another matchup between the two in Los Angeles in 1938.)
Sonnenberg's slam-bang style helped turn wrestling into the choreographed spectacular it is today. Nagurski followed suit, employing not just the flying tackle but his own variation of it, the flying block. As Cuddy put it, "Regardless of the hold that finishes his man, it's the crashing, crashing, crashing impact of his body against that of an opponent that ultimately wins out."
For Bronko, it was just an extension of how he brought down ball carriers. Never much for wrapping up, he preferred to barrel into them with his shoulder — in hopes the shock of the blow would cause a fumble. Besides, he was a virtual novice when he was talked into giving wrestling a try. He hadn't competed in the sport at the University of Minnesota because he had to work his way through school once the football season ended.
Nagurski wasn't as quotable as the gregarious Sonnenberg or some of the other champions. Sportswriter Stanley Frank joked that Bronko "was with the Bears for five years before he said anything on the field except, 'I hope that kid isn't hurt too bad.'" But by 1937 some of the rough edges had been smoothed away. The big fullback, closing in on his 29th birthday, had recently married and was awaiting the birth of his first child.
After winning the championship from Detton in June — in Minneapolis, site of his college triumphs — Nagurski seriously considered retiring from football. For one thing, wrestling had become more lucrative and offered better long-term prospects. For another, being a Human Bulldozer for better than a decade, first in college and then for the Bears, had begun to take its toll.
Contrary to legend, Bronko wasn't indestructible. You couldn't play football the way he played it — the Isaac Newton way — without absorbing a fair amount of abuse. Andy Lotshaw, the Bears' longtime trainer, liked to perpetuate the myth, liked to tell people, "He never knew what a bruise was. Why, they couldn't even dent him. Only time I ever laid a hand on him was to tape his ankles." But teammates knew different.
By the end of his career, "Bronko was a little beat up," Ray Nolting said. "He had a hip, a rib, his hands were all busted up. He went through the whole kit and caboodle when it came to injuries."
So, yes, wrestling was looking better and better to Nagurski as the '37 season approached. Wrestling promised a second athletic life. Wrestling was something he could do into his 40s or even 50s if he took care of himself. But the tug of football was still strong. And after the Bears lost a preseason game to a team of college all-stars in Dallas, he decided to rejoin the club. It was barely a week before the Sept. 19 opener at Green Bay.
Thus began the Bronko Across America Tour. From then until the end of the season, Nagurski's schedule was packed with 13 football games — including two non-league exhibitions — and the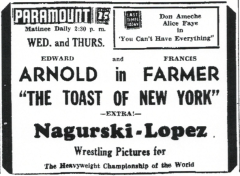 aforementioned 13 wrestling bouts. His itinerary went like this: Green Bay; Duluth, Minn; Portland, Ore.; Vancouver, B.C.; Seattle; Phoenix; Los Angeles; Oakland; Salt Lake City; (pant, pant); Pittsburgh; Erie, Pa; Philadelphia; Cleveland; Minneapolis; New York; Philadelphia; New York; L.A.; Detroit (with seven games in Chicago sprinkled in).
Much of this travel was by air, which in those days was only a few steps removed from the Wright brothers. It's a wonder, really, he didn't lose his bearings and show up in the wrong town . . . or the wrong attire. He missed plenty of practices the first two months, but he still made an impact in most games. His 4.7-yard rushing average was his highest in three seasons; he just didn't carry the ball as much as before (73 times, 49 fewer than the previous year). Even if he hadn't gained a yard, though, he would have earned his keep with his ferocious blocking and linebacking. (Blessed was the back who got to follow Bronko through the hole. It was like being in the sidecar of a motorcycle.)
The Bears had two bye weeks in '37, breaks of 13 and 10 days that enabled Nagurski to squeeze in two West Coast wrestling trips. As the champion he needed to be visible, lest the promoters decide to give the belt to someone else. Many of his matches had a familiar script. The opponent — be it Dirty Dick Raines, Leering Lou Plummer or some other bad guy — would establish himself as the villain by employing questionable tactics. (In Philly, Ernie Dusek rubbed a bandage on his elbow across Bronko's eyes. In New York, Ray Steele was disqualified for kneeing him.) Then Nagurski, the "clean" wrestler, would explode with a series of flying blocks and tackles that enflamed the crowd and ended the match quickly.
If Bronko really got mad, he might throw his foe out of the ring. But he was always very polite about it. As the United Press pointed out: "It has been the custom, up to last night, for the meanies of the ring to annoy the lads of the press by tossing this opponent or that into the press table, scattering pencils and cameras. Nagurski, the boys of the fourth estate find, is a gentleman. When he saw fit to clear the ring of [Plummer], he clipped him two rows clear of the press."
Bronko's wholesomeness, his refusal to get rough unless his opponent did, went over big with the fans. Toots Mondt, who promoted him, said, "For years I've been waiting for a man who can really catch the popular fancy. Nagurski is the man. . . . He has everything. A physique which makes you catch your breath when he takes off his robe. He's the strongest man I've ever seen on a mat. He's as fast as lightning and has the earnest manner and the obvious love of rough competition that excites the crowd."
When Nagurski wrestled in Chicago, the other Bears would cheer him on. Well, sort of. "We used to go and make fun of him," Ookie Miller said. "George Musso would get up and make all these kinds of [snide] remarks at the guys. 'Come on out here and I'll get you!'" One time, according to Luckman, some players met with Bronko before a bout. "He said, 'I'm going to fight this bum [tonight]. When I wink, you'll know I'm gonna win the battle.' Well, this guy threw him from pillar to post for about 40 minutes. Then the Bronk winks at us, and two minutes later the fight was over."
He was a traveling circus, Nagurski was. On Oct. 4, he stepped off a plane in Pittsburgh, after wrestling seven times in 10 days out West, and rescued the Bears against the Pirates. When Chicago drove 79 yards for the winning touchdown in the third quarter, the score that gave them a 7-0 victory, it was Bronko who did much of the heavy lifting. "Now and then the Pirates stopped him," the Pittsburgh Press reported, "but never without some pain."
Nagurski had another big day against the Brooklyn Dodgers on Nov. 14, breaking runs of 46 and 33 yards in a 29-7 win. Two weeks later, in a 15-7 victory over the Cleveland Rams that clinched the Western Division title, he got the Bears going with a 35-yard touchdown pass to Bill Karr.
At that point he'd suspended wrestling activities until after the season — at Halas' request. There was an NFL championship to be won, and Papa Bear worried that his star fullback would get worn out trying to serve two masters. Nagurski, ever the stoic, waved off this notion. "I think wrestling has been largely responsible for my good physical condition this year," he said. "My legs never felt better, and I was in shape for the Bears' first game even though I didn't report for practice until five days before the opener."
Still, he admitted, the globetrotting and job-juggling were "too much work, and it isn't exactly fair to the other fellows on the Chicago Bear[s] team. . . . George Halas doesn't like it during the football season."
Especially since, after years of struggle, the pro game was beginning to make inroads with the sporting public. Nagurski and the Bears were a huge attraction that fall. They broke the attendance record in Green Bay, shattered the one at Wrigley Field twice — the second time by more than 10,000 — and drew 50,449 at the Polo Grounds, the second-biggest NFL crowd since 1925, when Red Grange made his debut in New York.
Nagurski, who had seen pro football evolve from a low-scoring defensive game to a more offensive, crowd-pleasing one, could only shake his head. "I wish I was just starting to play football now," he told the Associated Press.
Protecting his assets, Halas held Nagurski and several other starters out of the regular-season finale against the cross-town Cardinals. He wanted them at their best for the championship game against the Washington Redskins, a club that had just annihilated the Giants in New York, 49-14. Looking back, it was such an intriguing matchup, this first of four title games between the Bears and Redskins over a seven-year span. On one side you had Sammy Baugh, the slingin' symbol of the NFL's future, and on the other you had Bronko, the brawny standard-bearer of the league's past.
Not that the Bears weren't forward-thinking. Halas was in the process of developing an offense, revolving around the T formation, that would revolutionize football. Every other team in the league ran the single wing or some offshoot; the contrarian Bears had their quarterback under center, a full-house backfield behind him, and used a man-in-motion. For opposing defenses, it was all very disorienting.
But the T wasn't a passing offense — yet. It spread the field more, sure, but it still leaned primarily on the ground game. As Halas explained in The Modern T Formation with Man-in-Motion, the primer he wrote with Clark Shaughnessy and Ralph Jones, the alignment "affords a 'boxing' type of offense. The quick-opening plays can be compared to the left jab of a boxer, the man-in-motion and the faking of the backs to the feints, and the fullback plays to the real punch. The pass plays should be used as the unexpected sock."
In the title game at Wrigley Field, it was the Redskins who did most of the unexpected socking. Taking advantage of the slippery footing — both teams wore sneakers on the icy turf — Baugh threw for 335 yards and touchdowns of 78, 55 and 35 to lead Washington to a 28-21 victory. That was more yards than anybody had ever passed for in a regular-season game.
Nagurski did what he could, rushing for 47 yards in eight carries. The film of the game also shows that — surprise, surprise — he wasn't just a between-the-tackles runner. He had another gear, even at that stage of his career, that made him dangerous on sweeps as well.
On one play that set up a touchdown, the motion man sealed off the end, the other halfback blocked the linebacker and Bronko, taking a pitch from quarterback Bernie Masterson, thundered nine yards around the left side to the Washington 10 (where Baugh submarined him). The Bronk tends to be thought of as a north-south bruiser, the Larry Csonka of the '30s, but he was quicker than that, more like Marion Motley or a young John Riggins. Watch his run to the 10 (and how he bounces up and squeezes out a bit more yardage because, in 1937, you could do that if your forward progress hadn't been stopped):
For his efforts that year (and perhaps his exploits in previous years), NFL coaches voted him to the all-league second team. But football was becoming less of a Bronko Nagurski world — and more of a playground for Baugh and the fancy passers who would follow. Too, the mileage was beginning to mount for Nagurski, and no one knew that better than him. "Someone once told me a football player should play until it starts to hurt," he said during the season. "Well, it's starting to hurt me. . . .  I get pains in my back now and then, especially when it rains. I don't know, but I guess another year will be enough for me. Maybe not even that."
On Christmas Day, Bronko Jr., a strapping 8 ½ pounds, joined the Nagurski huddle. Before the year was out, his daddy was tangling with Sonnenberg in Denver. It was a classic bout between two footballers. The end came suddenly — as ends often do in wrestling — when Gus, sent airborne by a Bronko hit, somersaulted over the ropes and landed with a thud on his head and back.
Soon enough, it was official: Nagurski was hanging up his leather helmet (except, that is, for a curtain call in 1943, when the Bears talked him into helping them out during the war). In mid-January, the Chicago Tribune ran a photo of him in a hospital bed, recovering from some "rope burns" he'd suffered in the ring. A "streptococcus infection" had resulted, the newspaper said, but the pretty nurse in the picture wasn't changing his bandages or taking his temperature. Oh, no. She was lighting his cigarette. This was, after all, Bronko Nagurski. She probably struck the match on his chin.