Saw an interesting note in The Dallas Morning News the other day about DeMarco Murray's impending free agency:
Should Murray suit up in a different uniform next year, he would become the first player since Bill Dudley to lead the NFL in rushing and start the following season with another team. Dudley moved from the Pittsburgh Steelers to the Detroit Lions in 1947.
Sixty-eight years. Now that's a long time.
It's also a story — Dudley's escape from the Steelers to the Lions — that's worth telling. "Bullet Bill" is, after all, a Hall of Famer. On top of that, there was no free agency back then, and it was rare that a player muscled his way off one club and onto another, as he did.
But let's backpedal a bit and start at the beginning. In 1947 Dudley was coming off an extraordinary season, one that saw him win the MVP award playing for a .500 team. Not only was he the league's rushing leader, he also, well, check out his numbers:
BILL DUDLEY'S 1946
| Category | Details |
| --- | --- |
| Rushing | 146 attempts* for 604 yards* (4.1 average) and 2 touchdowns |
| Passing | 32 completions in 90 attempts for 452 yards and two TDs |
| Receiving | 4 catches for 109 yards and 1 TD |
| Punt returns | 27* for 385 yards* (14.3 average*) |
| Interceptions | 10* for 242 yards* and 1 TD* |
| Punting | 60 for a 40.2 average |
| Kicking | 2 field goals, 12 extra points |
*led league
For all-around excellence, you won't find many seasons like it. There was only one problem: Dudley didn't feel like he was built for such heavy use. He was only 5-10, 182 pounds, you see, and the Steelers' single-wing attack was a punishing, grind-it-out style of football. Remember, too, that this was the era of two-way players, so he got beat up playing defense as well as offense.
To make matters worse, the team's coach, Jock Sutherland, was a legendary taskmaster. Sutherland's training camps were hell, and even his in-season practices could test a man's limits. ("There will be only two kinds of men on the Pittsburgh Steeler[s] roster this fall," Bob Drum of the Pittsburgh Press wrote during camp, "– those who are in shape and those who are dead.")
After the season, Dudley announced his retirement, but it was just a ploy to get the Steelers to trade him to a T-formation team, one that wouldn't make him carry so much of the load. As he later explained: "I felt playing 50-to-55 minutes in just about every game did not give a man a chance to give his best. It's detrimental physically."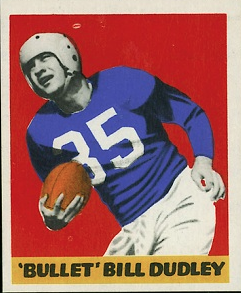 You can imagine how receptive the NFL was to this kind of thinking in 1947. Self-preservation? The very idea! So the Steelers shipped him to the Lions for two backs (Bob Cifers and Paul White), the rights to another (Bob Chappuis, the 26th selection in that year's draft, who never played for Pittsburgh) and Detroit's No. 1 pick in '48.
After the deal was done, Sutherland gave his version of events — and savaged Dudley in the process. "I know for a fact a few of the boys would not have returned to the squad if Bill had rejoined us this year," he told the Pittsburgh Post-Gazette. "When they heard the news that he had signed with the Detroit Lions, one of them remarked, 'Well, Detroit got itself another coach.'"
During the '46 preseason, when Sutherland was working his players to death (and putting oatmeal in the water so it wouldn't taste as good and they wouldn't drink as much), Dudley complained to the assistant coaches, according to Jock. "[He] went too far in his remarks to my assistants, and when I say too far I mean just that. I heard what he said to them, and I reprimanded him in front of the full squad as I would have with any other player. He didn't like it, of course, but said, 'Yes, sir,' and I thought the matter was dropped.
"That night he wanted to leave the camp. There was a conference and he changed his mind. No more was said about it during the season, and he did everything asked of him, although some of the players to the end resented his bossy attitude."
Can you imagine a coach today unloading on a former player like that? And again, this is a Hall of Famer he's talking about. Dudley had played two full seasons in the NFL and been the league's top rusher both years.
Besides, it's not like Dudley didn't have a point. The single wing did take more of a toll on you (never mind the toll extracted by Sutherland's maniacal training methods). The Bears' George Halas, one of the fathers of the modern T, tried to impress this on Steelers owner Art Rooney a few years later. "The single wing takes too much out of your players, Art," he said. "You do kick the hell out of the opposition physically, but the opposition is still getting the points and beating you. Remember, the other team takes that beating once; your team takes it every week."
To twist the knife a little more, Sutherland told the Post-Gazette, "Dudley begged to rejoin the Steelers when he heard a deal was being made for him with [struggling] Detroit. He was sorry over what happened and wanted to come back in the worst way, but I think it is better for all concerned the way things are now."
The Steelers went 8-4 without Dudley the next season, tying for first in the Eastern Division. (The Eagles beat them in a playoff to advance to the title game.) But their success was short-lived. Sutherland died of a brain tumor the following spring, and the franchise scuffed along until the late '50s, posting a winning record just once.
As for Dudley, he was right to dread going to Detroit. In his three years there, the Lions won just nine games (though he remained a valuable and versatile player). He tried to return to Pittsburgh as a backfield coach in 1952 — after spending two seasons with the Redskins — but Washington owner George Preston Marshall, unconvinced Bullet Bill would stay retired, wanted too much in compensation. (And sure enough, Dudley returned to the game, primarily as a kicker, after sitting out a year.)
This brings us to the final, delicious part of our story: the first-rounder the Steelers got from the Lions for Dudley. It wound up being the third pick in the '48 draft, and they used it to select an All-American quarterback from Texas – a fella by the name of Bobby Layne. Alas, Layne didn't want to play in Pittsburgh's single wing any more than Dudley did. So, rather than risk losing him to the rival All-America Conference, the Steelers sent him to the Bears for a player who better fit their offense, Kansas tailback Ray Evans.
Evans showed promise as a rookie, but that was the extent of his NFL career. To the Steelers' shock, he turned his back on a $20,000 salary and took a job with a Kansas City bank. The probable reason, the Post-Gazette reported, was that he'd recently been "married to Edith Marie Darby, daughter of Harry Darby, wealthy Kansas City industrialist and Republican National Committeeman for Kansas. It is thought his wife may have objected to his pro grid competition."
Layne, of course, went on to lead the Lions to two titles en route to the Hall of Fame. (What might have been.) He did finish his career with the Steelers, but he was in his 30s by then and didn't have nearly as much talent around him.
So ends the tale of The Last NFL Rushing Champ To Start The Following Season With Another Team. DeMarco Murray can't possibly top this, can he?