Champ Bailey, who retired earlier this week, will be remembered for a lot of things. For his 12 Pro Bowls with the Redskins and Broncos. For his 52 interceptions (one less than Deion Sanders). For making us wonder: What would have happened if he'd become a full-time receiver, like Roy Green, instead of remaining at cornerback?
But I'll remember him for something else, too: for being part of the wheeling and dealing by Redskins general manager Charley Casserly in the late '90s that turned one first-round pick into three. Actually, it was even better than that. Casserly and successor Vinny Cerrato turned the sixth pick in 1996 into the seventh pick in '99 (Bailey) and the second and third picks in 2000 (linebacker LaVar Arrington and offensive tackle Chris Samuels).
Casserly's maneuvering tends to be forgotten today because the Redskins never won anything — except a division title when Champ was a rookie. But it could have been franchise-changing if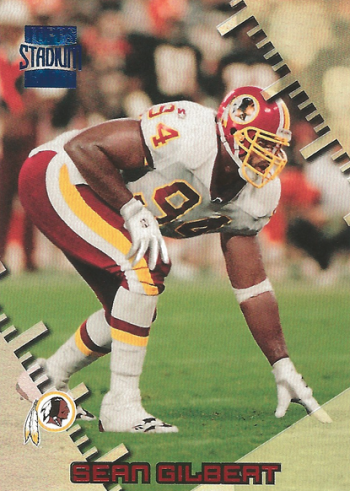 other personnel moves had worked out as well (and, of course, if Dan Snyder hadn't bought the club and started treating it as his personal toy).
Here's how it unfolded:
● April 4, 1996 — The Redskins, coming off a 6-10 season, send their first-rounder (sixth overall) to the Rams for DT Sean Gilbert, who'd gone to the Pro Bowl in 1993. The Rams selected RB Lawrence Phillips, who was a total disaster.
● Feb. 12, 1997 – The Redskins franchise Gilbert, who proceeds to sit out the season in a contract dispute.
● Feb. 11, 1998 – The Redskins franchise Gilbert again.
● March 24, 1998 – The Panthers sign Gilbert to a 7-year, $46.5 million offer sheet. The Redskins decide not to match it and receive two No. 1s as compensation. Carolina opts to delay payment for a year, pushing the picks into 1999 and 2000.
● April 17, 1999 – After a 4-12 season, the Panthers' first-rounder turns out to be the fifth overall pick. The Redskins trade it to the Saints in the infamous Ricky Williams deal. What they get in return:
1999 No. 1 (12th overall) — Traded to Bears (see below).
1999 No. 3 (71st) — Traded to Bears (ditto).
1999 No. 4 (107th) — LB Nate Stinson.
1999 No. 5 (144th) — Traded to Bears in move-up to take OT Jon Jansen in Round 2.
1999 No. 6 (179th) — Traded to Broncos in move-up to take OT Derek Smith in Round 5.
1999 No. 7 (218th) — Traded to Broncos in Smith deal.
2000 No. 1 (2nd) — Arrington.
2000 No. 3 (64th) — DB Lloyd Harrison.
Later in the draft, the Redskins flip picks with the Bears, move up to 7 and select Bailey. This costs them:
The Saints' '99 No. 1 (12th) — QB Cade McNown.
The Saints' '99 No. 3 (71st) — WR D'Wayne Bates.
Their own No. 4 (106th) — LB Warrick Holdman.
Their own No. 5 (143rd) — OT Jerry Wisne.
Their own 2000 No. 3 (87th) — TE Dustin Lyman.
● April 15, 2000 – The Redskins hit the jackpot. The Saints go 3-13 in '99, the last of Mike Ditka's three seasons, so the No. 1 they owe Washington is second overall. The Panthers finish 8-8, so the first-rounder they have to hand over is 12th. By this time, Cerrato has replaced Casserly as the Redskins' GM. He swaps Carolina's pick, along with his own No. 1 (24th), for the 49ers' No. 1, third overall. Then, amid much fanfare, he takes Arrington at 2 and Samuels at 3.
(FYI: The Jets wind up with the 12th pick after a trade with San Francisco and select DE Shaun Ellis. The Niners keep the 24th and use it on CB Ahmed Plummer.)
And there you have it, folks. The Redskins started out with the 6th pick in '96, and with a little imagination — and more than a little luck — ended up with three selections in the top seven. Those three selections, moreover, went to a combined 21 Pro Bowls (Bailey 12, Samuels 6, Arrington 3).
But again, nobody remembers because it didn't lead to anything great (or even very good). The Redskins won only one division title in the next decade (1999) and made just three playoff appearances (2004 and '07 being the others). In 2003, when Joe Gibbs returned as coach, they dealt Bailey to the Broncos for running back Clinton Portis, who had some fine years in Washington but ran into injury problems and was done at 29. Arrington also battled injuries — and left in free agency in 2006. He was done at 28. Samuels lasted a few seasons longer, until he was 32, but his career also was cut short by injury.
Bailey, on the other hand, survived 15 seasons and was voted to his last Pro Bowl at 34. With his lengthy list of accomplishments, he's a lock for the Hall of Fame. As for the Redskins, well, some things look better on paper than they do in real life.
Sources: pro-football-reference.com, prosportstransactions.com, various Sporting News Football Guides and Registers.