More than a few players in pro football's early years dabbled in major-league baseball — including, by my count, seven Hall of Famers. Jim Thorpe, Greasy Neale, Paddy Driscoll, Ernie Nevers, Red Badgro, Ace Parker — all made it to the big leagues. Heck, Neale led the Reds with 10 hits in the infamous 1919 World Series.
George Halas was another one. In that same 1919 season, Papa Bear briefly auditioned for the Yankees as a switch-hitting right fielder. He was 24 and had just been discharged from Great Lakes Naval Station, where he'd served during the war. This was the year before Babe Ruth came to New York from the Red Sox in the most regrettable trade (from a Boston standpoint) in sports history. The Yanks had yet to win an American League pennant, but they were good enough to finish third with a veteran core consisting of shortstop Roger Peckinpaugh, Hall of Fame third baseman Frank "Home Run" Baker, first baseman Wally Pipp, second baseman Del Pratt, outfielders Ping Bodie and Duffy Lewis and 20-game winner Bob Shawkey.
Halas, who played his college ball at Illinois, had flashed at Great Lakes and drawn interest from MLB clubs. During spring training, The New York Times said he looked like "the find of the season as far as the Yanks are concerned" — such an impressive prospect that "he may be chosen to cover right field and have the distinction of being leadoff batsman for the Yanks this season.
It is an unusual thing for a college player to jump into the big leagues and become a regular the first season, but this is just the thing that Halas threatens to do. He is swift of foot and is a heady and proficient base runner. He covers lots of ground in the outfield and, best of all, he has a world of enthusiasm for the game. As a batsman Halas has his faults, but he can sting the ball hard, and the defects in style which [manager Miller] Huggins has discovered can easily be adjusted, as Halas is a willing worker and by following the advice of Huggins has already improved his stick work.

Halas is young and is an all-around athlete. At the University of Illinois he played baseball and football and was a star in both sports. Early in the war he enlisted at Great Lakes Naval Station and was one of the best athletes in the thousands of promising young men who were developed at the station. It was his great speed and strength which first attracted Huggins' attention, and if he fails to make good his first year it will only be because he needs a little more experience in major league tactics.
As it turned out, Halas played only 12 games in the bigs and batted just 22 times. But they were an amazingly eventful dozen games, as you will see. A brief summary of his "exploits":
May 6, Shibe Park (L, 3-2 to Philadelphia Athletics)
Halas batted first, played right field and went 1 for 4 with a single.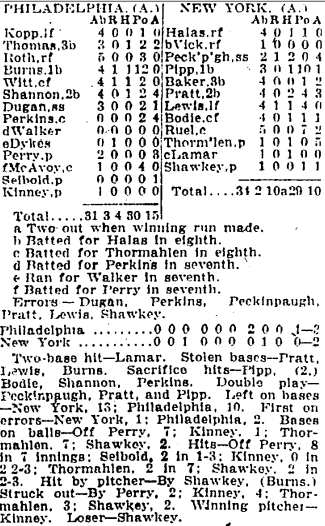 The Times: "With the score tied in the eighth . . ., the New York team fell asleep while opportunity pounded on the door. [Bill] Lamar's double, putting runners on second and third with one out, was the signal for the recall of [Socks] Seibold, who had succeeded Scott Perry. [Miller] Huggins took out Halas, who was playing in his first major-league game, to let [Sammy] Vick bat against southpaw Walter Kinney. Vick fouled out."
The A's won it in the 10th on Red Shannon's run-scoring single.
May 8, Shibe Park (W, 2-0 over A's)
Halas, still in the leadoff spot and still in right, had a single in four ups against Bob Geary.
The far bigger story was Shawkey, who after walking the leadoff man proceeded to allow just one other base runner — on a single by Braggo Roth. How close did he come to a no-hitter? "From the stand it seemed that he shot a third strike over on Roth . . . ," the Times reported, "but Umpire Owens called it a ball. On the next pitch Roth singled to left."
May 11, Polo Grounds (T, 0-0 with Senators, 12 innings)
Three days after Shawkey's gem, Halas got to witness an even shinier one — by the legendary Walter Johnson. The Big Train retired George on a fly out in the bottom of the first, gave up a single to Peckinpaugh, then proceeded to retire 28 straight batters and throw 9 2/3 hitless innings. Poor Walter. He didn't even come away with a win, never mind a perfect game or no-hitter, because the game was halted — erroneously, it turned out — at the end of the 12th and declared a tie.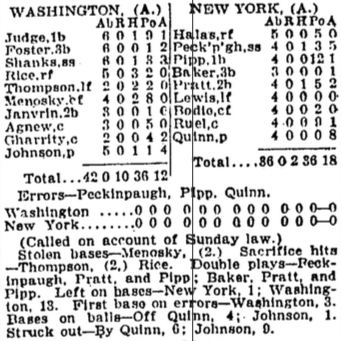 Yankees owner Jacob Ruppert, it seems, was mistaken about the Sunday curfew. He reportedly thought it was 6 p.m. — and informed plate umpire Bill Dinneen of this. But "the game could have continued for some time," the Times said, "and might have ended in a decision. When the game was called the light conditions were just as favorable as when the game started. The new Sunday law provides that baseball games may be played after 2 o'clock in the afternoon, but makes no provision about what time they shall end."
As for Halas, not only did he make the Yankees' first out, he also made their last when he grounded to first in the 12th. In between, he fanned twice and popped to third to finish 0 for 5.
Soggy conditions limited the attendance to 3,000. According to the Times, "Even [the crowd-pleasing] Nick Altrock, coaching at first base [for Washington], refused to come out of the melancholy state into which he had been driven by the dreary, bleak weather . . . [which was] more favorable for football than baseball."
May 12, Polo Grounds (T, 4-4 vs. Senators, 15 innings)
Just think: Halas started a mere four games in the majors, and the last two — on back-to-back days — were extra-inning ties. What are the odds of that? Indeed, how many times has big-league baseball even seen such a freak occurrence? (A foreshadowing, perhaps, of all the deadlocks George would have to deal with in the pre-modern NFL. His 1932 championship team, let's not forget, posted a 7-1-6 record.)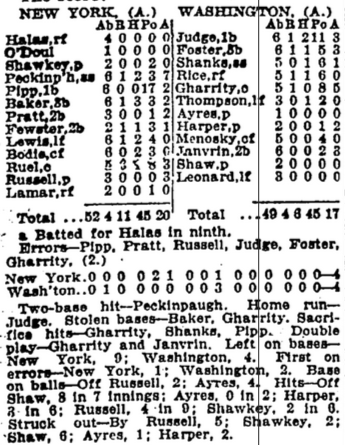 Unfortunately, George's fourth game was worse than his third — and he didn't have Walter Johnson to blame it on (only the less remembered Jim Shaw). As the Times put it: "Halas, the gob from Great Lakes, played in right field, and, as he struck out three times, it was taken for granted that his name is pronounced to rhyme with alas."
He ended up going 0 for 4 — and in the late innings another rookie was sent up to bat for him. The pinch hitter, little known at the time, was none other than Lefty O'Doul, who was making just his second major-league plate appearance. O'Doul's career got off to a slow start — the Yankees were trying to develop him as a pitcher — but a decade later with the Phillies he would bat .398, rack up 254 hits and come in second in the National League Most Valuable Player voting. So even when George got replaced in the lineup, it wasn't by some nameless schmo, it was by a guy who almost joined the hallowed .400 Club.
(He also might have learned a few things from his manager that day about How To File A Complaint. In the ninth inning there was a dispute about a call at the plate, and Huggins got tossed when he stormed out of the dugout "and punctuated his oration by pounding his hands on the umpire's chest protector," the Times said. That was pretty much how Halas dealt with NFL officials — and I'm exaggerating only slightly.)
At this point Halas was 2 for 17 with six strikeouts, which caused Huggins to bench him. The only action he saw the next seven weeks was as a pinch hitter or late-game fill-in. (Final numbers: 22 at bats, 2 singles, .091 average.) The highlight — historically speaking, that is — was probably when the Yankees were in Chicago, his hometown, and he got to bat against Eddie Cicotte. Cicotte, of course, was one of the eight White Sox banned from baseball for fixing the 1919 World Series. (He whiffed George on three pitches.)
In early July the Yankees sent Halas to the St. Paul Saints, their top farm club. He finished the season with them, batting .274 in 39 games with just three extra-base hits. In the years that followed, a myth took root — one that George seems to have perpetuated — that a hip injury dashed his big-league dreams. When he died in 1983, The Associated Press reported:
In his 12th major-league game, Halas suffered a severe hip injury as he slid into third on a triple. . . .

"It was probably the biggest break in my life," [Halas] said. "Not too long after that the Yankees acquired a guy named Babe Ruth to play right field."
The Ruth part is right; the Red Sox sold him to the Yankees at the end of the year. But as the statistics show, Halas never hit any triples in the majors. He did get hurt, though. In his autobiography, Halas, he claims it happened when he tripled against the Dodgers' Rube Marquard in a spring training game. "I slid in hard," he writes. "I was safe but when I stood, my hip was painful. I managed to get home on a long drive, but every step hurt. The trainer thought I had a charley horse."
Halas was still slowed by the injury when the Yankees went to Cleveland in mid-May. So he asked Huggins if it would be OK if he took a quick trip to Youngstown, Ohio, to get checked out by Bonesetter Reese, "a man with no formal training but a genius in treating injuries." (To read more about this miracle man, click here.) George had gone to Reese a couple of times when he was at the University of Illinois and gotten instant results. More from Halas' book:
Huggins approved another visit to this marvelous man. I caught the 5:30 a.m. electric train to Youngstown, an hour and a half away. I found a line of people stretching down the block, but Bonesetter had a soft spot in his heart for athletes and took me right in.

I told him my story.

"Get on the table," he said. "Lie on your face."

He felt my derrière. "When you slid into third base," he said, "you twisted your hip bone. It is pressing on a nerve."

He pushed his steely fingers deep into my hip, clasped the bone and gave it a sharp twist. The pain vanished.

I dashed out of his office, down to the street to the station and, in Cleveland, back to the ballpark. In the afternoon I raced around like a wild horse.
Maybe so, but he didn't play again for several more games — until the aforementioned cameo appearance in Chicago. Still, the reason he chose football over baseball likely came down to money rather than injury. We're talking, after all, about a player who returned a fumble 98 yards for a touchdown in 1923, an NFL record that stood for 49 years. His hip couldn't have been that bad.
Besides, in Halas, he says St. Paul wanted him back the next season, "but at a reduced salary. I objected." A short time later, A.G. Staley, the starch magnate, made him a much more enticing offer: Come work for my company in Decatur, Ill., and put together a football team that will help promote my product.
You know the rest. The Staleys became the Bears, the Bears became the Monsters of the Midway . . . and over the years, George's hip injury got progressively worse until it ended his baseball career.
FYI: In case you're wondering — and it would be perfectly understandable if you were — this isn't George Halas Month at Pro Football Daly. It's just that, sometimes, one post leads to another . . . and another.
Added treat: The play-by-play of Johnson's "perfect game"-within-a-game against Halas' Yankees (courtesy of the Brooklyn Eagle).