It's a natural question to ask, given the antics of some NFL players in recent years — Prince Shembo's drop-kicking of a dog, Ray Rice's slugging of his Significant Other, etc.: Have players always been this out of control? What kinds of things did they get arrested for in the alleged Good Old Days?
Rest assured footballers have always been footballers, though their crimes of choice decades ago tended to be different from today — more typical than terrible. I've gathered a bunch of them so you'll get a feel for the scope of their misbehavior. Remember: This is just a sampling. There's plenty more where these came from.
● 1926: Jim Thorpe gets drunk in the midst of Prohibition.
This happened during Red Grange's postseason barnstorming tour with the Bears. As you may have heard, ol' Bright Path had a weakness for the bottle. His drinking buddy, according to the story below, was C.C. Wiederquist — a great football name. But I'm pretty sure it's misspelled and that The Associated Press was referring to Chester Carl "Chet" Widerquist, who played six seasons in the NFL (and didn't, near as I can tell, attend the University of Minnesota).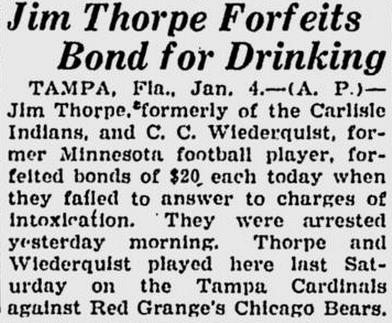 ● 1938: Shipwreck Kelly breaks up a marriage.
Kelly, the toast (literally) of the Brooklyn Dodgers, was a legendary Man About Town. Three years later he married heiress Brenda Frazier, who once graced the cover of Life magazine. What I wouldn't give to follow Shipwreck around for a night and see where it took him. Nowadays, of course, he'd get killed by the social media. The whole world would take a selfie with him and post it on Facebook. But back then you could disappear in the haze of cigarette and cigar smoke.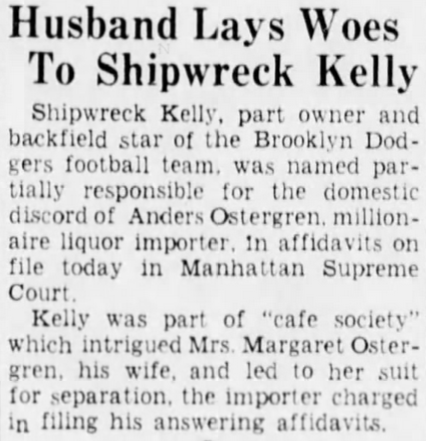 ● 1946: Double disaster.
I'm not sure the you-know-what ever hit the fan in pro football like it did in December 1946. Before the NFL title game, a fix attempt was uncovered that involved two Giants, Frank Filchock and Merle Hapes. Both were banned indefinitely from the league. Before the championship game in the rival All-America Conference, meanwhile, three Browns got a little rowdy and one of them, team captain Jim Daniell, lost his job because of it. How does this compare with, say, the Falcons' Eugene Robinson getting charged with solicitation the night before the Super Bowl?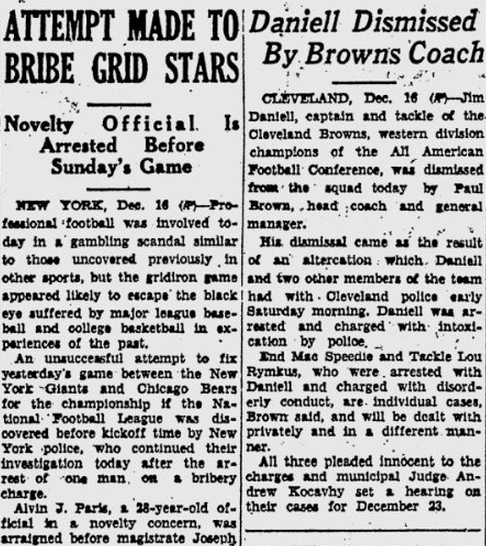 FYI: Daniell and his two running mates were later acquitted. But then, so were the Black Sox.

● 1959: Another DUI charge for Bobby Layne.
I say "another" because the Hall of Fame quarterback had one two years earlier when he was with the Lions. He managed to escape conviction on both occasions, as I posted about a while back. It's pretty comical. The first time, his lawyer argued that police had mistaken his Texas drawl for slurred speech, and in this second instance, his lawyer said Bobby's "extreme hoarseness, which may have led the police to suspect intoxication, was the result of a severe case of laryngitis." (Then again, maybe he just had a shot glass stuck in his throat.)
● 1960: John Henry Johnson falls behind on his child-support payments.
Fortunately for Johnson, who's also in Canton, the term Deadbeat Dad hadn't been invented yet. Five kids. Can you imagine how that would play in 2015?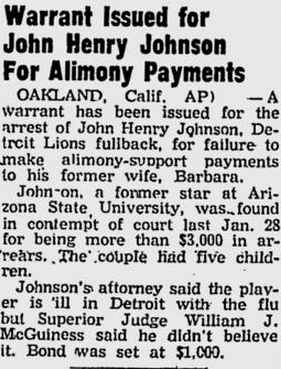 ● 1972: Karl Sweetan tries to sell his Rams playbook to the Saints, one of his former teams.
Sweetan wasn't much of a quarterback, but he gained eternal infamy for this pathetic move. Like most of his passes — 54.4 percent, to be exact — it was incomplete.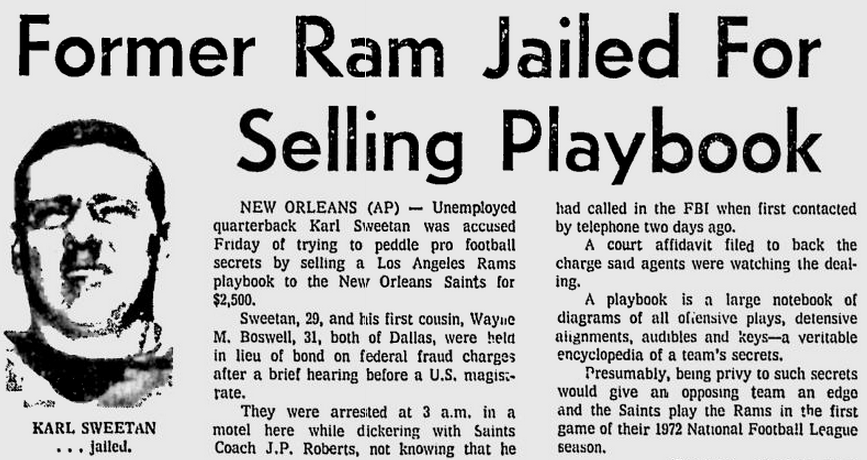 So there you have it, a sampling of off-field trouble from pro football's first 50-odd years. Moral: These guys have always acted up. In the 2000s, it isn't necessarily the magnitude of their misconduct that's bigger; sometimes it's just the microscope they're under.
Postscript: NFL players haven't always been on the wrong side of the law. I leave you with this story about John Kreamcheck, a Bears defensive tackle in the '50s, who became a detective: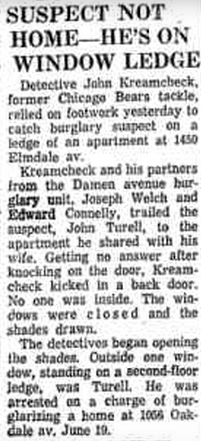 Sources: Google newspapers, Brooklyn Eagle archives, Chicago Tribune archives, pro-football-reference.com.