Let's take a break from quarterbacks for a moment and talk about a lineman. The one I had in mind was Jerry Ford, the former University of Michigan center. Forty years ago, Ford, then the vice president of the United States, wrote a piece for Sports Illustrated in which he reflected on his playing days and the state of athletics. It's wonderful — every last word of it — and remains relevant today.
(Little did SI know that, just a month later, Vice President Ford would become President Ford when Richard Nixon resigned amid the Watergate scandal.)
Ford was a very good player for the Wolverines, good enough to be invited to the East-West Game and the College All-Star Game, the latter an annual contest that pitted graduating seniors
against the defending NFL champions. The Packers and Lions, he says, both offered him $200 a game — this was before the draft had been invented — but he opted to join the football staff at Yale, figuring he could get his law degree there in his off hours. You know who else was an assistant for the Bulldogs then? Pro Football Hall of Famer Greasy Neale, who would lead the Philadelphia Eagles to two titles in the '40s.
Ford tells a funny story about Curly Lambeau's attempt to recruit him for Green Bay. Some other sound bites that will hopefully encourage you read all of "In Defense of the Competitive Urge":
● "It is a disgrace in this country for anyone not to realize his or her potential in any sport."
● "[W]e have been asked to swallow a lot of home-cooked psychology in recent years that winning isn't all that important anymore, whether on the athletic field or in any other field, national and international. I don't buy that for a minute. It is not enough to just compete. Winning is very important. Maybe more important than ever.
"Don't misunderstand. I am not low-rating the value of informal participation. Competing is always preferable to not competing, whether you win or not. . . . [But] if you don't win elections you don't play, so the importance of winning is more drastic in that field. In athletics and in most other worthwhile pursuits first place is the manifestation of the desire to excel, and how else can you achieve anything?"
● "Under [coach] Harry Kipke, Michigan used the short-punt formation, which was popular then, and as the center I fancied myself the second-best passer in the lineup. If I'm dating you, the center in the short punt or single wing is not just a guy who sticks the ball in the quarterback's hands. Every center snap must truly be a pass [between the legs], often leading the tailback who is in motion and in full stride when he takes the ball. I don't mean to be critical, but I think that is why you now see so many bad passes from center on punts and field goals. They don't have to do it enough. I must have centered the ball 500,000 times in high school and college."
● "[T]here is obviously a deep American involvement in and a great social significance to the game. No game is like football in that respect. It has so many special qualities, among them the combination of teamwork involving a large number of people, with precise strategies and coordination  that are essential if anyone is going to benefit. The athletes are highly skilled, but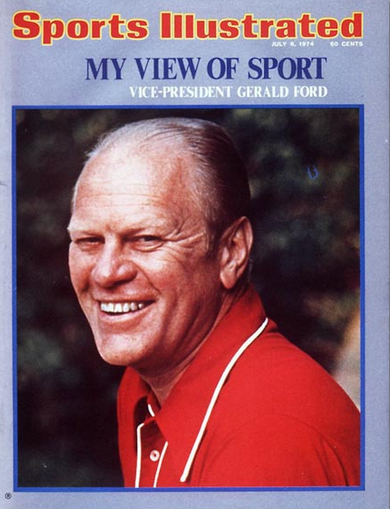 subservient to the team. Yet if they do their job, they give an individual an opportunity for stardom. I know of no other sport that demands so much, and returns so much.
● "The sports news is glutted with salary disputes and threats of strike, of demands and contractual harangues, of players jumping from one league to another, or owners threatening to pull their franchises out of this or that city unless demands are met or profits improve.
"[W]hat scares me is that the fan may ultimately be abused, if he has not been already. The money has to come from somewhere. Traditionally, the somewhere is the fan's pocketbook — and in the electronic age in which we live, the advertiser's. At what point will the fan become disillusioned? When he comes to the conclusion that the team he is supporting has no reciprocal interest in his affection, I think there will be a withdrawal of support. It might not come today, or this season, but it will surely come."
And how's this for prescience?
● "When I was in China a few years ago I was astounded by the number of basketball courts. They were everywhere — in school yards, outside factories and farms. Boys and girls were playing basketball at age three and four, with miniature balls and undersized baskets. The sizes and heights were graded to coincide with the age group, something we might consider here, even up to the professional level. . . . In 1972, when I received the college Football Hall of Fame award at the Waldorf in New York, I remarked on this new Chinese passion for the old American game, and I said that one day soon we would have to cope with a seven-foot Chinese Wilt Chamberlain."
Again, do yourself a favor and read The Whole Thing.