We'll never know what kind of NFL career Duane Thomas might have had because, while great at eluding tacklers, he couldn't get out of his own way. For a brief period in the early '70s, though, he was a premier running back, arguably the best in the league when suitably inspired.
He was definitely up for Super Bowl VI, when his Cowboys crunched the Dolphins, 24-3. He rushed for a game-high 95 yards, ran for the second Dallas touchdown, caught three passes — and did it against a dynasty-in-the-making that would win the next two NFL titles.
But Thomas wasn't exactly a big talker. And after getting in a contract dispute that season — a strange episode that saw him traded to the Patriots, then returned to the Cowboys when he proved utterly uncooperative — he shut himself off from the media and didn't communicate much with coaches and teammates, either.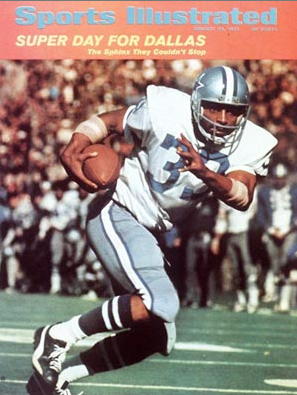 Naturally, this didn't make him very popular. In his book, Duane Thomas and the Fall of America's Team, Paul Zimmerman wrote that Thomas was "the writers' overwhelming choice" for Super Bowl MVP — and the car that went with it — but Sport magazine, which handed out the award, opted for Dallas' Roger Staubach, who'd thrown for a modest 119 yards (and two TDs). The reason was obvious: The publication was afraid of what Thomas might say or do when he was presented with the car in New York (that is, assuming he showed up).
Simply put, Thomas' demeanor made people uncomfortable — even a hard-nosed former NFL defensive back like Tom Brookshier. After the game, Brookshier was doing interviews in the winners' locker room for CBS when he got one of the surprises of his life: Thomas was suddenly standing behind him on the TV platform, accompanied by football legend Jim Brown, his friend and advisor.
What followed were three of the more memorable minutes in the history of sports television. You had Brookshier struggling to get any kind of conversation going — and coming across like a summer intern in the process — and you had Thomas, ever the Sphinx, keeping his answers painfully short. (Except for his immortal "Evidently" line. That was humorously short.) As for Brown, then a Hollywood star, he almost sounded like Duane's Svengali at times.
See for yourself. Here's a clip of the interview that I happily came across yesterday — and that might get taken down at any moment if the Copyright Infringement Police decides to make an issue of it (which is why I'm posting it now, completely out of the blue).
"I still have nightmares about that interview," Brookshier once said. "I think of it and break into a cold sweat. I keep a blown-up photo of it next to my desk — so I'll never forget."
This past season, of course, we had another closed-mouthed running back at the Super Bowl: the Seahawks' Marshawn "I'm just here so I don't get fined" Lynch. I don't know about you, but I thought Thomas was much more entertaining.
Sources: YouTube, pro-football-reference.com