Someday I'll write a post about Things College Football Players Can Do That Pro Players Can't (such as throw for 734 yards in a game — only 180 more than Norm Van Brocklin's 63-year-old record).
The idea dawned on me yesterday while reading about Oklahoma's 59-14 steamrolling of Iowa State. One of the Sooners' more impressive stats was this: "Trevor Knight became the first FBS player this season to throw three TD passes and rush for three touchdowns in a game."*
This got me wondering about whether any NFL quarterbacks had accomplished such a feat. Had Michael Vick ever had a day like that? Randall Cunningham? Bobby Douglass?
A quick trip to pro-football-reference.com brought me the answer: No. Since 1960, at least, no QB has done that. More than a few have come close — 14 have passed for three scores and rushed for two (last: the Packers' Aaron Rodgers vs. the Broncos in 2011), and two have passed for two and rushed for three (last: the Raiders' Daunte Culpepper vs. the Dolphins in '07), but there have been no 3/3 Guys.
Undeterred, I began spot-checking some running quarterbacks from earlier years. Tobin Rote? No. Bobby Layne? No. Otto Graham? Ah-hah. And here's the kicker: The Browns' Hall of Famer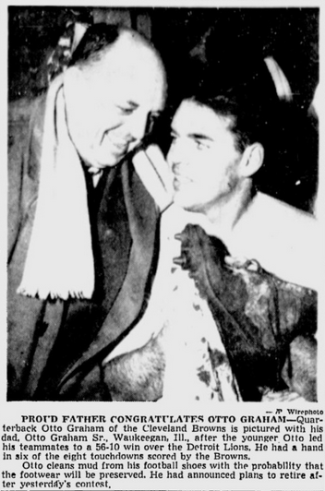 did it in the 1954 championship game against Layne's Lions. Otto threw for TDs of 35, 8 and 31 yards and ran for scores of 1, 5 and 1 as Cleveland clobbered Detroit, 56-10.
This is from Chuck Heaton's game story in the Cleveland Plain Dealer. (Heaton, by the way, was the father of Patricia Heaton, who played Ray Romano's wife on "Everybody Loves Raymond.")
Graham, who expects to wind up his grid activity with the Hula and Pro Bowl games next month, re-established himself as the No. 1 man at his position with his passing and running. Otto, an insurance man and part owner of a commercial sales business in the off-season, ran with all the enthusiasm of his collegiate days at Northwestern on his three scoring bursts.

The 33-year-old T-master sneaked a foot for Cleveland's third touchdown, went five yards around his own right end on a bootleg for the fourth. He opened the second-half scoring with another plunge from the one-foot line, which killed off any slight hope remaining for the sizable Detroit aggregation on hand to see the Lions bid for an unprecedented third straight pro title.
That's the other thing. This was supposed to be Graham's last game. He'd already announced his intention to retire. But he changed his mind the following summer and led the Browns to one last title. In that championship game, against the Rams, he only passed for three touchdowns and rushed for two.
Anyway, it's comforting to know an NFL quarterback has matched Knight's feat, even if it was 60 years ago.
*Amazingly, by the end of the day, Notre Dame's Everett Golson had done the same thing against Navy.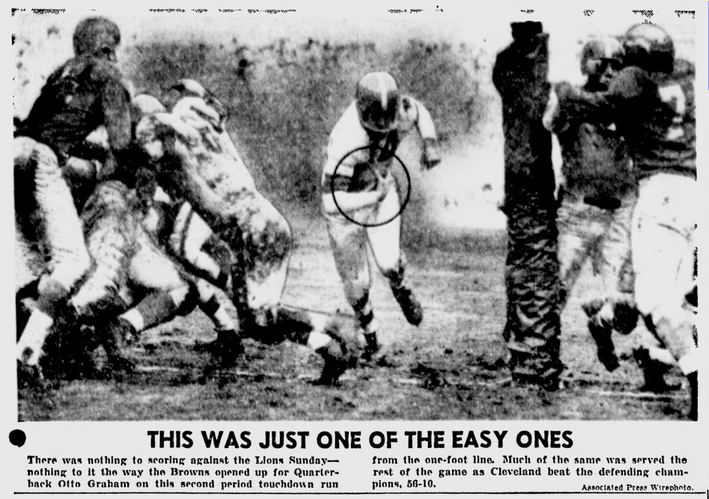 Source: pro-football-reference.com