Before instant replay, a team didn't have much recourse if it felt an official had missed a call. It might send a film clip to the commissioner, just to prove its point, but that was as far as it went. No call was ever reversed.
It was the same in 1935, when the Pittsburgh Pirates (as they were known then) lost 13-7 to the Brooklyn Dodgers on a disputed touchdown catch. The difference then was that a Pittsburgh Press photographer had gotten a good shot of the play, one that suggested — but didn't conclusively prove — the left foot of receiver Wayland Becker was out of bounds when he secured the pass from Red Franklin.
It might have been the NFL's first photographic controversy. (And just think how much more primitive the technology was then, how much harder it must have been to get a shot like that. Never mind the luck involved.)
Take a look at the photo and see what you think. The quality isn't good, but the sideline is faintly visible beneath Becker's foot. The question is: Where exactly did his heel come down? From this angle — and at this juncture — it's pure speculation.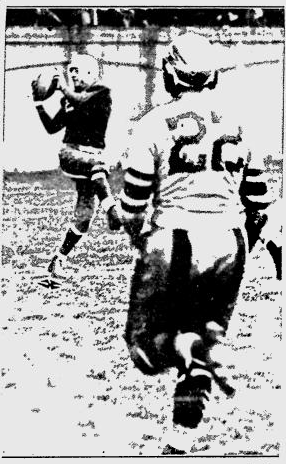 Here, too, is the link to the Pittsburgh Press page from Nov. 4, 1935. Maybe you'll find the clarity a bit better.
If indeed Becker got away with one, he didn't escape unscathed. He missed the Dodgers' next two games — rematches with Philadelphia and PIttsburgh — because he "sustained a broken jaw in the first game with the Pirates," the Brooklyn Eagle reported. What a coincidence.