Since Ernie Ladd, the mammoth defensive tackle for the Chargers (and others) in the '60s, is featured in this week's Friday Night Fight, I thought I'd post my tribute to him when he died in 2007. Hopefully it'll give you a better sense of the man — large in every respect.
---
"He was so big and strong, he didn't have to be mean."
— Billy Shaw, the Bills' Hall of Fame guard
---
Everything about Ernie Ladd was supersized, from his height (6-9, same as Too Tall Jones) to his appetite (124 pancakes at one sitting). He was a 325-pound defensive tackle in an era, the 1960s, when a 250-pounder was considered strapping. The ground shook — and so did opponents — when Ladd walked.
He also hit Bobo Brazil over the head with a chair once.
This was in 1971, after his days as a quarterback cruncher for the Chargers, Oilers and Chiefs were over. Back then, you see, a fellow as large — indeed, mythic — as Ernie couldn't simply be a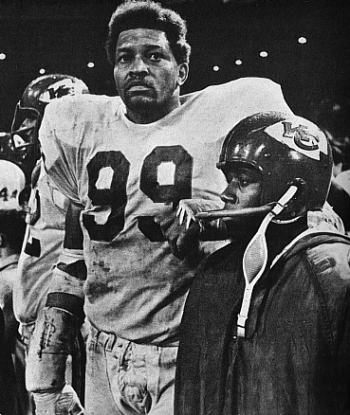 professional football player. There was too much money to be made in the wrestling racket. As 49ers Hall of Famer Leo Nomellini, another moonlighting grappler, put it, "After you hit 30 or 32, football hurts your bones. A wrestler can go until he's 45 or 50 and be good at it."
Ladd, who died of cancer Saturday at 68, might have been the last of the breed. Sure, Lawrence Taylor and Fridge Perry did some rolling around, but no big name footballer since the "Big Cat," as Ernie was called, has had anything resembling a career in the ring. (And none of them, of course, ever had to deal with Bobo Brazil's dreaded Cocoa Butt.)
We forget how strong the connection was between the pro football and wrestling once upon a time. In the '20s and '30s, Jim McMillen, Gus Sonnenberg, Joe Savoldi, Bronko Nagurski and scores of other NFLers took to the mats and helped popularize the sport. Sonnenberg, the Providence Steam Roller's 5-6 fireplug, introduced the flying tackle; Savoldi, the Chicago Bear by way of Notre Dame, gave us the dropkick. Nagurski, meanwhile, amazed the masses by keeping up a full ring schedule while playing for the Bears in 1937. In one 22-day stretch, he had five football games (from Green Bay to Pittsburgh) and eight wrestling matches (from Vancouver to Philadelphia).
Who knows how good these guys really were between the ropes? (A sportswriter once joked that Bronko was "one of the dozen or 15 world's wrestling champions who flourished simultaneously a few years ago.") In the end, though, it doesn't matter. They put fannies in the seats — and turned the previously moribund mat game into the spectacular it is today.
It was in the cleat marks of Sonnenberg, Nagurski and the rest that Ladd followed. Pro football had never seen a behemoth like him when he joined the Chargers out of Grambling in 1961. In fact, he might still be the greatest extra-large player in the game's history, a four-time All-Star who played in four title games in eight seasons before his left knee gave out.
"He was so big and strong, he didn't have to be mean," said Billy Shaw, the Bills' Hall of Fame guard.
Courageous, too. After arriving in New Orleans for the 1965 AFL All-Star Game, Ladd and other black players had problems getting white taxicab drivers to pick them up. So they banded together and forced the owners to move the contest. Barely 15,000 showed up for the unplanned event in Houston, making it an embarrassment all around for the young league, but an important point had been made.
Ernie also played out his option that year and became a free agent, a rarity in those days. (Only the strongest of the strong dared to buck management like that.) He signed with Houston for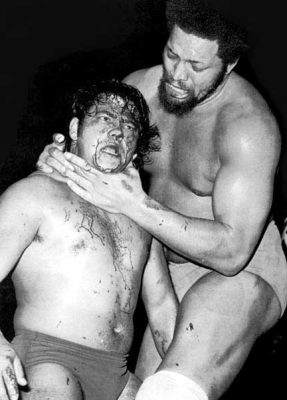 much more money than San Diego was paying him but played just one more full season because of injuries.
There was still wrestling, though. And on the night of Sept. 14, 1971, after the tag team of Flying Fred Curry and the Stomper had fought to a draw with Mitsu Arakawa and Mr. Sato, Ladd tried to take Brazil's U.S. championship from him. The end of the bout came suddenly, the local newspaper reported, when Bobo was "hit over the head with a chair . . . [and] counted out."
Alas, because Ernie neglected to pin him — this is wrestling, remember — Brazil retained his belt. "A rematch," the paper said, "has been set."
The next time, you'll be pleased to know, the Big Cat finished the job. After which he probably celebrated by eating "two shrimp cocktails, three dishes of coleslaw, three servings of spinach, three baked potatoes, eight rolls and butter, [a] half gallon of milk, three exotic desserts . . . and four 16-ounce steaks" — as he once did to impress a reporter.
It was just another meal for larger-than-life Ernie Ladd.
"You should see him eat when nobody's watching," a teammate said.
From The Washington Times, March 15, 2007