Since this is Brady-Manning Week — and since I live for obscure facts — I decided to find the answer to the following question: Which NFL player caught TD passes from the most Hall of Fame quarterbacks? A player who comes immediately to mind, of course, is the Broncos' Wes Welker, who's had the good fortune to run routes for the Patriots' Tom Brady and the Broncos' Peyton Manning. Granted, neither is in the Hall yet, but they'll be having their mail forwarded there soon enough.
Anyway, unless Welker finishes his career with Drew Brees in New Orleans, Aaron Rodgers in Green Bay or maybe Andrew Luck in Indianapolis, he won't hold the record in this category. There are actually players who've caught TD passes from three Hall of Fame QBs — six of them, in fact. If you can guess even one, I'll be impressed.
The first was Ed Sprinkle, a two-way end for the Bears in the '40s and '50s. Ironically, Sprinkle is remembered more for his fists than his hands. He was an enforcer in the hockey tradition, a guy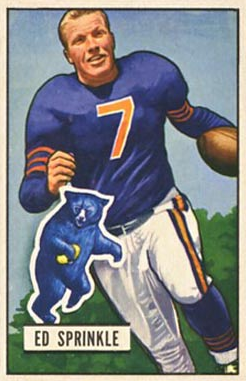 who, according to one writer, had a "Midas-like" talent: "Everything he touches turns to broken noses." (Ed's succinct defense: "To me, it wasn't a game of pitty-pat.")
When he wasn't busy bludgeoning opponents, "The Claw," as he was called, had 32 receptions in his 11 seasons, seven going for touchdowns. Those TD passes, though, were thrown by an interesting collection of quarterbacks. Three — Sid Luckman, Bobby Layne and George Blanda — went on to Canton (and another, Johnny Lujack, once held the record for passing yards in a game).
(Yeah, yeah, I know. Blanda is in the Hall as a quarterback-kicker. Remember, though: When he retired in 1975, his 236 touchdown passes were seventh most in NFL-AFL history.)
You'd think the players on this list would be ultra-productive types, your proverbial Household Names, but that's not the case at all. None of the five guys who are tied with Sprinkle had more than 23 TD grabs in his career. Two, moreover, were running backs, and two others fit the tight-end profile.
Mostly, they were in the right place at the right time. They either lucked upon a team blessed with multiple Canton-bound quarterbacks or, in their travels, were fortunate enough to cross paths with several legendary QBs. The details:
PLAYERS WHO CAUGHT TD PASSES FROM 3 HALL OF FAME QUARTERBACKS
● Ed Sprinkle, E, Bears, 1944-55 — TD passes from Sid Luckman (3), Bobby Layne (1) and George Blanda (1). Career totals: 32 receptions, 451 yards, 7 touchdowns.
● Dick Bielski, TE, Eagles/Cowboys/Colts, 1955-63 — TD passes from Sonny Jurgensen (2), Norm Van Brocklin (2) and Johnny Unitas (1). Career totals: 107-1,305-10.
● Preston Carpenter, WR-TE, Browns/Steelers/Redskins/Vikings/Dolphins, 1956-67 — TD passes from Layne (6), Jurgensen (3) and Fran Tarkenton (3). Career totals: 305-4,457-23. Note: Carpenter's last season, in Miami, happened to be Bob Griese's rookie year. Alas, he didn't grab any of Griese's 15 TD throws, otherwise he'd stand alone in this department. (Let's face it, though, the man was a magnet for Hall of Fame quarterbacks.)
● Preston Pearson, RB, Colts/Steelers/Cowboys, 1967-80 — TD passes from Unitas (1), Terry Bradshaw (2) and Roger Staubach (7). Career totals: 254-3,095-17.
● Mike Sherrard, WR, Cowboys/49ers/Giants/Broncos, 1986. '89-96 — TD passes from Joe Montana (2), Steve Young (1) and John Elway (1). Career totals: 257-3,931-22.
● Amp Lee, RB, 49ers/Vikings/Rams/Eagles, 1992-2000 — TD passes from Young (3), Montana (1) and Warren Moon (3). Career totals: 335-3,099-15. Note: The last of Lee's scoring receptions was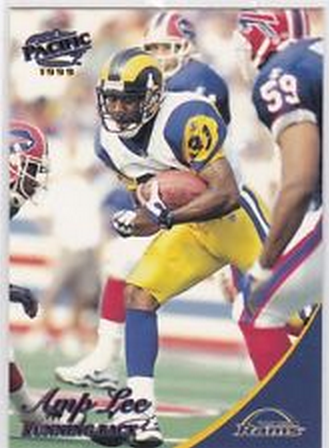 tossed by Kurt Warner. So if Warner goes in the Hall — and I think he belongs — Amp will become the sole No. 1. Unbelievable.
These six players, by the way, made exactly six Pro Bowls (Sprinkle four, Bielski and Carpenter one each) — and Ed, I'll just point out, was voted in for his defensive prowess. Pearson, a useful all-around back, was like Forrest Gump; besides being around great quarterbacks, he went to the Super Bowl with all three of his clubs and won rings with the Steelers and Cowboys.
Obviously, it was easier to make this list if you played for the 49ers when Montana and Young were there (1987-92), the Eagles when Van Brocklin and Jurgensen were there (1957-60) or the Bears when Luckman, Layne and/or Blanda were there (at least two were on the roster from 1948 to '50). It also helps, apparently, if your first name is Preston.
But let me backtrack a bit to the Luckman-Layne-Blanda/Van Brocklin-Jurgensen years. In the '40s and '50s, you see, when there were just 12 franchises, NFL teams literally had more players — and quarterbacks — than they knew what to do with. It's astonishing, really, how concentrated the talent was compared to the watered-down rosters today.
Consider the quarterbacks who were the property of the Rams in the '50s:
● Bob Waterfield — Hall of Famer.
● Van Brocklin — Hall of Famer.
● Billy Wade — Two Pro Bowls (1958, '63). Quarterbacked the Bears to the '63 title.
● Frank Ryan — Three Pro Bowls (1964-66). Led the Browns to the '64 title. Threw more TD passes from 1963 to '67 than anybody in the NFL (117). In fact, only Jurgensen (109), Unitas (104) and Tarkenton (102) were within 25 of him.
● Bobby Thomason — Three Pro Bowls (1953, '55-56). Led the NFL in TD passes in 1953 with the Eagles. The Rams, having no room for him, loaned him to the Packers in 1951, then traded him to Philadelphia.
● Rudy Bukich — Hardly first rate, but he was third in the league in passer rating in 1965 with the Bears.
And that's just one club. The NFL was probably never stronger (read: more competitive) than it was in the '50s. There were third-stringers back then who would be starters now.
Finally, there's one guy who caught a touchdown pass from four Hall of Famers, but there's a caveat: They weren't all quarterbacks. Two were running backs possessed of some throwing ability.
I'm talking about Ray Renfro (father of Mike, the receiver for the Oilers and Cowboys in the '70s and '80s). Ray, a standout with the Browns (1952-63), was on the receiving end of scoring tosses from Graham (11), Len Dawson (1), and running backs Jim Brown (1) and Bobby Mitchell (1).
One last aside: Does the name Charles Jordan ring any bells? Don't beat yourself up if it doesn't. Jordan had a relatively uneventful career as kick returner-wideout for the Packers, Dolphins and Seahawks from 1994 to '99, totaling five touchdown receptions. But here's the thing: The first two TDs were from Brett Favre and the last three from Dan Marino. If you're going to catch five scoring passes in your NFL career, that's a pretty good way to do it.
Source: pro-football-reference.com