The Bears' signing of "Jumping Joe" Savoldi, the star fullback from Notre Dame, late in the 1930 season was a national story. Savoldi had been booted out of school in mid-November when it was discovered he was married — a no-no for college athletes back then — and George Halas was quick to get him in a Chicago uniform, even if he had to pay a $1,000 fine because Savoldi's class had yet to graduate. (This, remember, was several years before the NFL had a draft. Teams were free to sign any player they wanted.)
Despite making great money with the Bears, Savoldi played just three games for them — the only games of his pro football career. He then turned to wrestling and, according to
wrestlingdata.com, had over 600 matches in the next 23 years (and briefly held one of the dime-a-dozen heavyweight "titles"). Years later, he explained the sudden switch to Frank Blair of the Long Beach Press-Telegram.
His Bears teammates, he said, weren't too thrilled when they found out what Halas was paying him, and
they quit blocking for me. . . . Here I was getting some $4,000 a game with my cut of the gate, and my teammates in the line and backfield were being paid $50 to $125 per man. . . . If I was worth 20 times as much as they were, I could make my own touchdowns without any help. After I had been riddled a dozen times trying to hit the line or sweep off tackle, I just fell down and stayed there. I didn't have a chance.

So they took me out and kept me on the bench after the second game — not because I couldn't play football, but [because] the other guys wouldn't play and block for me. I had a contract for 18 games after that first season, with a guarantee of $500 a game, but I didn't want any part of that pro football. I went into wrestling. In that business you don't need blockers.
As you might expect of a wrestler with 600 bouts, Savoldi took on anybody and everybody, from legends like Strangler Lewis and Jim Londos to ex-football players like Bronko Nagurski (his former Bears teammate), Gus Sonnenberg, Jim McMillen, Sammy Stein, Mayes McClain and Roy "Father" Lumpkin.
Nagurski was the champion himself for a while. Wrestlingdata.com has him beating Savoldi three out of three, but it seems to have missed this match in 1938: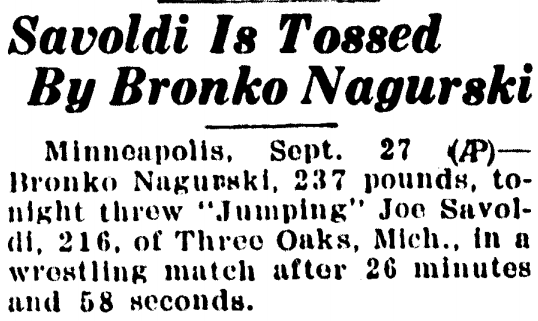 During World War II, Savoldi performed some kind of "secret mission" for the U.S. government. Jack Cuddy of The Associated Press wrote about it in 1945. Savoldi wasn't able to provide him with much detail — it was all very hush-hush — but Cuddy had his suspicions. Joe, he noted, had been born in Italy, and not only was fluent in Italian but knew a fair amount of French.
All Savoldi told him was that he was "on special assignment. Yes, I am permitted to tell you what areas I visited. They were North Africa, Sicily, Italy — including Salerno — and France — including Normandy. Yes, I was under fire — plenty of times. No, I wasn't wounded. This scar on my cheek and these cauliflower ears came before the war."
After he retired from the ring, Savoldi trained the famed Bobo Brazil, whose signature move was the concussion-causing Cocoa Butt. Jumping Joe's specialty, naturally, was the Flying Dropkick, which he demonstrates — to great effect — in the following clip. His opponent is Man Mountain Dean. They crossed paths several times, but I'm pretty sure this bout was in 1934.
Sources: pro-football-reference.com, wrestlingdata.com