There are no non-compete clauses in NFL coaching contracts. If a coach gets fired and wants to take a job with another team in the same division — or even if he doesn't get fired (see: Bill Parcells) — he's free to do so. And so we have the Jets getting rid of Rex Ryan, and Ryan moving on to Buffalo, where he'll have the chance to torment his old employer twice a year.
This is a rare happening in pro football, especially since there wasn't any Cooling-Off Period — no season or two as a defensive coordinator, no tour of duty as a TV talking head — before Ryan got another head-coaching gig. He's jumping right back in the saddle . . . in the AFC East. Don't you just love it?
According to my research, there have been only six coaching moves like Ryan's in NFL history — four in the modern era (since 1960), two in the early days. And get this: The four most recent ones all have been in the AFC East. (Or should we start calling it The Division of Eternal Intrigue?) This isn't, moreover, the first time the Bills have been involved in such a switch, and it isn't the Jets' maiden voyage, either. The details:
● Rex Ryan, Jets to Bills, 2015.
Record with Jets (2009-14): 50-52 overall, 4-2 playoffs. High point(s): Lost AFC title games in 2009 (30-17 to Colts) and '10 (24-19 to Steelers).
Comment: Ryan was 7-5 vs. Buffalo in his six seasons with the Jets, so for that reason alone it's a good hire, right? Plus, he gets to continue his blood feud with the Patriots' Bill Belichick, and that's always entertaining.
● Bill Parcells, Patriots to Jets, 1997.
Record with Patriots (1993-96): 34-34 overall, 2-2 playoffs. High point: Lost Super Bowl 31 to Packers, 35-21.
Record with Jets (1997-99): 30-20 overall, 1-1 playoffs, 4-2 vs. Patriots. High point: Lost 1998 AFC title game to Broncos, 23-10.
Comment: This was one of the messier exits, with jilted New England owner Bob Kraft demanding compensation and getting it (including a No. 1 pick). Even Parcells has come to regret his decision. The Patriots, after all, were young and ready to win big. But Kraft wasn't the man who'd hired him (previous owner James Orthwein was), so it was easier to bail out at the end of his four-year deal.
● Don Shula, Colts to Dolphins, 1970.
Record with Colts (1963-69): 73-26-4 overall, 2-3 playoffs. High points(s): Lost 1964 title game to Browns, 27-0. Lost Super Bowl III to Jets, 16-7 (after beating Cleveland, 34-0, for NFL championship).
Record with Dolphins (1970-95): 274-147-2 overall, 17-14 playoffs, 36-17 vs. Colts. High point(s): Went to five more Super Bowls and won two, the first of which capped a perfect season (17-0) — still the only one in the NFL's 95 years. Blanked Baltimore 21-0 in the 1971 AFC title game.
Comment: This might have been the last shot fired in the NFL-AFL war. The two leagues merged in 1970, with the Colts, Steelers and Browns joining the AFC to balance the conferences (that is, give each of them 13 clubs). Baltimore was reassigned from the NFL Coastal Division to the AFC East. But before the season began, Dolphins owner Joe Robbie lured Shula to Miami by giving him a piece of the franchise and the coach-general manager title.
The Colts were none too pleased, even though Shula had asked permission to speak to Robbie. Their general manager, Don Klosterman, accused the Dolphins of "tampering" and said, "I think this was handled in a subversive manner. . . . In pro football, you are supposed to follow protocol whenever you would like to hire an individual from another team. . . . This isn't the way for members of the football fraternity to carry on."
Baltimore ended up getting a first-round pick as compensation (running back Don McCauley) and actually won the Super Bowl that season under new coach Don McCafferty. But, well, look at the results. Shula went on to a Hall of Fame career in Miami — and routinely beat the Colts in his 26 years there. Baltimore, meanwhile, soon changed owners (from Carroll Rosenbloom to Robert Irsay), then changed cities (hello, Indianapolis) and didn't regain its mojo until Bill Polian and Peyton Manning arrived on the scene in the late '90s.
(Of course, you have to remember: At the time, there were questions — legitimate ones — about whether Shula could win the big one. That's about the Colts' only defense for letting him get away.)
● Lou Saban, Patriots to Bills, 1962.
Record with Patriots (1960-61): 7-12 overall, no playoffs. High point(s): Nobody died.
Record with Bills (1962-65 — the first of his two terms in Buffalo): 38-18-3 overall, 2-1 postseason, 4-4-1 vs. Patriots. High points(s): AFL titles in 1964 and '65.
Comment: The Patriots fired Saban five games into their second season. Then the Bills job opened up and Travelin' Lou went to Buffalo. With the quarterback tandem of Jack Kemp and Daryle Lamonica and the league's best defense, he won two championships before ambling off to the University of Maryland in 1966 (one of the more puzzling coaching moves of all time). He lost a division playoff to the Patriots in '63, but evened the score the following year with a 24-14 win at Fenway Park that put Buffalo in the title game (and kept the Pats out).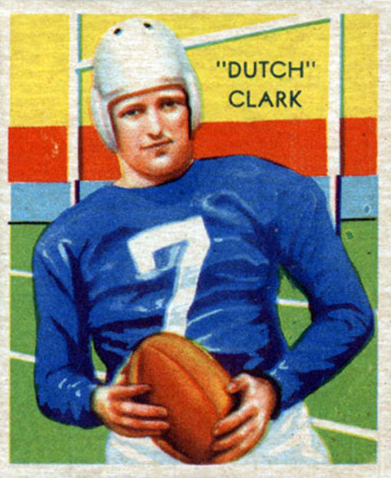 ● Dutch Clark, Lions to Cleveland Rams, 1939.
Record with Lions (1937-38): 14-8 overall, no playoffs. High point(s): Finished second in the West both seasons with 7-4 records.
Record with Rams (1939-42): 16-26-2 overall, no playoffs, 4-4 vs. Lions.
Comment: Clark was a player-coach with the Lions . . . and only a coach with the Rams. That's one of biggest reasons he wasn't more successful in Cleveland. He really could have used a Hall of Fame back like himself (not that Parker Hall was any slouch). Dutch tried to makes a comeback as a player in 1939, but his old team wanted compensation (which the Rams were unwilling to pay). As commissioner Carl Storck explained it: "He was transferred to Cleveland as a coach by mutual agreement of the Lions and the Cleveland organization, as well as Dutch Clark. The only way he can play Sunday is to buy his full release."
● Lud Wray, Redskins to Eagles, 1933.
Record with Redskins (1932): 4-4-2 (good for fourth place in the days before playoffs).
Record with Eagles (1933-35): 9-21-1 overall, no playoffs, 1-2 vs. Redskins.
Comment: Wray has the distinction of being the first coach of both the Redskins (when they were known as the Boston Braves) and the Eagles. He left Boston after one season — things were much more free-flowing then — because he and Bert Bell, his former Penn teammate, bought the Philadelphia franchise (which had been dormant since the demise of the Frankfort Yellow Jackets in 1931). The Eagles were absolutely dreadful in the pre-war years, though, and Bell eventually took control of the team (and, for a spell, coached it).
As you can see, it's a mixed bag of outcomes here. Shula made the Colts look bad — as Saban did the Patriots — but there was nothing catastrophic about the other intra-division moves. Which side of the fence Ryan ends up on is anyone's guess.