Wish there were more trades like the one that sent Percy Harvin from the Seahawks to the Jets, if only to liven things up during non-game days. The NFL, unfortunately, is different from other sports. Baseball, basketball and hockey are veritable swap meets at times, but rarely is there a deal during the pro football season that attracts much attention — or has much impact, really.
Part of it is that the deadline falls so early (though it's been pushed back to the Tuesday of Week 9 — October 28 this year). Another part is that the salary cap limits clubs' ability to add and subtract players. Then, too, there's a playbook to be learned. You can't plug a quarterback into your lineup as easily as you can a right fielder.
The early deadline is an anachronism dating to the days when weaker teams would unload salaries late in the season to cut their losses (thus becoming even weaker teams, which did nothing for the young league's image). The latter is no longer an issue, of course — it's hard to lose money in the NFL — and the former, as I said, is problematical because of the cap. So why not extend the deadline to, say, December 1? It would enable contending clubs to address weaknesses created by injuries and help the also-rans stockpile draft picks for rebuilding. Win-win.
The only thing teams would have to do to create a more lively in-season trade market is hold some money back — that is, not spend to the cap. But I doubt there'll ever be much support for a later deadline because, well, owners don't think like you and I do.
The Harvin deal motivated me to compile a list of 10 notable midseason trades. I'm not going to suggest these are the 10 biggest midseason trades; I might have overlooked (or underestimated) a few. And if I have, please submit your own nominations. What's interesting is that none of them took place later than 1990. Since the institution of free agency in 1993, clubs have essentially adopted the attitude of: Why pay for something today that you might be able to get for nothing (except, perhaps, millions of dollars) tomorrow?
10 NOTABLE IN-SEASON TRADES IN NFL HISTORY
● 1938 — TB/QB Frank Filchock from the Pirates (Steelers) to the Redskins for an undisclosed amount of money (and possibly a draft pick).
This was one of those Salary Dumps I referred to earlier. Pittsburgh owner Art Rooney had signed running back Whizzer White to a huge contract, and the team wasn't winning. So in mid-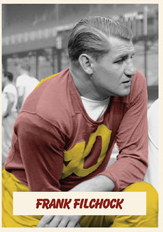 October he got rid of several players, including Filchock, a promising single-wing tailback who had been the 14th pick in that year's draft. Frankie had some fine years in Washington as Sammy Baugh's alternate, then moved to the Giants in 1946 and led them to the championship game. (He's also remembered for getting caught up in the attempt to fix that game, which caused him to be banned from the league for three seasons.)
● 1958 — QB Bobby Layne from the Lions to the Steelers for QB Earl Morrall, a 1959 No. 2 (OG Mike Rabold) and '60 No. 4 (DT Roger Brown).
The deal reunited Layne with his old Lions coach, Buddy Parker, who had quit and taken the Pittsburgh job. Bobby played some of his best ball in the second half of that season, as the Steelers finished on a 6-0-1 tear to wind up third in the Eastern Conference. He also gave the perennially losing franchise some much-needed credibility in the late '50s and early '60s. His only failure was that he never got Pittsburgh to the title game. Brown, by the way, turned out to be a stud defensive tackle for the Lions, a 300-pounder who went to six Pro Bowls. And Morrall had some great moments with the '68 Colts and undefeated '72 Dolphins.
● 1974 — QB John Hadl from the Rams to the Packers for two No. 1s (both Top 10), two No. 2s and a No. 3 in the next two drafts.
Nowadays, three of the picks would be in the first round (8, 9, 28) and the other two in the second (39, 61). This was your basic desperate-for-a-quarterback move by Green Bay. Problem was, Hadl, who'd been a first-team all-pro the season before, was 34, and his best football was behind him. Two years later, the Packers dealt him to Houston for QB Lynn Dickey. Who the Rams drafted with the Hadl picks: DT Mike Fanning, CB Monte Jackson, C Geoff Reece, CB Pat Thomas, C Geoff Reece. Jackson and Thomas went to multiple Pro Bowls. The fifth pick from the deal, a '76 No. 1, was sent to the Lions as compensation for signing free agent WR Ron Jessie, a Pro Bowler in his first season with L.A.
● 1980 — RB Chuck Muncie from the Saints to the Chargers for a 1982 No. 2.
Muncie was tremendously talented and equally troubled (read: drugs, alcohol), which is why his price was so reasonable. But Chargers coach Don Coryell was assembling a Super Offense
around Hall of Fame QB Dan Fouts and decided to take a chance on Chuck, who had already been to one Pro Bowl (and would go to two others). San Diego made it to the AFC title game in Muncie's first two seasons, losing to the Raiders and Bengals, but then his demons undid him again and he was packed off to the Dolphins. Who the Saints drafted with the Chargers pick: LB Rickey Jackson, who's now in Canton.
● 1981 — WR Wes Chandler from the Saints to the Chargers for Nos. 1 and 3 picks in 1982. Chandler was another of Coryell's offensive additions (along with Muncie and TE Kellen Winslow, San Diego's first-rounder in '79). He went to three Pro Bowls with the Chargers, and in the nine-game '82 strike season averaged 129 receiving yards a game, a record. Who the Saints drafted with the San Diego picks: WR Lindsay Scott (69 career receptions) and DB John Krimm (nine NFL games). In other words, not much.
● 1981 — DE Fred Dean from the Chargers to the 49ers for a 1982 No. 2 and the option to switch No. 1s in '83.
For instant impact, you won't find many better deals than this one. Strengthened by Dean's Hall of Fame pass-rushing abilities, San Francisco went on to win the Super Bowl that season and again in '84. What's truly amazing, though, is what happened after San Diego chose to swap first-rounders in '85 (moving up from 22 to 5 to take LB Billy Ray Smith). The Niners then traded the 22nd selection back to them for two No. 2s (36, 49) and turned them into Pro Bowl RBs Wendell Tyler (via a trade with the Rams) and Roger Craig (via the draft). To recap: Dynasty-bound San Francisco got Dean, Tyler and Craig, and the Chargers got Smith and CB Gil Byrd (the 22nd pick). Nice.
● 1983 — CB Mike Haynes from the Patriots to the Raiders for a 1984 No. 1 and '85 No. 2.
Haynes, a holdout, didn't want to re-sign with New England. And when Al Davis finally worked out a trade for him — a tad after the deadline — the league tried to disallow it. But Davis
ultimately prevailed, and the cornerback combination of Hall of Famer Haynes and Pro Bowler Lester Hayes turned the Raiders defense into a total monster, one that destroyed the Redskins, one of the highest-scoring teams in NFL history, in the Super Bowl later that season. Who the Patriots drafted with the Raiders picks: New England packaged the '84 No. 1 (28th) with their own (16th) to get the first overall pick and selected WR Irving Fryar, who had a very good 17-year career (most of it with other clubs). The No. 2 brought DB Jim Bowman. Remember, though: The Pats went to the Super Bowl themselves in '85 — and beat the Raiders in the playoffs to get there.
● 1987 — RB Eric Dickerson from the Rams to the Colts for three No. 1s and three No. 2s spread over the next two drafts, plus RBs Greg Bell and Owen Gill. The trade also involved the Bills, who came away with LB Cornelius Bennett, Indianapolis' unsigned No. 1 pick that year (and the second overall selection).
What a blockbuster. Dickerson was one of the biggest names in game, a Hall of Famer whose 2,105-yard rushing season in 1984 is still the record. So why did the Rams deal him? Contract issues. In Indianapolis he rejoined his coach at SMU, Ron Meyer, who showcased him the way John Robinson had in Los Angeles. (In other words, this was the running back version of the Layne trade.) Backs tend to have shorter primes, though, and Eric rushed for more yards with the Rams (7,245) than with the Colts (5,194). Still, Indy made the playoffs in '87 — for the first time since moving from Baltimore – so it's not like Jim Irsay didn't get anything out of the trade.
As for the Rams, Gill didn't gain a single yard for them, but Bell was their leading rusher in 1988 and '89, when they reached the postseason. Who they drafted with Colts' and Bills' picks: RB Gaston Green, WR Aaron Cox, RB Cleveland Gary, LB Fred Strickland, LB Frank Stams and CB Darryl Henley. Only Green ever made the Pro Bowl (once), and Henley wound up in prison for cocaine trafficking and other felonious activities.
● 1989 — RB Herschel Walker from the Cowboys to the Vikings for the kitchen sink.
There were enough picks and players involved in this trade – 18 in all, including three No. 1s and three No. 2s – to give you a headache. Dallas' major acquisitions, through the draft, were RB Emmitt Smith, the NFL's all-time leading rusher, and five-time Pro Bowl SS Darren Woodson. (The rest were pretty much role players.) As for Walker, he was a disappointment in Minnesota, though the Vikings also got a third-round selection in the deal that they turned into WR Jake Reed, who had four 1,000-yard seasons. With Smith, the Triplets (Troy Aikman-Michael Irvin-Emmitt) were complete, and the Cowboys became the team of the '90s, winning three Super Bowls in four years.
● 1990 — QB Steve Walsh from the Cowboys to the Saints for Nos. 1 and 3 picks in 1991 and a No. 2 in '92.
Once Jimmy Johnson decided on Aikman as his quarterback, he auctioned off Walsh, his former University of Miami QB, who he'd taken in the '89 supplemental draft. The New Orleans first-rounder, which Johnson traded to the Lions, didn't bring much in return, but the third-rounder, OT Erik Williams, was voted to four Pro Bowls. The second-rounder is the great What Might Have Been. Jimmy used it to move up and draft WR Jimmy Smith, who washed out in Dallas but had 11 tremendous seasons with the Jaguars, catching 862 passes and going to five Pro Bowls. Walsh quarterbacked Saints to the playoffs in '90, going 6-5 as a starter, but didn't have many more career highlights.
Sources: pro-football-reference.com, prosportstransactions.com, various Sporting News Football Registers.