A practice-field fight between Redskins Bashaud Breeland and Andre Roberts a couple of weeks ago caused quite a stir in the nation's capital. What else is there to talk about when a team is 3-10?
I made light of it in a blog, saying it paled in comparison to some of the more action-packed battles in the NFL's combative history. I've since discovered — as if I needed any more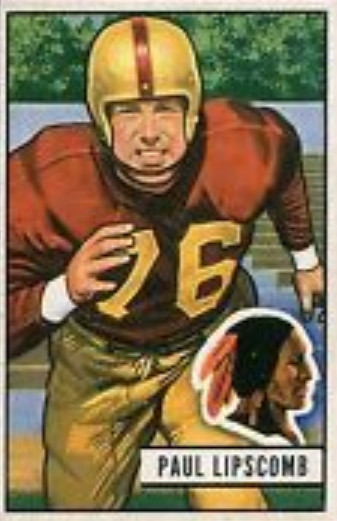 ammunition — that the Breeland-Roberts bout isn't even the most notable between two Redskins. The brawl between middle guard Jim Ricca and defensive tackle Paul Lipscomb after a game in 1952 was much better, according to accounts.
Breeland (5-11, 195) and Roberts (5-11, 192), after all, are mere cruiserweights. Ricca (6-4, 270) and Lipscomb (6-5, 246), a four-time Pro Bowler, were super heavyweights. When they walked, the ground shook. (Or at least, it did in those days, when players weren't nearly as big as they are now.)
The two behemoths came to blows in the locker room after the Redskins had blown a 10-0 lead in the second half and lost 14-10 to the Giants at Griffith Stadium. "Blaming each other for missed assignments that led to Washington's final-period collapse, . . . they tangled in a brief, but bloody brawl," the International News Service reported.
"Ricca suffered a deep gash under the chin that required seven stitches to close. Eyewitnesses said he apparently fell against a trunk as the two beefy linemen wrestled to the floor."
The Associated Press added this detail: "They were separated, before much damage was done, by several players, including 226-pound Chuck Drazenovich, who used to be the intercollegiate boxing champion."
Redskins coach Curly Lambeau, who had seen a tiff or two between teammates in his day, told Ricca and Lipscomb to shake hands. He then sent them to neutral corners. (OK, I made the second part up.)
"I'd rather see the boys worked up than take the loss lying down," Lambeau said — football philosophy at its finest.
Here's what's eerie. Both fights — Breeland-Roberts and Ricca-Lipscomb — took place after the Redskins had dropped their fifth in a row. In both instances, there were three weeks left in the season. In both instances, the Redskins lost their next game, then won the one after that to end their string of defeats at six.
The moral, I guess: Beware late-season five-game losing streaks. (And for goodness sakes, keep your gloves up.)
Source: pro-football-reference.com