LeSean McCoy for Kiko Alonso.
Trades don't get any more stripped-down than that, do they? My guy for your guy — period. No draft picks. No throw-in players to balance the scales. No contingencies of any kind. Just . . . one for one. May the best man win.
You forget how unusual these deals are, especially since the advent of free agency. Teams don't need to trade for players anymore — not as much, anyway. They just have to wait for their contracts to expire. Draft choices, not live bodies, have become the most popular form of currency. They get swapped and swapped and swapped some more until nobody can remember who got traded for what.
Which is probably how general managers prefer it. Who wants to be reminded, year after year, of the boneheaded move he made when he traded X for Y? When you exchange picks for players, there can be much more of a smoke-and-mirrors effect. Keeping track of those can be like that scene in Chinatown when Jake Gittes pores over the real-estate transactions in the Hall of Records. ("So that's who the Bucs ended up getting for the guy — Jasper Lamar Crabb!")
So the McCoy-Alonso deal is notable for two reasons: first, because the Eagles willingly traded an in-his-prime running back, one who won the NFL rushing title in 2013; and second, because they received not draft selections from the Bills but an outside linebacker, arguably the league's top rookie two years ago (before he blew out his knee and missed last season).
A straight-up swap of Known Players. What a novelty.
Naturally, I felt compelled to put together a list of other memorable one-for-one trades in NFL history. You may have other favorites, and I welcome additions, but here are 10 that come to mind:
10 STRAIGHT-UP, PLAYER-FOR-PLAYER TRADES
● 2005 — WR Laveranues Coles from the Redskins to the Jets for WR Santana Moss.
This was one of the weirder deals. Coles, after all, had left the Jets after the 2002 season to play in Steve Spurrier's "Fun 'n' Gun" offense in Washington. But Spurrier quit a year later, Joe Gibbs returned for a second term as coach and Laveranues decided he'd be happier back in New York. So the Redskins exchanged him for Santana Moss — and were they ever glad they did. Over the next decade, Moss caught 581 passes for 7,867 yards and 47 touchdowns. Coles played four more seasons with the Jets before they cut him and had 289 receptions for 3,439 yards and 24 TDs.
Winner: Redskins.
● 1989 — RB Earnest Byner from the Browns to the Redskins for RB Mike Oliphant.
Byner needed a change of scenery after his crushing fumble in the 1987 AFC title game, which followed him around in Cleveland wherever he went. The Browns obliged by sending him to Washington for Oliphant, the Redskins' super-speedy third-round pick in '88. Byner had two 1,000-yard seasons in D.C., went to two Pro Bowls and was the leading rusher on the 1991 championship team. Oliphant touched the ball exactly 25 times in Cleveland (playoffs included) before his career petered out.
Winner: Redskins.
● 1984 — RB James Brooks from the Chargers to the Bengals for FB Pete Johnson.
Brooks, a situation back behind Chuck Muncie in San Diego, blossomed in Cincinnati, making four Pro Bowls and retiring as the Bengals all-time leading rusher with 6,447 yards — a total surpassed only by Corey Dillon's 8,061. (He also was a terrific receiver and ferocious blocker, as Boomer Esiason can tell you.) Johnson, more the sledgehammer type, had had some fine years in Cincy, but at 30 he was pretty used up. He played just one more NFL season — and just three games with San Diego before being dealt to the Dolphins, who needed a short-yardage guy for their '84 Super Bowl run.
Winner: Bengals.
● 1980 — QB Ken Stabler from the Raiders to the Houston Oilers for QB Dan Pastorini.
Stabler was 34, Pastorini 31, and neither had much left. The Oilers were hoping The Snake, coupled with Earl Campbell, would finally get them to the Super Bowl, but he threw 28 interceptions in 1980, second most in the league, and had two more picks in the first round of the playoffs as Houston lost to — of all people — Oakland. By then, Pastorini had suffered a broken leg and been replaced by Jim Plunkett, who quarterbacked the Raiders to the title (and to another in 1983).
Winner: Oilers (though neither team got what it was looking for).
● 1977 — QB Ron Jaworski from the Los Angeles Rams to the Eagles for the rights to TE Charle Young.
Jaworski, a three-year veteran, had thrown only 124 NFL passes when Philadelphia acquired him for the unsigned Young, who had already been to three Pro Bowls. Charle never went to another. Jaworski, meanwhile, led the Eagles to four straight playoff berths (1978-81) and one Super Bowl.
Winner: Eagles.
● 1976 — WR Charlie Joiner from the Bengals to the Chargers for DE Coy Bacon.
In 1976, Joiner had yet to emerge as a Hall of Fame receiver (totals for seven seasons: 164 catches, 2,943 yards, 18 touchdowns). Bacon was probably considered the better player because of his pass-rush ability (in the days before the NFL kept track of sacks). Well, Charlie wound up in Canton after being teamed with Dan Fouts and Don Coryell in San Diego, where he racked up 586 more receptions. But Coy, let's not forget, had two Pro Bowl years in Cincinnati before being traded to the Redskins (with CB Lamar Parish) for a first-round pick.
Winner: Chargers (but both clubs made out well).
● 1965 — WR Tommy McDonald from the Cowboys to the Los Angeles Rams for P-K Danny Villanueva.
Yup, the Cowboys swapped a Hall Fame receiver — admittedly, a 31-year-old one — for a punter-kicker. But keep in mind: They had just added Bob Hayes to the roster and figured they were in good shape at wideout. McDonald had 1,036 receiving yards in his first season with the Rams, third most in the league, and was voted to his sixth and last Pro Bowl. He followed that with another solid year (55-714-2) in '66 before moving on to the Falcons. Villanueva filled a void in Dallas but was just an ordinary kicker (longest field goal with the Cowboys: 42 yards) and didn't punt as well as he had in L.A (40.4-yard average vs. 44.3).
Winner: Rams.
● 1965 — CB Fred "The Hammer" Williamson from the Raiders to the Chiefs for CB Dave Grayson.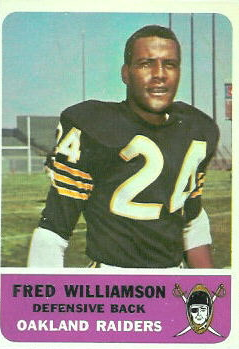 On the surface, it seemed like a fair trade: the mouthy Williamson, a three-time AFL All-Star, for Grayson, also a three-time AFL All-Star. Grayson was two years younger, though — 26 to Fred's 28 — and had more of his career ahead of him. Williamson did help Kansas City get to the first Super Bowl in 1966, but Grayson helped Oakland get to the second Super Bowl in '67 and led the AFL in interceptions the next year. By then, Freddie was out of football and on the verge of becoming a Hollywood action star.
Winner: Raiders.
● 1961 — QB Y.A. Tittle from the 49ers to the Giants for DL Lou Cordileone.
It's easy, from a distance, to laugh at this trade, but Tittle was almost 35 and Cordileone had been the 12th pick in the previous year's draft. Besides, San Francisco was experimenting with a shotgun offense, which required a quarterback who could run, and Y.A. certainly didn't fit that description. At any rate, he had an amazing Second Act in New York, guiding the Giants to three straight championship games (all, alas, losses), while Cordileone bounced from the Niners to the Rams to the Steelers to the expansion Saints to oblivion.
Winner: Giants.
● 1960 — CB Night Train Lane from the St. Louis Cardinals to the Lions for K Gerry Perry.
Another swap of a Hall of Famer for a kicker! It just shows how much importance teams were beginning to place on the kicking game. Lane, though 32, was far from done. He went to three more Pro Bowls with Detroit and intercepted 21 more passes (to finish with a total of 68). Perry had a nice first season in St. Louis (13 field goals, tying him for fifth in the league) but was well below average after that.
Winner: Lions.
You can see how dangerous these player-for player trades can be. Many of the deals were one-sided, sometimes ridiculously so. The McCoy-for-Alonso swap — which will be official next week, when the 2015 business year begins — might also prove regrettable for one side or the other. We'll know better in a season or two.
Note: The famous Sonny Jurgensen/Norm Snead trade in 1964 isn't listed because it involved two other players. The Redskins also got DB Jimmy Carr in the deal, and the Eagles got DB Claude Crabb (no relation to Jasper Lamar). Granted, it was essentially a Jurgy-for-Snead swap, and fans always looked at it that way, but Crabb had intercepted six passes a rookie and, entering his third season, could have made up for the imbalance between the quarterbacks. (He didn't.)
Sources: pro-football-reference.com, prosportstransactions.com