Not sure how much was made of this, but 50 minutes into the Broncos' Week 3 showdown with the Seahawks, Peyton Manning still hadn't thrown for a touchdown. And if Seattle had shut him out, Manning likely would have lost his last chance to break the record for most consecutive games with a TD pass. He is, after all, 38 — old enough to be Johnny Manziel's . . . much older stepbrother.
Almost on cue, though, Manning hit tight ends Julius Thomas and Jacob Tamme for scores in the last 9:20 to push his streak to 42 (and tie the game at 20). If he can keep it going through the end of the season, he'll be at 55 — one more than the mark set by the Saints' Drew Brees from 2009 to 2012.
It's a record that has always gotten a fair amount of attention, largely because Hall of Famer Johnny Unitas held it for more than half a century — so long that people began to wonder whether his 47-game streak was unbreakable. But then Brees came along, helped by all the passer-friendly rules that didn't exist in Unitas' day (not to mention climate-controlled indoor stadiums and sticky gloves for receivers).
Soon enough, the Patriots' Tom Brady took a run at Brees, only to have his streak peter out at 52 last season. And now Manning is giving it a go himself, at an age when most quarterbacks are ex-quarterbacks (or, like Johnny U., hanging on by their high tops).
What tends to be forgotten with all these footballs flying around is that it's hard — even now — to throw a touchdown pass in every game of a season, never mind in 42, 47, 52 or 54 games straight. If it weren't, everybody would do it. And everybody hasn't done it.
Joe Montana, for instance, never did it. Neither did John Elway or, for that matter, Sammy Baugh. (And Slingin' Sam's seasons were a lot shorter.) You have to be a consistently good passer, of course, but you also have to have luck on your side. You can't get hurt and miss some time. You can't run into one of those wicked bad-weather games, the kind NFL Films loves to turn into comic opera. You can't get yanked early in the regular-season finale because your playoff spot is already set (a fate that befell Manning in 2005).
Something else to keep in mind: When Tom Brady racked up a then-record 50 touchdown passes in 2007, there was still one game where he came up empty — Dec. 16 against the Jets.
By my count, only 18 quarterbacks in NFL-AFL history have thrown a TD pass in every game of a season, be it 16 games, 14, 12 or whatever. The shorter-than-you'd-expect list:
● Three times (2) – Brady, Patriots (2010-12); Brees, Saints (2010-11, '13).
● Twice (4) – Manning, Broncos (2012-13); Dan Marino, Dolphins (1984, '86); Unitas, Colts (1957, '59); Cecil Isbell, Packers (1941-42). (Yes, Cecil Isbell. We'll get back to him in a moment.)
● Once (12) – Philip Rivers, Chargers (2013); Ben Roethlisberger, Steelers (2013); Matthew Stafford, Lions (2011); Daunte Culpepper, Vikings (2004); Brett Favre, Packers (2003); Kurt Warner, Rams (1999); Dave Krieg, Seahawks (1984); Daryle Lamonica, Raiders (1969); Sonny Jurgensen, Redskins (1967); Frank Ryan, Browns (1966); Milt Plum, Browns (1960); Sid Luckman, Bears (1943).
In most cases, you're talking about a guy's career year, his absolute peak. Take Plum, for instance. Little remembered today, he had one of the greatest passing seasons of all time in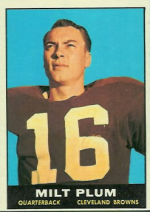 1960. His rating of 110.4 — still the 11th best in history — was nearly twice that of the rest of the quarterbacks in the league (57.8). Mind-boggling. How did he accomplish this, you ask? Well, for starters, in the first 11 games (of a 12-game schedule) he was intercepted only once.
Which brings us to Isbell . . . and his unusual apparatus. Cecil, you see, had suffered a separated shoulder in college and was concerned about it popping out again. So he wore a harness that ran a chain from his waist to his (non-throwing) left arm and kept him from raising the arm above the shoulder. I wrote about this in a previous post.
How do you suppose the aforementioned quarterbacks would have done with a similar contraption attached to their anatomies? When Brees blew by Unitas in 2012, much was made — and rightfully so — of the difference between their two eras and how Johnny U.'s mark was more impressive (given how physical the defense was allowed to be with receivers, among other things). But maybe Isbell's 23-game streak is the most amazing of all.
Especially when you consider he played in a single-wing offense, the Notre Dame Box, and at a time when the air was hardly filled with footballs. In 1942, the Lions (1), Steelers (2) and Brooklyn Dodgers (3) threw for fewer touchdowns all season than Cecil did in a single game against the Cardinals (5).
His 23-game run, counting a playoff for the Western Division title in '41, stood as the record for 16 years, until Unitas broke it. Even now, tossing a TD pass in 23 consecutive games is no small feat. Plenty of Hall of Fame quarterbacks, recent ones, never pulled it off, including Montana (longest streak: 14), Elway (15), Troy Aikman (16), Steve Young (18), Jim Kelly (18), Dan Fouts (20) and Warren Moon (21).
So why haven't you heard more about Isbell? Because he retired after five seasons to go into college coaching. The explanation he gave in Chuck Johnson's book, The Green Bay Packers:
"I hadn't been up in Green Bay long when I saw [coach Curly] Lambeau go around the locker room and tell players like [Arnie] Herber, [Milt] Gantenbein and Hank Bruder that they were all done with the Packers. These were good players who had given the team good service for years, and they had no money in the pot. But there was no sentiment involved. I sat there and watched, and then I vowed it would never happen to me. I'd quit before they came around to tell me."
Who knows how much farther Isbell could have extended his streak? He was just 27 when he called it quits, and his go-to receiver, the legendary Don Hutson, still had some good years left. In a war-weakened league, the duo could have continued their assault on the record book until Hutson hung 'em up in 1945. (Cecil's shoulder kept him out of the military.)
"Isbell was a master at any range," Lambeau told Johnson. "He could throw soft passes, bullet passes or feathery lobs. He was the best, with Sid Luckman of the Bears a close second and Sammy Baugh of the Redskins a long third. Luckman wasn't as versatile and Baugh couldn't compare on the long ones."
But then, Curly was prejudiced. Mel Hein, the Giants' Hall of Fame center, ranked the passers a little differently — Baugh first, then Isbell and Luckman. "Isbell reminds me of the old days," he once said. "It's a rare thing in these times to see the passer fade out of his pocket or normal passing zone, but Isbell will do it casually, up to 15 yards or more. I remember seeing him back up 20 yards before he let go with a 55-yarder that beat us in a Los Angeles all-star game. This is where he differs chiefly from Baugh, who dotes on the short pass."
("It was passing at its most perfect and sensational," Henry McLemore of the United Press said of the bomb to Hutson in the all-star game. "The ball traveled 67 yards in the air.")
Here's Isbell flipping a 31-yard touchdown pass to Joe Laws in the '39 championship game win over the Giants. Note how he gets hit just after he releases the ball.
However you rank 'em, ol' Cecil could play — and definitely belongs in the same sentence with Brees, Unitas and Manning, chain or no chain.
Sources: pro-football-reference.com, NFL.com