The '50s were a nasty time to be a pro football player, the early part of the decade in particular. Until 1955 a ball carrier could get up after he was knocked down and try to gain more yardage — as long as his forward progress hadn't been stopped, that is. This, predictably, this led to plenty of late hits, piling on and assorted other crimes and misdemeanors.
If you want a glimpse of what the environment was like, check out this photo from 1952. It shows Hugh McElhenny, the 49ers' Hall of Fame back, lying (facemaskless) on the ground and Redskins middle guard Jim Ricca giving him a boot — or something — to discourage him from any further frolicking.
The cutline reads: "After San Francisco's Hugh McElhenny fell, following his catch of Y.A. Tittle's pass, Washington's Jim Ricca (55) demonstrated one version of the 'foot part' in football. Ricca got a placekick squarely in McElhenny's shoulder and made sure of stopping the play, good for eight yards. Watching with mixed emotions are 49ers Bill Johnson (53) and Billy Wilson (84)."
(That's the same Bill Johnson, by the way, who later coached the Bengals — Tiger Johnson.)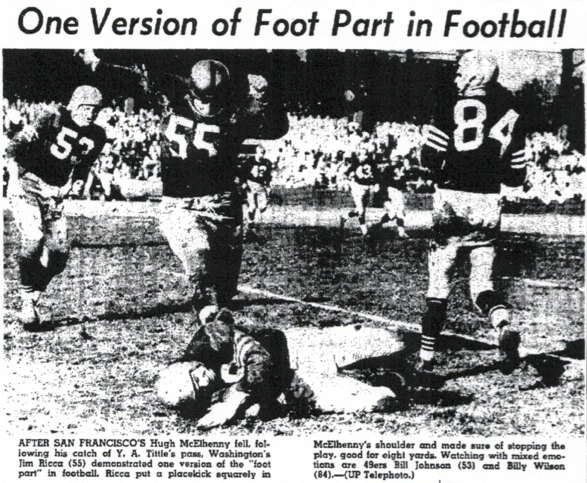 I interviewed Johnson once after he'd retired and asked him about the time he was ejected from a game against the Bears. He pleaded guilty to taking a cheap shot at Chicago linebacker George Connor, another guy who's in Canton.
"He were down on the goal line," Johnson said, "and I didn't even wait for the snap. I just fired out and drove him against the goal post [which was situated at the front of the end zone then]. I can still see the post swaying back and forth [from the impact]."
And what exactly provoked this outburst?
"Just didn't like the way he carried himself."
Ladies and gentlemen, I give you the 1950s. Rugged, man, rugged.
Source: pro-football-reference.com