Garabed Sarko Yepremian was a grand old name. Not as melodious, perhaps, as Cassius Marcellus Clay, but resonant in its own Old World way. Alas, Garo is gone — struck down by cancer at 70 — and his death raises a question: Will pro football ever see a story like his again?
By that I mean: Will there ever be another player who plays in the first NFL game he's ever seen — and sets a league record in his fifth?
But we're getting ahead of ourselves. Why don't we start at the beginning?
Jim Murray, the Los Angeles Times jokester, thought Yepremian should, by all rights, have hailed from Ypsilanti (Mich.) Garo's background was much more unusual than that, though. Born in Cyprus, he'd fled with his family to London in the '60s when the bullets began flying between the Turks and Greeks. (His Armenian ancestors had escaped to the Mediterranean island decades earlier, seeking refuge from Turkey's genocidal lunacy.)
Yepremian might have spent the rest of his life in the U.K. — been an Un Known, in other words — if his older brother Krikor hadn't come to this country to play college soccer. In the summer of 1966, Garo went to visit him in Indianapolis, and for fun they'd head to a nearby field with a football. Krikor would hold, and Garo, a weekend soccer player back home, would kick.
Little Brother got so good so quickly that Big Brother convinced him to seek a college scholarship. Indiana and Butler expressed interest, but there was a hangup: Garo didn't have a high school diploma — another casualty of the turmoil in Cyprus. So Krikor wrote letters to several pro teams in hopes of getting him a tryout.
In Week 6 the Falcons, a first-year expansion team in need of almost everything, gave him a look — and were impressed. "He's not a very big guy — 5-foot-8, 165 pounds — but he was knocking them [through] consistently from 55 yards," coach Norb Hecker said afterward. Atlanta reportedly made him an offer, but he'd promised the Lions he'd work out for them before he signed with anybody. The next day he was in Detroit, leaving the coaches and players there just as slack-jawed.
According to one report, Yepremian made 19 of 20 tries from the 45-to-50 yards. In those days, that was ridiculous. Consider: NFL kickers converted a mere 55.7 percent of all field goal attempts that season. Even Wayne Walker, the Lions' incumbent kicker, had to give him his due. "The best . . . I've ever seen," he said.
And a soccer-styler to boot (if you'll pardon the expression). In 1966, you see, "sidewinders" were still very much a novelty. There were only three in pro ball, all in the NFL — the two Gogolak brothers, Pete (Giants) and Charlie (Redskins), and Yepremian.
Traditionalists weren't sure quite what to make of them. On one level, they were horrified that these Non-Football Players were trying to move in on the "foot" part of the game. Walker, after all, was a Pro Bowl linebacker, and other kickers, like the Browns' Lou Groza, were former position players. The diminutive Yepremian, meanwhile, looked like he'd taken a wrong turn on the way to elf practice.
"No longer does the kicker have to be a heavy-duty performer who is part of the team," The New York Times' Arthur Daley lamented around that time. "He can be a man apart, and the only time he experiences rude contact is just before a roughing-the-kicker penalty."
Then there was Yepremian's unorthodox style, which made use of his instep rather than his toes. That took some getting used to, too. As the Oakland Tribune described it: "Garo uses only a skip and two short steps to get off his kicks. According to the laws of physics, his instep covers a greater area than the American toe kickers [enjoy] and helps boot the ball a greater distance. Also the whiplash of a sideway kick gives the leg greater speed."
Or something like that.
Heck, these guys weren't even Americans. Yepremian was from London . . . or Cyprus . . . or somewhere, and the Gogolaks had sneaked off to America amid the Hungarian Revolution. Indeed, it's remarkable how the upheaval in Europe during and after World War II changed — in a huge way — the game of football. Fred Bednarski, believed to be the first college sidewinder — for Texas in 1957 — was a Polish refugee who'd spent some time in a Nazi labor camp. And Walt Doleschal, an early soccer-styler for Lafayette, was a displaced Czechoslovakian.
(That's why, whenever somebody wonders why soccer isn't a bigger deal in the U.S., I always say, "It is a big deal, a very big deal. It's just been incorporated into football.")
Once the sidewinders began infiltrating the sport, kicking became much less of a hit-or-miss proposition, especially from long distance. What was the success rate on field goals last season, 84 percent? (From 50 yards and beyond, it was 61.) Nowadays, anything inside the 40 is, in the fan's mind, a veritable PAT. Best not miss too many of those.
Anyway, Lions coach Harry Gilmer was forward thinking enough to get Yepremian's name on a contract before the rest of the league became aware of him. The Motor City also had something going for it that Atlanta might not have: an Armenian church Garo could go to. The newest Lion, then 22, hustled back to Indy to gather up his clothes, then rejoined the club in time to make the trip to Baltimore for the next game. Oops, almost forgot: He had to obtain a work permit before he could suit up.
At first, Yepremian just handled kickoffs; Walker did the rest of booting. Against the Colts, Garo knocked one into the end zone and the other to the 5-yard line. This, by the way, was a familiar arrangement for the Lions. In the '50s they'd often split the job between a Short Guy (e.g. Bobby Layne) and a Long Guy (e.g. Jim Martin) — as had other teams. The '63 Bears, in fact, won the title with Roger LeClerc (field goals) and Bob Jencks (extra points) sharing the duties.
Besides, Yepremian had enough to worry about that first week. Never mind the strange surroundings and the large, sweaty men looking askance at him, he didn't even know how to put on his uniform. Shoulder pads were a total mystery to him, and he "had no idea whether the sweat socks went inside or outside the long stockings," the Oakland paper said. He also had yet to receive any instruction in the fine art of tackling. If the returner comes your way, he was told, "try to get an angle — and then fall in front of him."
Then things started happening in a hurry for Yepremian. In his second game, in San Francisco, Walker got ejected in the second quarter — one of the hazards of being an Actual Football Player — and Garo had to do it all. He didn't exactly ace the test, making just one of four field goal tries, a 30-yarder, and going three for three on point-afters. But hey, at least he was on the scoreboard.
Three weeks later, when he got his next big chance, he was ready. Fran Tarkenton, the Vikings' Hall of Fame quarterback, had his problems that day, throwing five interceptions, and Yepremian was the main beneficiary. The Lions offense had trouble punching the ball in, so Gilmer kept sending him in to kick field goals — six in eight attempts. That broke the NFL record of five set 15 years earlier by Rams great Bob Waterfield. (Garo's four three-pointers in one quarter, the second, were another mark.)
Detroit's first 18 points in a 32-31 victory came on Yepremian boots of 33, 26, 15, 20, 28 and 32 yards. Granted, there weren't any long ones, but the sports world was amazed nonetheless — amazed that this nobody from another hemisphere, this abbreviated kicker with a quirky technique, had hijacked an NFL game.

Murray thought it was hysterical that Yepremian played for Detroit, an old-fashioned team that hit hard and partied harder. To him, the Lions were an unlikely franchise to steer pro football into the future. (Frankly, Jim shuddered to think of them behind the wheel of any moving vehicle.)
"They lead the league in airport fights, lawsuits, barroom brawls," he wrote. "The team emblem should be a swizzle stick. Or a camel. They're the thirstiest team in the game. The water boy carries olives.
"Other teams have a rugged line of defense. The Lions have a rugged line of defendants. Others have a team trainer on the bench. The Lions have a team bail bondsman. They spend half their time going over their plays and the other half going over their constitutional rights. . . .
"All of which is why — when they signed a native of the island of Cyprus to play for them — a lot of us thought they wanted him to stomp grapes."
You can imagine how welcoming that Detroit locker room must have been to a Cypriot kicker of Armenian extraction who spoke four languages — none of which was Football. Veterans in that era were notoriously hard on rookies, and the Lions were among the league leaders in the hazing department. In his Yepremian appreciation a few days ago, Dave Hyde of the South Florida Sun-Sentinel wrote that Garo "was hung by his jersey on a locker's hook by [Lions defensive] tackle Alex Karras." If so, he got off easy.
Even after Yepremian set the record, the media struggled to get his name right. It wasn't just the "Yepremian," either. The very next week, the Baltimore Sun referred him as "Gary" Yepremian. (Those poor linotype operators. Decades of muscle memory must have made it awfully hard to override the "y" and type G-a-r-o.)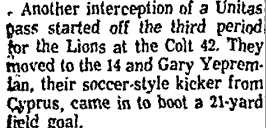 A strong finish left Yepremian with 13 field goals in 22 tries, the sixth-best percentage in the two leagues (59.1). Not bad for a guy who began the year in England, almost ended up playing college ball that fall, didn't go to an NFL training camp, wasn't signed until Oct. 12 and, oh yeah, was new to the game.
It was another four seasons before Garo caught on with the Dolphins and went from being a curiosity to one of the top kickers in the league — and one of the most clutch. But it all began with the Lions in '66, when he showed the disbelieving masses he could do a lot more than crush grapes. He also could crush footballs.
Source: pro-football-reference.com