For a while Sunday, as the fourth quarter wound down, the Seahawks' Russell Wilson was sitting with 100 rushing yards in 10 carries. And I'm thinking: Oh, great. He's going to kneel down on the last play or two and lose his 100-yard game.
You have to understand: This wasn't just any 100-yard rushing game. It was his third 100-yard rushing game of the season, which is as many as any NFL quarterback has ever had in one year.
My fears, as it turned out were unfounded. Wilson kept going (mostly) forward and finished with 107 in 14 attempts in Seattle's 38-17 win. This enabled him to join Michael Vick atop the following list:
MOST 100-YARD RUSHING GAMES BY A QUARTERBACK IN A SEASON
| Year | Quarterback, Team | Rushing Yards (Opponent) | No. |
| --- | --- | --- | --- |
| 2014 | Russell Wilson, Seahawks | 122 (Redskins), 106 (Rams), 107 (Giants) | 3 |
| 2006 | Michael Vick, Falcons | 127 (Bucs), 101 (Cardinals), 166 (Saints) | 3 |
| 2004 | Michael Vick, Falcons | 109 (Rams), 115 (Broncos), 104 (Giants) | 3 |
| 2013 | Terrelle Pryor, Raiders | 112 (Colts), 106 (Steelers) | 2 |
| 2010 | Michael Vick, Eagles | 103 (Packers), 130 (Giants) | 2 |
| 2002 | Donovan McNabb, Eagles | 100 (Jaguars), 107 (Giants) | 2 |
| 1972 | Bobby Douglass, Bears | 117 (Browns), 127 (Raiders) | 2 |
| 1951 | Tobin Rote, Packers | 150 (Bears), 131 (Lions) | 2 |
And, of course, Wilson still has seven games left, so he's got a real shot at the record.
Only one of these quarterbacks, by the way, had back-to-back 100-yard rushing games. Any guesses? Answer: Rote. He did it, moreover, in the space of five days — against the Bears on Sunday and against the Lions on Thanksgiving. (Don't count on another quarterback rushing for 281 yards in five days again. It's one of those quirky marks that just might last forever.)
According to reports, Packers coach Gene Ronzani had Rote run out of a spread offense that was probably similar to what teams use today. An excerpt from the Milwaukee Journal story on the Bears game: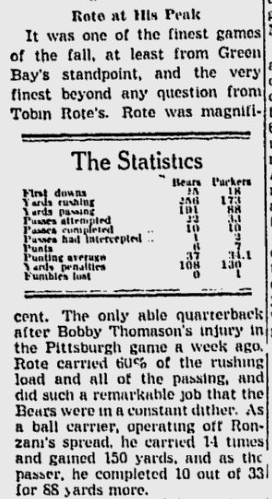 Rote had an even better game on Turkey Day. This is from the Journal again: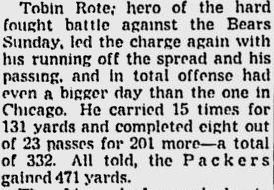 So Rote rushed for 131 yards against Detroit and threw for three touchdowns. Only two other quarterbacks have done that in the 63 years since: Vick in this game and the Eagles' Randall
Cunningham in this game.
Rote might not have been a great quarterback, but he's a fascinating one. In 1956, for instance, his first Pro Bowl season, he threw for 18 touchdowns (most in the league by six) and ran for 11 (second only to Bears fullback Rick Casares, who had 12). In all, he accounted for 29 of Green Bay's 34 offensive TDs. That's outrageous.
So what did the Packers do? They traded him to the Lions, one of their conference rivals, for three offensive linemen and a running back. "He is a great competitor — a great football player," coach Lisle Blackbourn said, "but we need linemen if we are to have a chance."
When Bobby Layne broke his ankle in the next-to-last game of '57, Rote, who had been sharing the position with him, took over and led the Lions to an improbable NFL title. Six years later, he quarterbacked the Chargers to the AFL championship. Total points scored by his team in those two games: 110 (59 vs. the Browns and 51 vs. the Patriots).
Anyway, that's the ghost Russell Wilson is chasing as he tries to become the second quarterback to rush for 100 yards in consecutive games in a season. The other QB in his sites, Vick, is — at last report — still up and running with the Jets.
Source: pro-football-reference.com