Came across an interesting passage in Bill Simmons' longer-than-your-small-intestine column Friday for Grantland. Wrote Bill:
By the way, I think we should put a bow on Ryan Fitzpatrick's career as a starting QB.

Record as a starter: 31-54-1
Number of NFL teams that started him: 5
Number of winning seasons: 0
Most wins in one season: 6
Career: 117 touchdown passes, 101 picks, 28 lost fumbles, 185 sacks, 78.4 rating

Here's why I brought this up. . . . Has anyone started 85 NFL games and won less than Fitzpatrick? We know Joey Harrington finished 26-50 and David Carr finished 23-56 . . . but did anyone win a lower percentage of 85 or more games than Fitzpatrick's minus-23?

Fortunately, Grantland has one of the best editorial assistants/competitive eaters in the world: the one and only Danny Chau. Here's what Danny found out: Only one player in football since 1920 has won less than Fitzpatrick after starting at least 85 games, a 5-foot-9 quarterback named Eddie "The Little General" LeBaron, who had a 26-52-3 record from 1952 to 1963.
Actually, if you study the information provided by The Competitive Eater (courtesy of pro-football-reference.com), you'll see this isn't true. Two other quarterbacks besides LeBaron started "at least 85 games" and had "a lower winning percentage" than Fitzpatrick — and two more had percentages that were nearly as bad. The list should read like this:
| Years | Quarterback | Teams | W | L | T | Pct |
| --- | --- | --- | --- | --- | --- | --- |
| 1971-84 | Archie Manning | Saints, Oilers, Vikings | 35 | 101 | 3 | .263 |
| 1952-63 | Eddie LeBaron | Redskins, Cowboys | 26 | 52 | 3 | .340 |
| 1961-76 | Norm Snead | Redskins, Eagles, Vikings, Giants, 49ers | 52 | 99 | 7 | .351 |
| 2005-14 | Ryan Fitzpatrick | Rams, Bengals, Bills, Titans, Texans | 31 | 54 | 1 | .366 |
| 1987-99 | Chris Miller | Falcons, Rams, Broncos | 34 | 58 | 0 | .370 |
| 1990-2001 | Jeff George | Colts, Falcons, Raiders, Vikings, Redskins | 46 | 78 | 0 | .371 |
Note: The data lists LeBaron as having 85 starts but credits him with only 81 decisions.
Another way of looking at it, of course, is:
George (1990) was the first pick in the draft.
Manning (1971) and Snead (1961) were the second.
Miller (1987) was the 13th.
And LeBaron (123rd, 1950) and Fitzpatrick (250th, 2005), the two outliers, have the least explaining to do.
And another way of looking at it is to say: For goodness sakes, whatever happened to context? Eddie "The Little General" LeBaron and Ryan Fitzpatrick have almost nothing in common except
their position. LeBaron was one of the better quarterbacks of his era, a four-time Pro Bowler who was a magician as a ball-faker and even did some punting (averaging 40.9 yards on 171 kicks). He just had the misfortune of spending his first seven seasons with the Redskins (whose bigoted owner, George Preston Marshall, wouldn't sign black players) and his last four with the expansion Cowboys.
Pro-football-reference.com lists LeBaron at 5-foot-9, but the Cowboys media guide in 1963, his final season, puts him at 5-7. When he retired, he was 13th in NFL/AFL history in both passing yards (13,399) and touchdown passes (104). Those totals may not seem like much today, but the '50s and early '60s were a much different time.
Some of LeBaron's individual seasons were outstanding. In 1957 (86.1) and '58 (83.3) he finished second to Colts Hall of Famer Johnny Unitas in passer rating. In '62 he led the league (95.4). That was the year he might have played his most amazing game. In a 42-27 win over the Steelers in Pittsburgh, he threw for five touchdowns in a mere 15 attempts while rotating at QB with Don Meredith. Repeat: He threw for five TDs despite playing only about half the game. Here's Pat Livingston writing about it in The Pittsburgh Press: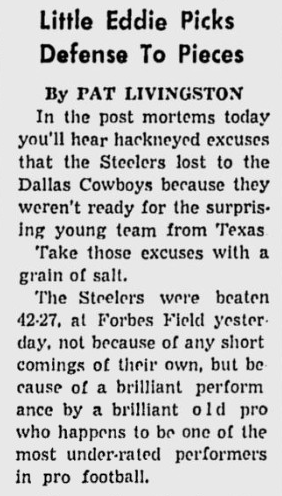 Can you imagine anybody calling Ryan Fitzpatrick "a brilliant old pro who happens to be one of the most underrated performers in pro football"? So again, a little context, please. Fitzpatrick and LeBaron in the same sentence? They're not even in the same universe. Going into this season, Fitzpatrick had never had a year when his passer rating was higher than the league average.
Yup, The Little General could play. And Fitzpatrick, the Harvard grad, will appreciate this: While Eddie was with the Redskins, he got his law degree at George Washington and practiced law in Dallas — that is, when he wasn't busy throwing five touchdown passes in half a game.