Often, the best stories are the most buried ones, lost beneath the avalanche of years. The tale I'm about to tell certainly falls into that category. It begins with a murder in a Brooklyn garage 80 years ago tomorrow, a crime so common in that place and time that it didn't even warrant its own headline in the Brooklyn Eagle. It was merely rolled into a roundup of five New York City killings that had taken place that weekend in March 1935.
"Meanwhile," the Eagle reported, "police sought solutions to the three Brooklyn killings and the other Manhattan murder.
Detectives of the Stagg Street station were questioning a number of persons in their investigation of the murder of Samuel Druckman [correct spelling: Drukman], 35, of 2408 Beverly Road, whose body was found last night stuffed in the rear luggage compartment of a car in a garage at 225 Moore St. He had been beaten on the head and strangled with his own necktie. Near his body was found the butt of a billiard cue.

Three men were being held for questioning. They are Meyer Luckman, 59, of 2501 Cortelyou Road, said by police to be the owner of the garage, and a brother-in-law of Druckman; Harry Luckman, 36, of 1170 Lincoln Place, a nephew of Meyer, and Fred J. Hull of 760 Brady Ave., the Bronx. Hull has served time for robbery, police said. All three men had blood on their clothes, police said.
Barely a month earlier, Meyer's son, Sidney, had graduated in mid-year from Erasmus Hall High. Along with his diploma he was awarded the school's highest athletic honor, the John R. McGlue Trophy. This, too, is from the Eagle:
Not only for his performances in the world of sports has Luckman been named as the recipient of this honor. He also qualified to have his name inscribed on the coveted prize because of his stalwart and dependable character, his true interpretation of sportsmanship and, in addition, his ability to maintain a high average in his studies.
Erasmus' principal, Dr. John F. McNeill, told the paper the McGlue Trophy was "not essentially an athletic prize. It is given to the boy whose conduct and character most closely emulate John R. McGlue, one of Erasmus' finest graduates. Sidney Luckman well deserves the honor."
I wrote about this at length in The National Forgotten League and won't re-plow a lot of old ground here. I'll just point out that it's one of the more remarkable stories I've come across in my decades of digging. Meyer Luckman — a mobster with ties to the infamous Louis Lepke, according to the newspapers — ended up spending the last eight years of his life in Sing Sing for the brutal murder of his wife's brother (who, it was said, had stolen money from the family trucking business to cover gambling debts).
Meyer also sparked a corruption probe initiated by the New York governor when one of his henchmen bribed the grand jury and got the original charges dropped. It was a sorry chapter in Brooklyn's history — and that's saying something when you consider the borough's reputation in those Murder Inc. days.
Anyway, from these ashes emerged one of pro football's greatest quarterbacks. Sid Luckman easily could have been swallowed up by the scandal and the shame, but instead he went on to be an All-American tailback at Columbia and a Hall of Fame QB with the Chicago Bears. Had World War II not come along, he likely would won more titles than any NFL quarterback (though his four rings are still enough to tie for second with Terry Bradshaw, Joe Montana and Tom Brady).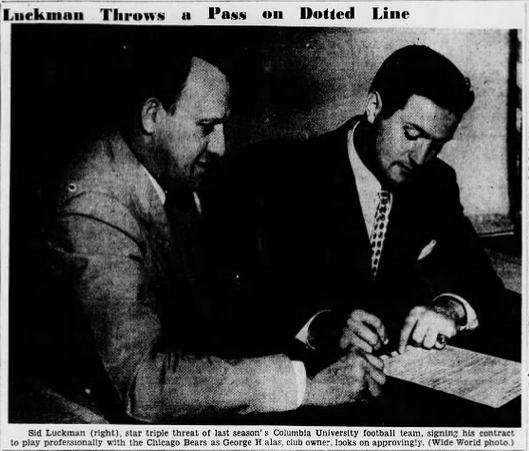 And to think George Halas had to talk him into turning pro, which was hardly a given for draft picks in the late '30s. Sid's first inclination was to go into the family trucking business and try to repair the damage done by his father's criminal activities (and the high-profile trial that had dragged them into public view). But football was too much a part of him — and Halas' handsome offer undoubtedly didn't hurt. Papa Bear called it "one of the most attractive contracts we have ever offered a freshman player." (The New York Times later put his rookie salary at $5,500.)
Halas desperately needed a smart, accurate passer to run his revolutionary T-formation offense, someone who could keep pace with Slingin' Sammy Baugh, the Redskins' single-wing legend. He found him in Luckman, the mobster's kid from Brooklyn, but it might very well never have happened. That's the beauty of it.