Most fans – I would hope – are aware of James Harris' contribution to pro football history. In 1969, as a rookie with the Bills, he became the first black quarterback to begin the season as the starter. He went on to have a decent career, too, winning 18 of 22 regular-season starts with the 1974-75 Rams and going to the Pro Bowl the first of those years. On arguably his best day, he threw for 436 yards.
When Harris retired recently as a senior personnel advisor for the Lions, The New Yorker decided to call attention to it — and to remind everybody of Shack's (as he was called) sociological significance. Great. Wonderful. Bravo. What isn't so great is that the author — unaware, apparently, of what was going on at Michigan State in those days — unfairly impugned an honorable, color-blind coach, Duffy Daugherty.
Here's what Samuel G. Freedman wrote in the magazine's Sporting Life column:
Amid the oppression of the segregated South, Harris thrived on the football field. He was an all-state quarterback on a state-championship football team in high school. In order to continue to play quarterback in college, Harris turned down a scholarship offer from Michigan State, which wanted to turn him into a tight end. At the time, there was a persistent color barrier throughout college and professional football: no matter how successful they were, black quarterbacks were forced to change position — to receiver, to running back, to defensive back — and cede their responsibilities to the white players who were believed to be smarter and better leaders. So Harris went to Grambling State University, a historically black school, to play quarterback under the legendary head coach Eddie Robinson.
My problem with this is the way Freedman lumps in Michigan State with the many programs at that time that either excluded blacks or wouldn't in a million years have let one of them play quarterback. Daugherty was guilty of neither offense.
On the contrary, he already had a black quarterback on the roster, Jimmy Raye, who was the backup in 1965 and the starter next two years. It was in 1966, you may recall, that Michigan State played its famous 10-10 tie with Notre Dame — the "Game of the Century," it was dubbed — and ranked second in the final polls.
That Spartans team wasn't unusual just because it had a black QB, by the way. It also might have had the most diverse roster in major-college football. Defensive end Bubba Smith, linebacker George Webster, running back Clinton Jones, wide receiver Gene Washington, Raye — all the biggest stars were black. According to a story last fall in the Detroit Free Press, the squad "had 20 [blacks] — including 11 starters." This was unheard of in the mid-'60s.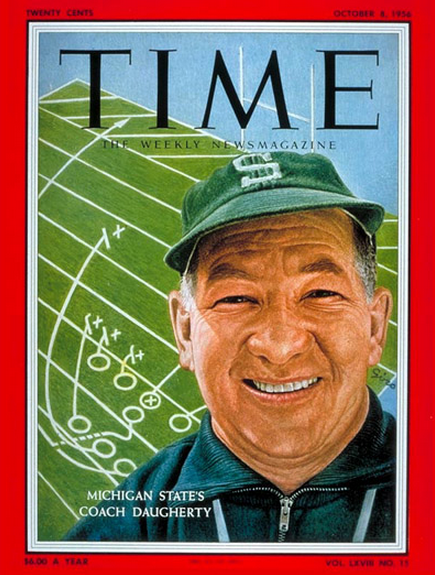 Michigan State also had a Samoan running back (Bob Apisa) and a barefooted Hawaiian kicker (Dick Kenney). Daugherty was an equal-opportunity coach in every way. (He was even one of the first, in 1960, to have a soccer-style kicker. One week he was so dissatisfied with the length of his team's kickoffs that he recruited a Dutch kid off the soccer team and gave him the job.)
At any rate, to suggest there was some kind of "color barrier" at Michigan State is beyond ludicrous. What Texas Western, with its all-black starting five, was to the integration of college basketball in 1966, the Spartans, in my mind, were to the integration of college football: a great leap forward.
It just so happens that Raye, a longtime NFL assistant coach, has collaborated with Tom Shanahan on a book about those remarkable Spartans teams: Raye of Light. His motivation, he told the Free Press, was to "to pay homage to Duffy Daugherty, who had enough courage to be willing to coach and accept, to extend a branch to recruit black athletes in the South, to give them an opportunity to get an education and play Big Ten football. He was color-blind."
The book's forward is written by Tony Dungy, who followed Raye's path as a Big Ten quarterback, pro defensive back and NFL coach. Because of Jimmy's exploits, Dungy dreamed of playing for Michigan State. But Daugherty retired, and Tony wound up at Minnesota under Duffy's former assistant, Cal Stoll.
"How did we arrive at the point where African-Americans would have an opportunity to coach teams in the Super Bowl?" Dungy writes. "I believe it all stems back to the Big Ten and the influence those players had on the rest of the country. This book documents the efforts of Duffy Daugherty and his staff in recruiting black players from South."
If Daugherty wanted Harris, a sturdy 6-foot-4, to switch to tight end, there was nothing racist about it. It was just a miscalculation on the order of, oh, Joe Paterno wanting Jim Kelly and Jeff Hostetler to be linebackers. Duffy was way ahead of his time in the equal-opportunity department – and should be remembered as such. To group him with the segregationists is a crime.
Sources: pro-football-reference.com, college-football-reference.com