Whatever the equivalent of IR is for commissioners, the NFL's Roger Goodell is surely on it. He's taken a serious beating this year, most recently when a mediator decided he had overstepped his bounds in the Ray Rice case by penalizing the Ravens running back twice for KO-ing his wife. Rice's indefinite suspension has been lifted, and he's free to play for any team that'll have him.
Part of Goodell's image problem is that he's always being compared to The Ghost of Pete Rozelle. But even Rozelle, I'll just point out, was known to overstep his bounds in the dispensing of discipline. One time was in 1974, his 15th year on the job. A federal appeals panel ruled he couldn't just impose a $200 fine on players — 106 in all — who had left the bench during a fight. It was something that had to be collectively bargained. The players association had brought the suit, which was initially rejected by the National Labor Relations Board.
"Judge Gerald W. Heaney, writing for the judges, said if Rozelle was the agent for both the owners and the players 'and promulgated the rule as their agent,' United Press International reported, 'one must assume a serious breach of ethics by the commissioner if he talked to only one of his principals. And no one suggests that the commissioner is an unethical man.'"
Ergo, Teflon Pete did it unilaterally, at the behest of the owners.
Red Smith of The New York Times also weighed in on the subject: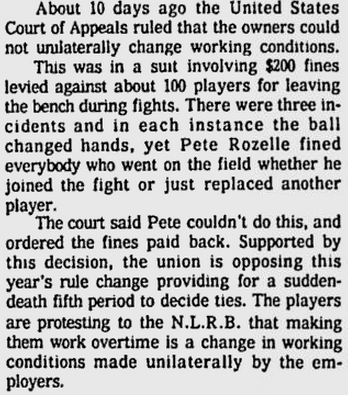 So while Goodell got shot down by Barbara S. Jones, the former federal judge who arbitrated the dispute, it was hardly unprecedented in NFL history. Why, it even happened to the sainted Pete Rozelle.