On this day in 1961, Paul Hornung did something that hasn't been done since — and probably won't be done again. The Hall of Fame running back, who doubled as a kicker, scored the Packers' first 31 points in a 45-7 beatdown of the Colts. The highlights of his epic performance:
That was from a '70s game show, by the way, hosted by Dick Enberg called "Sports Challenge." The episode you were watching pitted three Packers (Hornung, offensive guard Jerry Kramer and Hall of Fame defensive end Willie Davis) against a team of Dallas Cowboys (quarterbacks Don Meredith and Eddie LeBaron and receiver Frank Clarke). All of them were retired by then (1972, I'm guessing).
Many of the questions were easy — nobody wanted to make the contestants look bad — but it was still funny to see how little some of them knew about the history of their own sports, never mind other sports. (Even recent history . . . like the previous season.)
But getting back to Hornung, he was one of the last of a breed: an offensive star who also kicked. There were a plenty of them in pro football's first few decades, when rosters were smaller and players had to multitask. By the late '50s, though, you started to see more and more kicking specialists, guys who did nothing else (except maybe punt, like the 49ers' Tommy Davis). Paul managed to hold out as a two-way threat through the 1964 season, at which point coach Vince Lombardi replaced him with Don Chandler.
As you saw in the clip, Hornung could do it all — run, catch, kick and, because he'd been a quarterback at Notre Dame, even throw the occasional option pass. (That was the "run-pass option" Enberg referred to on the last touchdown, when Paul decided to run.) As a result, he scored tons of points for those great Packers teams — a record 176 in 12 games in 1960 (since topped only by LaDainian Tomlinson's 186 in 16 games for the Chargers in 2006), 146 the next season (also in 12 games) and 31 straight that afternoon against the Colts (whose defense, let's not forget, featured Hall of Fame linemen Gino Marchetti and Art Donovan).
Hornung's consecutive-points streak was actually 32, because he'd booted the PAT after Green Bay's final score the previous week. Think about it: What would it take for somebody to do that today? Answer: Kick 11 field goals — with no intervening touchdowns or safeties. It's possible, certainly, but nobody has come close to pulling it off. In 2007, for instance, the Bengals' Shayne Graham booted seven field goals to score all of his team's points in a 21-7 win over the Ravens. But that was pretty much the extent of his streak (22, counting a point-after the game before).
Indeed, I've come across just five examples since World War II of players scoring 20 or more points in a game and having it be all the points their club scored. The list:
PLAYERS WHO SCORED ALL OF THEIR TEAM'S POINTS IN A GAME (20+)*
| Date | Player, Team | Opponent | Pts | How he scored |
| --- | --- | --- | --- | --- |
| 11-19-50 | RB Doak Walker, Lions | Packers | 24 | 3 TD catches, 3 PAT, 1 FG |
| 11-11-07 | K Shayne Graham, Bengals | Ravens | 21 | 7 field goals |
| 11-18-96 | K Chris Boniol, Cowboys | Packers | 21 | 7 field goals |
| 12-8-62 | FB Cookie Gilchrist, Bills (AFL) | N.Y. Titans | 20 | 2 TD runs, 2 PAT, 2 FG |
| 12-1-46 | FB Ted Fritsch, Packers | Redskins | 20 | 3 TD runs, 2 PAT |
*Since World War II.
(People forget what a talent Gilchrist was. Besides leading the league in rushing that season with 1,096 yards, he kicked eight field goals and 14 extra points.)
Still, the record for most consecutive points doesn't belong to Hornung. No, it's the property of another Hall of Famer, Chicago Cardinals back Ernie Nevers, who scored 59 straight over five days (Sunday/Thanksgiving Day) in 1929 — 19 vs. the Dayton Triangles and 40 vs. the Bears. (The latter, incidentally, remains the mark for points in a game.
Several other consecutive-points streaks in the '20s also were longer than Hornung's. Nevers had another lengthy streak — 47 points — in 1926, Hall of Famer Paddy Driscoll of the Cardinals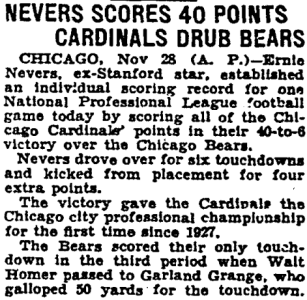 scored at least 44 straight (there's some uncertainty) in '23 and Hank Gillo of the Racine (Wis.) Legion had a 43-point run in '24.
Then there's the streak put together by Ralph Kercheval of the Brooklyn Dodgers in 1934 and '35. That one might be the most remarkable of all. Over a span of eight games in those two seasons, Kercheval, a running back-kicker, scored every one of the Dodgers' points — all, uh, 34. (Brooklyn didn't exactly have a dynamic offense.) He extended his run to 40 the next week with two field goals, but then teammate Red Franklin ended it with a rushing touchdown. Hard as it is to believe — even for those low-scoring times — Kercheval's streak (three touchdowns, six field goals, 4 PATs) lasted almost a year. It began Oct. 28, 1934 and ended Oct. 6, 1935.
It's easy to cast aspersions on the early NFL. It was, after all, a much different game. But there's one thing players did back then that today's heroes will never match: score large numbers of points consecutively.
Hey, it's something. One last screengrab: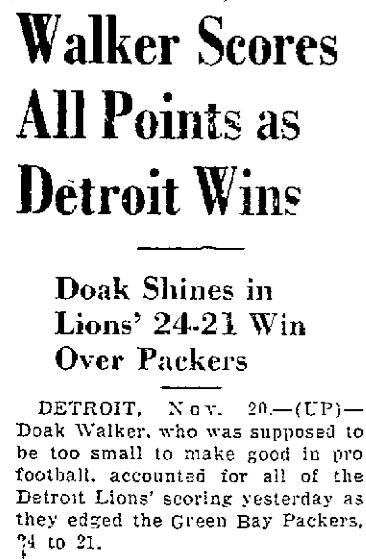 Source: pro-football-reference.com