Defense doesn't get nearly as much attention at Pro Football Daly as it probably should. So I'm going to give a shout-out here to Art Thoms, the long-ago Raider, who played one of the greatest games ever by a defensive tackle on this date in 1972. Before a "Monday Night Football" audience — that's why I'm posting this in prime time — Thoms . . . well, why don't I let you read what UPI wrote about him?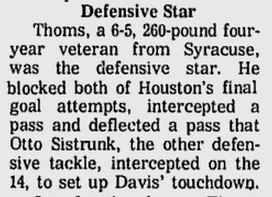 What Thoms did in one game — a 34-0 smothering of the Oilers — would make for a pretty good season for some defensive tackles. Two blocked field goal tries? An interception, plus a batted pass that led to another pick? Sure beats four quarters of "gap control."
On a defense that featured Sistrunk (from "the University of Mars"), linebacker Phil Villapiano and a trio of celebrated DBs — Hall of Famer Willie Brown, George Atkinson and Jack "They Call
Me Assassin" Tatum — Thoms was hardly a household name. Indeed, he never made the Pro Bowl and intercepted only one other pass in his eight-year career. But in this game he was Godzilla. Or maybe J.J. Watt after chugging a six pack of 5-Hour Energy.
Of his two blocks, Thoms said, "The guard opposite me [rookie Solomon Freelon] was firing out, which he wasn't supposed to do. He was almost stepping out a little bit. I couldn't believe it. I just sliced through. It was easier the second time because I was looking for it."
The game also was memorable for another reason. As MNF staffers George Hill and Malibu Kelly Hayes reminisced in 2002:
As the game became a runaway and the fans started streaming out of the Astrodome, the TV audience became just as upset. Oilers officials claimed that as many as 75 calls came to the stadium from viewers (remember, there were only the three networks at that time) blasting everything from the play of the Oilers to the announcers' commentary.

Despite the fact that the game turned into a rout, the evening was not without some historical significance to Monday Night Football. As the stands emptied, a cameraman spotted a solitary man sleeping in a near-empty section of the stadium. The camera zoomed in for a close up, and Cosell described the shot as, "A vivid picturization of the excitement attendant upon this game." With the camera on him, the fan opened his eyes, looked up and casually extended his middle finger. This prompted Meredith to say, "He thinks they are number one in the nation."
What a ballgame. You had Thoms running amok, you had Howard at his multisyllabic best, and you had Dandy Don getting off one of the great one-liners in sports TV history.