The NFL and NHL don't have much overlap. There have been pro football players, for instance, who played major-league baseball, and even a few who played pro basketball, but I'm not aware of any who played pro hockey. (The closest anyone came was probably in the Ice Bowl between the Packers and Cowboys.)
There is one interesting intersection between the two leagues, though, and it's worth bringing up now that the Stanley Cup Finals are upon us. Did you know the guy responsible for this cover art of Montreal Canadiens great Jean Beliveau . . .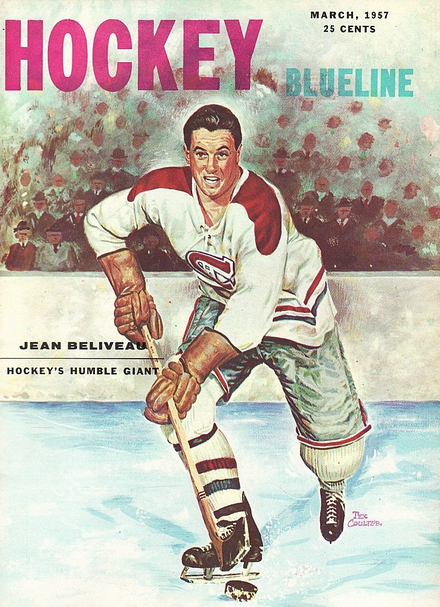 . . . and this rendering of Habs Hall of Famer Henri Richard . . .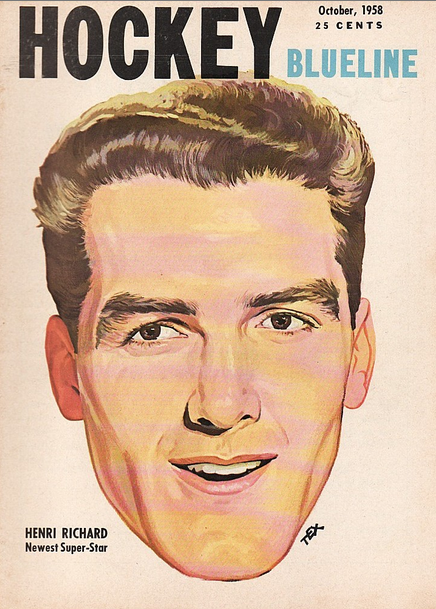 . . . and this drawing of Canadiens legend Jacques Plante stretching out to make an acrobatic save . . .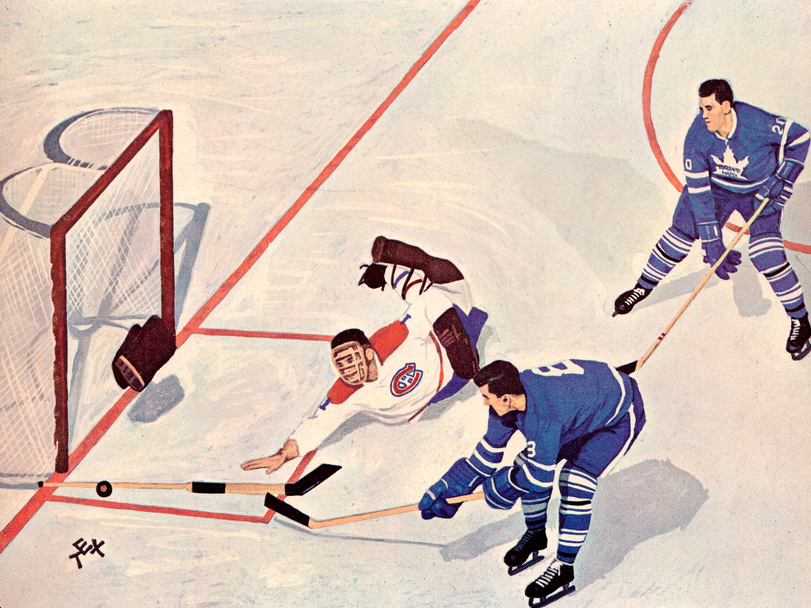 . . . and many other hockey-themed works was an an-pro tackle for the Giants in the '40s and '50s?
DeWitt "Tex" Coulter was his name. In fact, "TEX" was how he signed his creations (as you can see). You wouldn't expect a 6-foot-4, 250-pound, down-in-the-dirt footballer to have much of an artistic bent, but Coulter was an unusual guy. For one thing, he came out of the Masonic Home and School in Fort Worth, Texas, an orphanage that became famed for its football teams. One of his buddies there, Hardy Brown, went on to be a killer (not literally, but almost) linebacker for the 49ers. I've posted about Brown before. He had a way of delivering a blow with his shoulder — The Humper, he called it — that left a trail of broken noses, jaws and cheekbones.
Not that Coulter, with his size, couldn't take care of himself. How good was he? Answer: Good enough for teams to fight over. After starring on the Glenn Davis-Doc Blanchard Army powerhouses in 1944 and '45, he got booted out of school because of a "deficiency in mathematics," according to The New York Times. Since the '46 draft had already been held, the Giants were allowed to sign him for that season, even though his class hadn't graduated. (The NFL figured it was better than having him wind up in the All-America Conference, the rival league that had just launched.)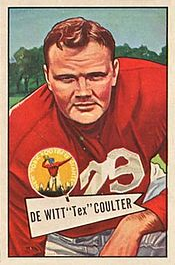 But here's the thing: At the end of the year, Coulter had to go in the '47 draft pool — the one he would have been in — and any club could select him. The Eagles wanted him badly, but the Cardinals, picking one spot ahead of them, took him seventh overall and then, as a courtesy, traded him back to New York for the Giants' own No. 1 (10th). So it went in the chummy NFL of the 1940s.
When he left West Point, Coulter had no intention of playing pro ball. Indeed, he'd told the Giants — and any other team that contacted him — "that he would go to Georgia Tech to study commercial art," the Times reported. But there was a bidding war going on between the two leagues, and the money, a reported $21,500 for one year, was too good to turn down, especially since he was getting married soon to his high school sweetheart. Besides, the Giants had promised "to help me go on with my education," he said after signing, "and I plan to go to art school in New York."
Coulter played four seasons with the Giants, established himself as one of the top tackles in pro football, and then, at 25, did a Totally Tex thing: He walked away from the game and took a job as a cartoonist and football analyst with the Dallas Times Herald. (Believe it or not, he'd always thought it would be cool to be a newspaperman.) This is from a 1984 Dallas Morning News story by Sam Blair:
[Coulter] was a familiar figure in Southwest Conference press boxes, frequently turning to his typewriter to write a story when his artwork was finished.

"I really enjoyed that," he said. "If I had been older, I probably would still be doing it. But I didn't have football out of my system. When the Giants came to Dallas in the summer of '51 to play an exhibition game with the Detroit Lions, I decided I wanted to play again. I suited up and played most of the game in the Cotton Bowl."
If there was any rust on him, it wasn't visible. He made the Pro Bowl the next two years and, under different circumstances, might have been a candidate for Canton. There weren't many positions – on either side of the ball – Tex couldn't play. He even caught eight passes for the '47 Giants as an occasional end. (I, personally, would have loved to see him as a Nagurski-esque fullback.)
"I played end, tackle and center on offense and end, tackle and linebacker on defense," he once said. "They used me as insurance for guys getting hurt. It was easier to shift me around than to get other people for various positions."
There was only one problem: By then the All-America Conference — or part of it, at least — had merged with the NFL, and the absence of competition had caused salaries to drop. So, like a number of other well-known players in those days, Tex negotiated a better deal with a Canadian team, in his case the Montreal Alouettes. (Not only did he never set foot in the NFL again, he made the country his home for the next two decades. When he died in 2007, his two sons, Jeff and David, still lived in British Columbia.)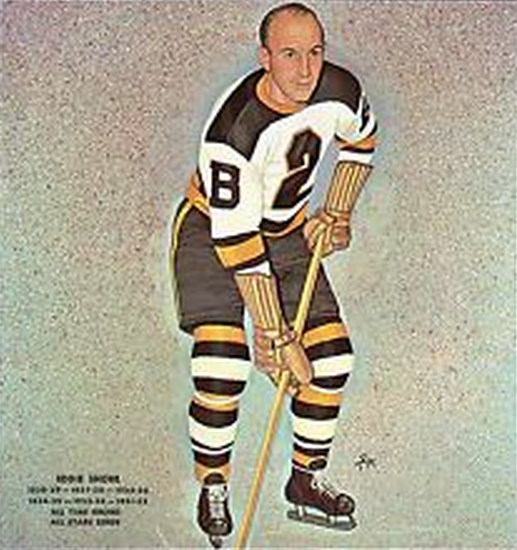 It was in Canada that Coulter really arrived as an artist. In addition to his hockey portraits and other puck-related stuff, he got a job with the Montreal Star that was much like the one he had with Dallas Times Herald. His work, meanwhile, graced magazine covers, calendars, you name it. Canadiens blogger Dennis Kane calls him "the Norman Rockwell of hockey artists."
One last (funny) story: In 1966, 33 University of Montreal students broke into the visitors' dressing room at the Forum and stole 44 Red Wings sweaters. They also made off with three of Coulter's hockey paintings that were hanging in the lobby. (Which raises the question: Which were worth more on the black market, the 44 sweaters or the three paintings?)
It was all "part of the hijinks associated with the U of M's annual winter carnival," the Montreal Gazette reported. ". . . The students — including three females — . . . were arrested [the next night] when they appeared in the Forum following a Detroit-Canadiens game. A number of them jumped on the ice wearing the stolen Detroit sweaters, and this led to the 33 arrests."
The newspaper didn't mention the fate of Coulter's artwork. Let's hope it was returned intact. After all, we're talking about "the Norman Rockwell of hockey artists" here — and one fabulous, if forgotten, NFL player.
Sources: pro-football-reference, Google newspapers.