Because he's too young to know better, La'el Collins got a little carried away at his first Dallas Cowboys press conference. He was ostensibly there to breathe a 305-pound sigh of relief after signing a 3-year, $1.65 million contract to join Jerry Jones' ranch hands. After all, he'd projected as a first-round draft pick, but teams had passed on him because of concerns he might be a suspect in the murder of his ex-girlfriend.
Now that was behind him, and Collins was anxious to line up alongside tackle Tyron Smith, center Travis Frederick and guard Zack Martin, all Pro Bowlers. "This is going to be the greatest offensive line in NFL history," the people-moving guard said. "Mark my words."
Consider them marked, La'el — marked and mocked.
Hey, I'm all for rookie enthusiasm, but it's a little early to be calling this Cowboys line the "greatest" anything, even the greatest in franchise history. Rick Gosselin did a nice job of pointing that out in a column last week. Gosselin also listed his Top 4 Offensive Lines of all time, and I can't argue with any of his selections. "The 1962 Green Bay Packers, 1972 Miami Dolphins, 1973 Oakland Raiders and 1983 Washington Redskins all await [Collins and Co.'s] challenge," he wrote.
I'd make it a fivesome, though, and add arguably the greatest O-line of all: the 1940 Bears.
Yeah, yeah, I know: 1940 is a long time ago. But four players from that line are in the Hall of Fame — left tackle Joe Stydahar, guards Danny Fortmann and George Musso and center Bulldog Turner. And the fifth, right tackle Lee Artoe, might be in Canton, too, if he hadn't jumped to the rival All-America Conference after the war. Several teammates I talked to said Artoe was better than Stydahar (who, besides his playing feats, won a title as the coach of the '51 Rams).
The '40 Bears are most remembered for their revolutionary T formation — the first modern offense — and, of course, for their 73-0 obliteration of the Redskins in the championship game. They also led the NFL in rushing yards that season (165.3 per game) and, when the T got rolling, averaged 50.3 points in their last three games, a ridiculous total for that era.
Granted, we're talking about the single platoon days. (Translation: These guys aren't in Canton just for their blocking. They played defense, too.) But they were, by any measure, a fabulous O-line — and a short-lived one, as it turned out. A year later Musso moved into a backup role, and the season after that the military summoned Stydahar and Artoe. Indeed, if the war hadn't come along, the '40s Bears likely would have won six or seven titles instead of "just" four — and would be thought of as the dynasty of all NFL dynasties.
Artoe and Turner, by the way, were rookies in 1940. (The others had been playing at least four years.) Lee once told me a funny story about that first season — specifically, about the apartment he rented with fellow rookie Ken Kavanaugh, a terrific receiver (and, after retiring, a longtime Giants assistant). It went like this:
"Ken and I had played in the College All-Star Game [in late August against the Packers, the previous year's NFL champs]. Afterward we took the midnight train to Pittsburgh, where the Bears had a preseason game the next day. When we got back from that trip, the team just dropped us at Wrigley Field and turned us loose. Well, Ken and I didn't know where the hell we were. So we walked a couple of blocks down the street, and there was this sign that said, 'Chateau Hotel.' It was a hotel of about 100 rooms. We went in, and they charged us $20 a month to live there — $10 each.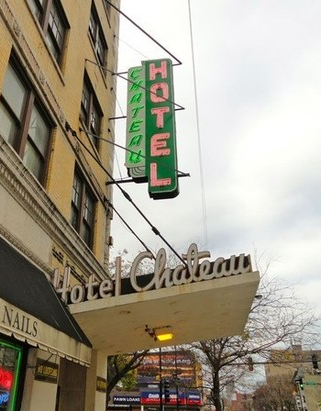 "We didn't spend much time at the hotel. Halas kept you pretty busy. You woke up, had practice, had a little lunch, and in the afternoon you might get some time off or have some more practice. Then at night, starting at 7 o'clock, there'd be a chalk talk in the [Wrigley] field house. You'd watch movies of the previous game and stuff like that. After that, you'd go to bed.
"We'd come home at night, and the elevator was right close to the [hotel entrance]. So we'd just step in the elevator and go up to the second floor. This went on for about two or three months. [George] Halas never gave you a day off. You were so tired all the time, you couldn't wait to hit the sack.
"We did go to functions occasionally, though, and at one of them we were talking to Wilfrid Smith [the Chicago Tribune sportswriter, who used to play in the NFL and still officiated games]. Wilfrid said, 'Where are you living?' and Ken and I said, 'We're over at the Chateau Hotel.' And he started to laugh. "That's one of the biggest whorehouses in Chicago!" he said. It was one of [Al] Capone's old hotels. How were we to know? I mean, we lived there and everybody knew us, knew we played for the Bears, but we didn't hang out in the lobby or anything. We did notice, though, that there were always a lot of girls around."
Artoe, as I said, might have been the fifth member of the line to make the Hall if he'd stayed with the Bears. "He'd knock down anything that got in his way," halfback Joe Maniaci said. "He was rough. He was a 60-minute man. In my book, I'd say he was better than Stydahar. But he didn't get the publicity Stydahar got. And when he went to the All-America Conference [and convinced several other Chicago players to go with him], everything he did was gone."
It was an unusual collection of talent that Halas had assembled. Musso played without a helmet early in his career and got up to 300 pounds near the end, rare for those days. Fortmann went to medical school at the University of Chicago and later served as the Rams' team doctor. Then there was Turner, "the smartest football player that ever lived," according to Sid Luckman, the Bears' legendary quarterback. "There was never a better all-around football player than Bulldog Turner."
Another funny story:
"Bulldog snapped the ball back so hard that I [needed] major surgery on my wrist," Luckman told me. "I used to give with the ball as best I could, but he put that ball in there like it was shot out of a cannon. Boom! The ball was gone, and he was gone.
"I pleaded with him. 'Bulldog, please, I beg of you, don't send that ball back so hard. I've had two operations. Could you slow it up a little bit?' He tried to, but he couldn't do it. It threw his timing off.
"So one time we're at practice, and he was snapping that ball like he always did — boom, boom, boom! Finally, I knew what I had to do. I moved my hand away, and he snapped the ball right into his nuts. Oh, man! He was down on the ground for a while, but then he chased me for 25 minutes around that goddamn field. But from that time on, he didn't snap the ball as hard."
Now that was an offensive line, certainly as good — in its time — as any of Gosselin's other nominees. Only the '73 Raiders had as many Hall of Famers as the '40 Bears (LT Art Shell, LG Gene Upshaw, C Jim Otto and RT Bob Brown). And let's not forget, the '62 Packers gave up 11 sacks against the Lions on Thanksgiving Day.
It's interesting that all these O-lines come from 1983 or earlier — interesting, but understandable. For most of NFL history, being a great line has meant, first and foremost, being able to run the ball, being able to impose your will on a defense. But with all the rule changes favoring passing, the running game has been devalued. It still has a place, mind you, it's just different now. Clubs don't pound away at defensive fronts anymore; they run, much of the time, out of more advantageous spread formations. The ability of a line to protect the quarterback has become as important as its ability to wedge block.
The '40 Bears and the other famed lines ran the ball more than they threw it. A lot more. Not so with last year's Cowboys (though they did have more rushes than passes). So if Collins' bold prediction comes true, if the Dallas line does go on fame and fortune, it figures to be an updated version of A Line for the Ages, a new species. The thing is, teams have to worry about free agency now. Can Jones keep this group together long enough for it to reach those heights?
Source: pro-football-reference.com