The question I've been wondering about all weekend is: What would Pete Rozelle, cub reporter, have written about Roger Goodell's news conference Friday? Depending on who you've been reading lately, Rozelle either (a.) parted the Red Sea or (b.) landed a spaceship on the moon during his nearly 30 years as NFL commissioner.
But long before that he was an aspiring journalist at Compton Junior College whose dream job was to be sports editor of the Los Angeles Times. He even did some stringing for the Long Beach Press-Telegram while serving as the student-sports information director at Compton. Why don't we flip through Rozelle's clip file to get a feel for his prose style? All these stories are from 1947 and '48, which would make him 21 or 22 years young.
Here's Pete covering a pivotal JC football game in 1947: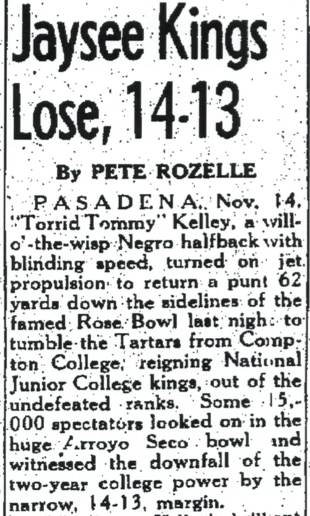 And here's Pete following up Michigan's 49-0 wipeout of Southern Cal in the 1948 Rose Bowl: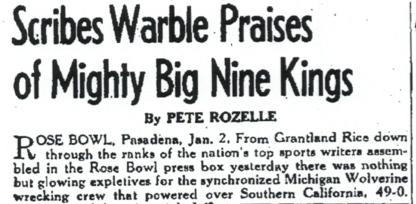 And here's Pete rhapsodizing about Compton, California's own Duke Snider, who in 1948 was in the second year of his Hall of Fame career with the Brooklyn Dodgers: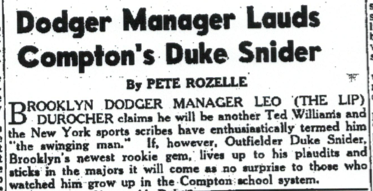 And here's Pete sitting down with Phog Allen, the legendary Kansas basketball coach: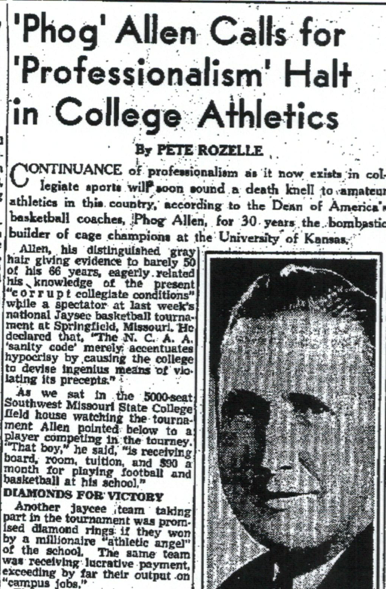 And here's Pete at the scene of a dramatic JC basketball game:

And finally, here's ubiquitous Pete reporting on high school football — reporting, in fact, on his alma mater: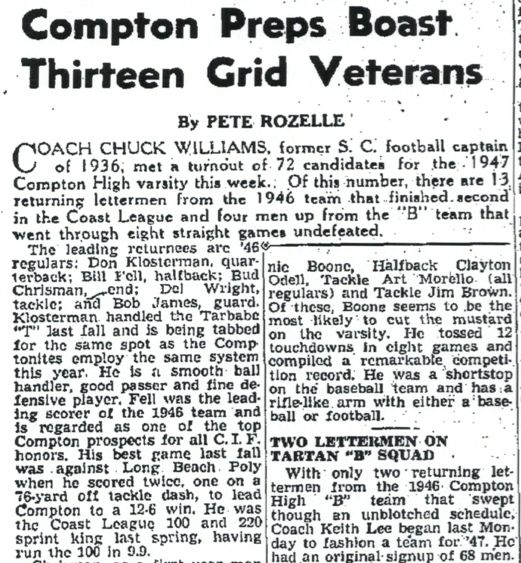 Two things are cool about this story. First, the Don Klosterman who played quarterback for Compton High is the same Don Klosterman who was later general manager of the Los Angeles Rams — the job Rozelle had when he became commissioner.
Second, Compton's athletic teams were/are called the Tarbabes — short for Tartar Babies. Is this a great country or what?
So if we took in all this information and tried to come up with a Typical Pete Rozelle Lead Paragraph coming out of Goodell's news conference, it might read something like this:
NEW YORK — Embattled Roger Goodell, his boyish red hair giving evidence to barely 40 of his 55 years, addressed Friday the scandal that threatens to sound a death knell to his commissionership and take a wrecking ball to the NFL's image. Grilled by some of the nation's top sports writers about his botched disciplining of "Rapid Ray" Rice, the Ravens' will-o'-the-wisp Negro halfback, and "All the Way Adrian" Peterson, the Vikings' jet-propelled, two-time rushing champ, Goodell admitted mistakes and promised to make things right during a tension-soaked session.
Rozelle took an amazing elevator ride after his byline stopped appearing in the Press-Telegram. Within a dozen years — at the age of 33 — he was NFL commissioner. The path he took:
May 11, 1948: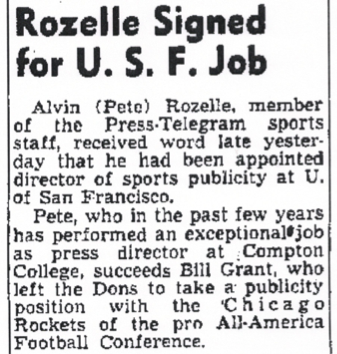 Feb. 22, 1952: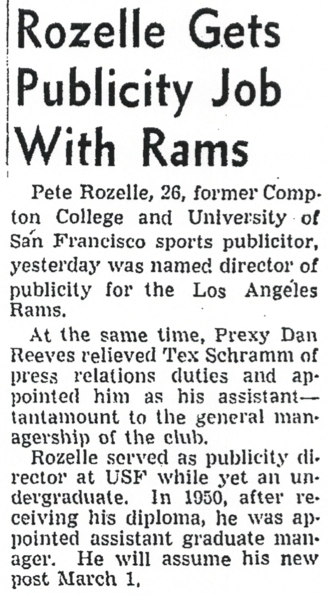 April 9, 1957:

And lastly, Jan. 27, 1960:

Not bad for a former Compton High Tarbabe.