While we're sitting around playing solitaire, waiting for the NFL's annual Free Agent Madness to begin, I thought I'd post something for your amusement.
In the first half of their existence (1921-70), before they moved to their current stadium/spaceship, the Bears played their home games at Wrigley Field. The place was built for the baseball, though, which made a football field a tight fit.
Close behind one end zone was the brick outfield wall. Close behind the other was the visitors' dugout. Actually, the dugout was more than close behind; it intruded on the left corner of the end zone and made it shallower than the standard 10 yards.
In 1938 Dick Plasman, the last man to go without a helmet in the NFL, ran into the wall trying to catch a pass. He suffered a broken wrist, a cut-and-bruised head and who knows what else. (He also met his future wife — one of his nurses — in the hospital, so it wasn't a total loss for him.) Here's an AP photo of him being carried off: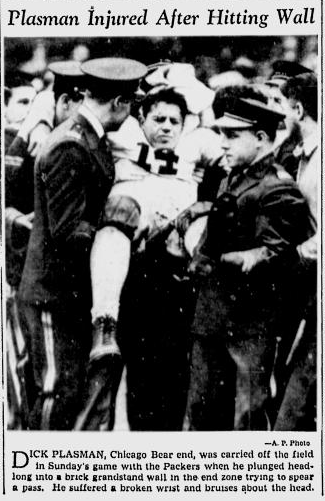 The dugout could be dangerous, too. A few years ago, Harlon Hill, a star wideout for the Bears in the '50s, told the Chicago Tribune he once "hit a part of it" while scoring a touchdown. "It really hurt," he said. "I tried to stop and I went half way over into the [box] seats."
If you're wondering what the end zone looked like with a dugout jutting into it, this screen shot from a 1944 Bears-Cleveland Rams game gives you a rough idea: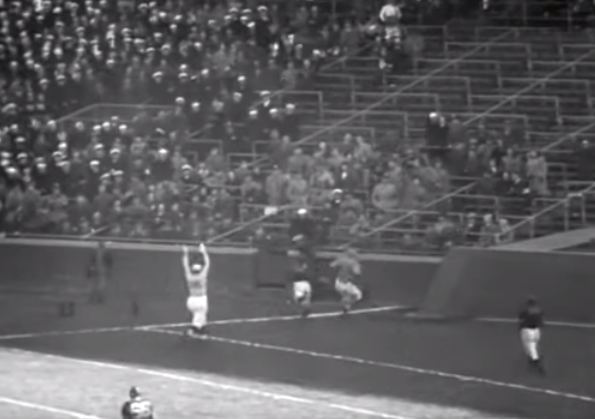 Finally, here's the video of the play leading up to the screen shot. The target is the Rams' Jim Benton, one of the top receivers in those years — and a guy you could make a decent Hall of Fame case for. Unlike Hill, his momentum didn't carry him into the dugout (which looks like it was covered with either canvas or thick plastic). But as you can see, he had to slam on the brakes to keep from falling into the stands.
OK, back to solitaire.