Before 1960, few running backs had a season as good as Frank Gifford's 1956. His 819 rushing yards were fifth-best in the NFL. His 603 receiving yards tied for seventh-best. His 1,422 yards from scrimmage were a league record for a back. He also threw two touchdown passes and, in his spare time, booted a field goal and eight extra points.
Not to go off on a tangent here, but I've always thought Gifford was a bit underrated. That might sound funny, him being in the Hall of Fame and all, but he wasn't inducted until 13 years after he retired, and he was rebuffed five times as a finalist before the selection committee waved him through.
Frank Gifford was no New York Creation. Frank Gifford was a great, versatile football player — in the days when more of a premium was placed on such things. Aside from the aforementioned skills, he was a fine defensive back and played both ways early in his career. After the Eagles' Chuck Bednarik sidelined him for more than a year in 1960, Frank reinvented himself as a (quite capable) wide receiver.
Did he have matinee-idol looks? Sure. But he was no pretty boy. Here he is playing without a facemask at Southern Cal: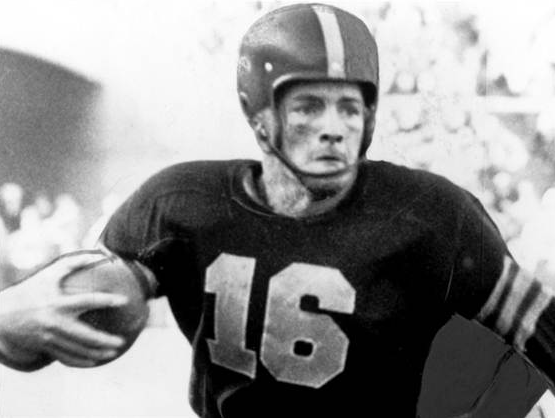 OK, I'm done with my spiel. Anyway, late in that 1956 season, with Gifford en route to the MVP award and the Giants headed to their first championship since 1938, he appeared on the CBS game show "What's My Line?" It was Sunday, Dec. 2, just a few hours after Giants had beaten the Redskins 28-14 at Yankee Stadium in a game that saw Frank account for all four New York touchdowns — two running, one receiving and one passing. You don't see performances like that any more. In fact, nobody's had a performance like that since — 58 years and counting.
What's truly astounding, looking at this clip again, is that Gifford wasn't instantly identified. After all, he'd already been to three Pro Bowls and was all-pro the season before. It just shows how much less visible the game was then, and how much less recognizable the players were. Frank was far better known for his work on Monday Night Football than he ever was as a footballer.
To try to throw off the panel a little, Gifford signs in as "F. Newton Gifford" from Bakersfield, Calif., his hometown. Bennett Cerf knows him on sight, but the others must not be very big football fans. My favorite line is when Arlene Francis says, "Well, it's not Red Grange."
No, it wasn't Red Grange. (The Galloping Ghost was 53 at the time.) It was Frank Gifford, future husband of Kathie Lee.
Arlene was a hoot, wasn't she? When she asked Frank, "Do you ever touch people that may come to you for services?" you just know she was hoping he was a masseur.
Source: pro-football-reference.com