This Redskins season has become so utterly devoid of meaning that a practice-field slapfest between an offensive guy and a defensive guy got turned into The Thrilla in Ashburn this week. I won't even bother you with the video. (Put it this way: I've seen disputes over parking spaces that were more spirited.)
Most Fridays, just for fun, I post a boxing or wrestling match featuring a former NFL player. But today I'm going to talk about some real football fights that took place in Actual Games, just to put Bashaud Breeland-Andre Roberts I in perspective.
Granted, there were some blows landed in the Breeland-Roberts bout, but did either of them pick up a goal-line marker and hit the other over the head with it? That's what the Steelers' John Henry Johnson did to the Rams' Bill Jobko during their late-game square-off in 1961.
Pittsburgh, down 24-17, was trying to salvage a tie when the Rams' Eddie Meador picked off a Bobby Layne pass and started heading for the end zone. Pat Livingston of the Pittsburgh Press described what happened next:
The brawling started when [running back] John Henry Johnson knocked Meador out of bounds on the Steeler[s] 7. Johnson was hit from behind and knocked down by linebacker Bill Jobko and got up swinging the goal-line marker.
The marker hit Jobko on the head but, luckily, the Ram was protected by the helmet he wore. It was enough to empty both benches, though.
Johnson emerged from the scrap with "a deep cut" on his nose, Jack Sell of the Pittsburgh Post-Gazette reported. Naturally, he was none too pleased about it.
"They were roughing me up all day," he said. "They were dirty as hell. I don't have to take it, and I won't."
(Years later, a story in the Post-Gazette revealed: "The Rams punished Johnson with a series of late hits in retaliation for Johnson having broken the jaw of Ram[s] linebacker Les Richter earlier in the game.")
Speaking of Richter — a Hall of Famer like Johnson — he was involved in another memorable fight, seven years earlier, on the same Los Angeles Coliseum field. It was the first quarter of a game between the Rams and Colts, and he and Baltimore defensive end Don Joyce got into it over something or other. It depends on your source.
Joyce said Richter started it by kneeing him on a kickoff return. Richter's version: "I blocked Joyce on the kickoff. He grabbed me by the head. My helmet came off in his hands, and the next thing I knew he hit me across the face with my helmet."
Here are a couple of visuals for you. The first is a photo of the aftermath — Richter lying on the ground, grabbing his face, while Joyce looks on unsympathetically. (Note the helmet at Don's feet. He was ejected from the game, by the way.)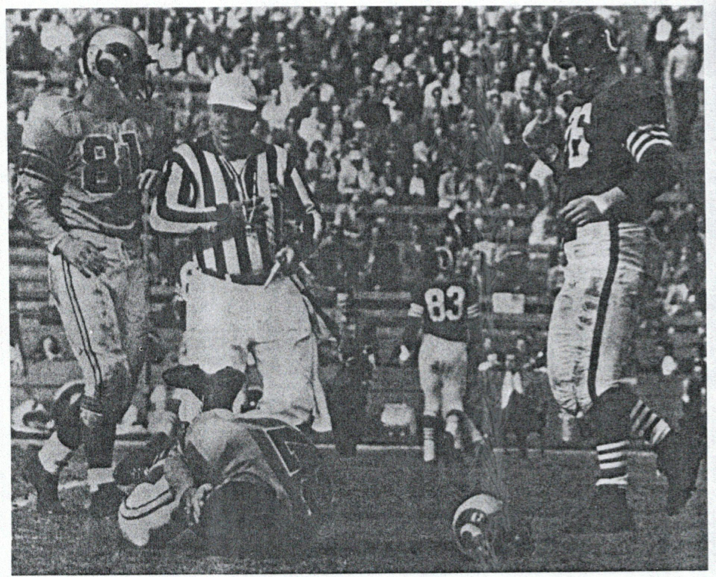 The second is a shot of Richter taken later in the week, after he'd needed 15 stitches to close the cut over his right eye.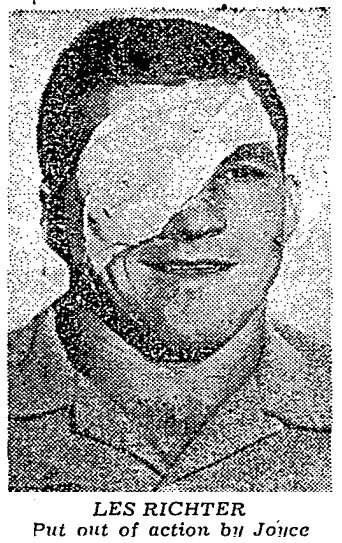 (In an era in which few holds were barred, Joyce was one of the tougher customers. As Carl Brettschneider, a roughhousing linebacker for the Cardinals and Lions, put it: "Every team had a guy the other team was always aware of – guys like Hardy Brown, John Henry Johnson, Bucko Kilroy, Don Joyce. You didn't turn your back on Don Joyce.")
Commissioner Bert Bell looked into the situation and — you'll love this — decided not to suspend Joyce. The Colts had one game left, against the 49ers in San Francisco, and Don was in the lineup. There may have been a fine, but I'm not even sure of that. Bell wasn't exactly a disciplinarian when it came to such matters.
"We cannot condone this short of thing," he told the Baltimore Sun. "But there is no sense flying off the handle and condemning the boy too harshly. I have already talked to the boy, and he and I will work it out. . . .
"Four or five years ago I fined two players heavily. After the season was over we got together and talked over the situation, and since that time neither has been put out of a game. They also got their fines back.
"If people would just let the players and myself thrash out the difficulties, we would be able to do it without all the fuss and bother."
They also got their fines back. That kinda says it all for 1950s justice — and for how the commissioner dealt with the violence issue. Bell, I'm convinced, low-keyed it because he figured if he did, sportswriters wouldn't make as big a deal of it. And for the most part, they didn't.
Finally, there's this from the Sun story: "Word from San Francisco says Joyce probably will get a big hand when he takes the field against the 49ers Saturday. The folks from the Golden Gate didn't care for the way Les Richter played against their team."
Now tell me again about this bloodless practice-bubble battle at Redskins Park.
Sources: pro-football-reference.com, The Pro Football Chronicle.