Not sure exactly when Ernie Ladd and Wahoo McDaniel, two heroes of the early AFL, met in this tag-team match at the International Amphitheatre in Chicago. YouTube says it was "the early '70s." That'll have to suffice. Wrestling's records, I'm afraid, aren't nearly as exacting (or available) as boxing's are.
Each man was legendary in his own way. Ladd was as enormous as he was talented — a 6-foot-9, 325-pound (at his heaviest), all-league defensive tackle for the Chargers. John Schmitt, the Jets'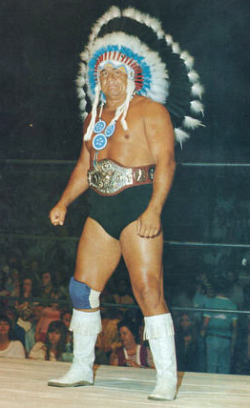 center, had a great quote about playing against him for the first time. "I looked up across the line of scrimmage," he said, "and there was Ernie Ladd. His eyeballs weighed five pounds apiece."
Ladd also had a prodigious appetite, and is said to have eaten 124 pancakes at one sitting in a contest. If you want to find out more about the "Big Cat," as he was called, check out this piece I wrote about him in 2007, not long after he died. It only begins to do him justice.
McDaniel, a 6-1, 235-pound linebacker, was a novelty because of his Native American heritage. He came from Choctaw stock and would enter the ring wearing a feathered headdress. HIs celebrity skyrocketed when he was traded from the near-invisible Broncos to the Jets in 1964, the year before Joe Namath arrived. The Shea Stadium P.A. announcer would say, "Tackle by . . . guess who?" And the crowd would shout, "Wahoo!"
Bud Shrake wrote a classic portrait of him in Sports Illustrated 50 years ago. A must read (if only to be reminded of how great SI used to be).
It's hard to say how many times Ladd and McDaniel met on the mat, but — wrestling being wrestling — it was certainly more than a few. Here's an account of one bout in Dallas in 1966 that ended in a draw when "both were counted out on the ring apron."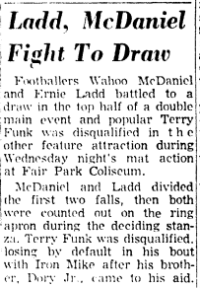 Guess it was part of their act, because they did it again in Lakeland, Fla., in 1978: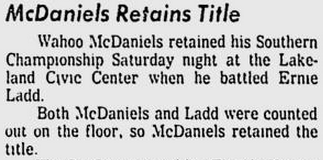 In the following clip, McDaniel is teamed with Cowboy Bill Watts, a former teammate at the University of Oklahoma, where they played under Hall of Famer Bud Wilkinson. In fact, Wahoo still holds the Sooners record for longest punt: 91 yards. Watts, a defensive tackle, left school early and signed with the Houston Oilers, but was cut in camp in 1961 (something I never knew until I researched this).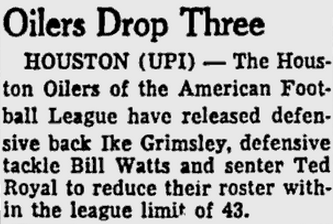 Ladd's partner is the equally famed Billy Graham. You can watch the whole video if you want; I've just pulled out some footage of Wahoo and Big Cat going at it, a little over a minute's worth. As you'll see, they both do some damage.
"He was a wild, crazy Indian," McDaniel's daughter, Nicky Rowe, said when he died in 2002. "He was bigger than life. He was amazing."
As we pick up the action, Graham, in trouble, is about to tag Ernie, who then climbs through the ropes to get at Wahoo. Brace yourselves.