Thursday night NFL games are one of our better examples of Man's Inhumanity to Man. The human body simply isn't built to play pro football twice in five calendar days. It probably isn't built to play pro football once every seven calendar days, but that's another matter.
Anyway, as you watch tonight's Redskins-Giants hostilities at FedEx Field, keep in mind how much worse it used to be for NFL players. Yes, worse. In the 1920s, for instance, games on back-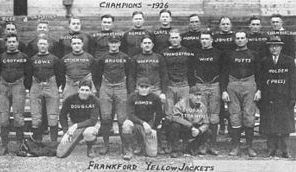 to-back days were far from uncommon. When the Frankford Yellow Jackets won the championship in 1926, they had three weeks where they played on Saturday and Sunday and another where they played on Thursday and Saturday. Amazingly, they won seven of the eight games.
In the '30s, the Portsmouth Spartans were fond of Wednesday home games under the lights at Universal Stadium. One season they had two Sunday-Wednesday-Sunday trifectas on the schedule — three games in eight days — and another week they played on Wednesday and Sunday. And this was the era, I'll just remind you, of 20-man rosters and 60-minute men (not to mention looong train rides).
Even in the '50s it could get a little crazy. The New York Yanks began the 1950 season with a Sunday/Friday week — on the West Coast — and later had two Sunday/Thursday weeks. Little wonder they wore down after a 6-1 start and finished 7-5.
So, yeah, Thursday night games are a raw deal. But the players of yore were treated even less gently.
Source: pro-football-reference.com