Last week we had the Bears bringing the 1923 Rochester Jeffersons back from the dead. This week we have J.J. Watt, the Texans' all-world defensive end, dredging up a player from 1938: Jay Arnold, a wingback for Bert Bell's Eagles. To quote Flounder in Animal House . . .
As ESPN.com's Tania Ganguli was good enough to note:
On Sunday in Cleveland, in a 23-7 win over the Browns, Watt became the first player since Arnold to catch two touchdown passes, return an interception for a touchdown and return a fumbled football for a touchdown all in the same season.
Watt, of course, did it as a defensive end. That's probably more impressive than a two-way back in the '30s doing it. After all, you wouldn't expect a D-end to grab TD passes. In Arnold's day, on
the other hand, a back could be expected to do just about anything, even kick. (And Jay did a little of that, too. In fact, he booted three extra points that season.  So he still has a leg up — literally — on J.J.)
What's cool about this cross-generational connection is that there's virtually nothing else to remember Arnold for. Watt is a two-time Pro Bowler and pass-rushing maniac who's building a case for Canton, but Jay had a mostly invisible career in which he scored all of six touchdowns and gained a grand total of 616 yards. He just happened, in 1938, to score TDs on both sides of the ball — and in three different ways. (Within a decade it became much harder to do this because, after the war, pro football evolved into a more specialized, two-platoon game. Fewer and fewer guys played both ways.)
But enough of that. Let's take a closer look at Arnold's '38 season. Here's something that might interest you: He scored three of those four TDs — on a reception, fumble return and interception return — in a single half, the first half of a 27-7 win over the Pittsburgh Pirates. (They weren't the Steelers yet.) They were the first three scores of the game and staked Philly to a 20-0 lead.
Nobody else in NFL history has had a game like that. Indeed, only four other players — Watt being the latest — have even had a TD catch, interception TD and fumble TD in the same season. (You've gotta love George Halas being one of them.) And again: Arnold did it in two quarters. The United Press summarized his heroics this way: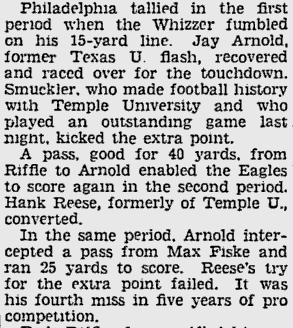 Did you notice how The Jay Arnold Story just got better? The "Whizzer" who coughed up the ball for the Pirates was their hotshot rookie running back, Byron "Whizzer" White. So Arnold not only had a once-in-95-NFL-seasons game, one of his scores was the result of a fumble by a future Supreme Court justice.
Arnold's other touchdown that year also had some significance. It came in Detroit on the last day of the season against a Lions team that, had it beaten the Eagles, would have forced a playoff with the Packers for the Western Division title. To their horror, Philadelphia jumped out to a 14-0 first quarter lead and upset them 21-7, with Arnold scoring the second TD on a 7-yard pass from fullback Dave Smukler. This is from The Associated Press: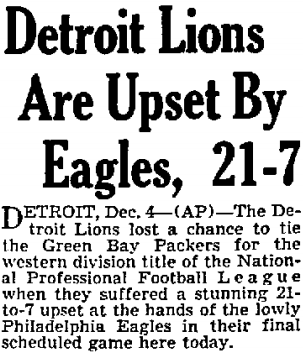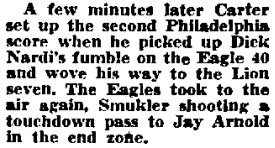 The Texans still have six games to play, so Watt may yet outdo Arnold. As he said afterward, "There's a lot of season left, so hopefully that's not the end of it." But let's not forget, Jay has those three PATs as his hole cards. Wherever he is.
Source: pro-football-reference.com, Spalding's 1939 National Football League Official Guide.