One more link — long forgotten — between pro football and March Madness:
In March 1947, when the NCAA Tournament was just nine years old, Holy Cross, a small Jesuit school in Worcester, Mass., won the championship by beating Oklahoma in the final, 58-47. The Crusaders were first Eastern team to take the title, prompting one New England coach to say they were "the greatest thing that has happened to New England basketball since its inception as a sport 50 years ago in Springfield." He was probably right.
NBA legend Bob Cousy was a freshman guard on that HC team. But the guy I want to talk about is the Crusaders' coach, Alvin "Doggie" Julian. Why? Because less than two months after winning the NCAA tourney, he joined the coaching staff of the NFL's Boston Yanks — while still hanging on to his college job, of course. You could do stuff like that back then.
Here's the headline that ran in the May 8, 1947, Boston Globe: 

According to the story, Julian had been serving as a football assistant at Holy Cross under Ox DaGrosa, but a "clash of temperaments" caused him to look for other fall employment. When the Yanks' Clipper Smith offered him the position of backfield coach, he jumped at it — with the understanding it wouldn't interfere with his college basketball duties. The seasons overlapped a bit, though, and it's possible Doggie missed the Yanks' last two games (on the road against the Steelers and Redskins) to devote his full attention to his hoopsters, who returned their entire starting lineup and stood a good chance to repeat as champs.
Julian had actually played some pro football in the '20s after graduating from Bucknell. He was an end for the Pottsville Maroons during their Coal League days in 1923 and '24, before they "graduated" to the NFL. Anyway, when the Yanks' 4-7-1 season was over, Doggie guided Holy Cross to a third-place finish in the NCAAs, then coached the Boston Celtics for two years before returning to the college ranks at Dartmouth.
It was a unique career, to say the least, one that put him in the basketball Hall alongside his favorite ball handler, Cousy.
I'll end with a couple of archival treasures — a photo of Doggie with his winning HC team (he's the fellow in the suit on the right) . . .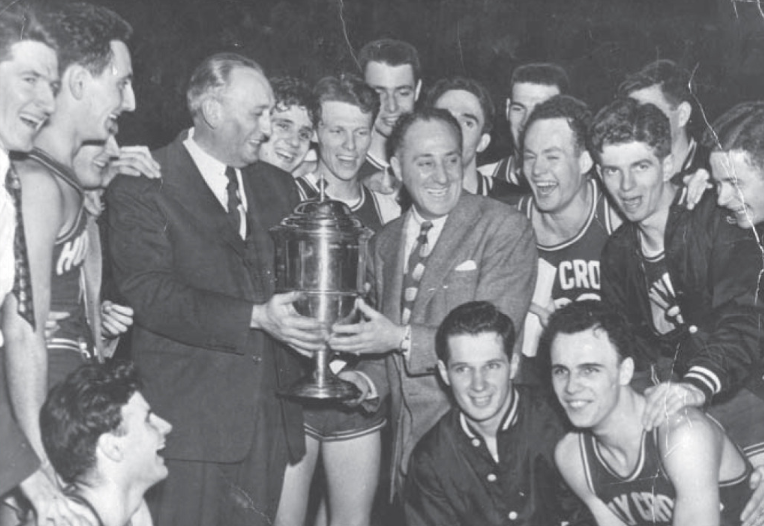 . . . and a screen shot of his bio in the Yanks' 1947 media guide.