The Patriots' current quarterback, Tom Brady, is one of the most recognized athletes on the planet. He's screen-star handsome, married to a supermodel and makes so much money that he recently gave his team some of it back. (Well, sort of.)
The Patriots' first quarterback, Ed "Butch" Songin, wasn't nearly as famous or well-off. In fact, when he wasn't calling signals for the 1960 Pats, he was coaching the football team at Marian High in Framingham. Here's the headline that ran in The Boston Globe:

NFL players having high school coaching jobs on the side wasn't unheard of in the early years. It was a way to supplement their generally modest salaries and prepare for their next career. By 1960, though, when the AFL came along, the money had gotten better, and it was pretty rare to see a pro footballer pacing a high school sideline — rare enough for Hank Hollingsworth of the Long Beach Press-Telegram to mention it in his column when the Chargers were in Boston.
"Butch Songin, the people's choice here, is platooning his talents," he wrote. "The former Boston College ace is quarterbacking the Patriots and also coaching the Marian High School team here."
(The AFL was quite a show in those days. Later in his column, Hollingsworth noted: "There's agitation here over commissioner [Joe] Foss. Boston wanted a player decision resolved by the commish last week, and when the Patriots checked Joe's office a secretary informed them that good ole Joe was b'ar hunting in Alaska!")
Songin was different from most guys in the young league. He was 36 years old. He'd spent the past several seasons playing semipro ball and, before that, had helped the CFL's Hamilton Tiger-Cats win the 1953 Grey Cup. (His NFL chances — the Browns drafted him 247th overall in 1950 — had been hurt by a knee injury suffered in a college all-star game.)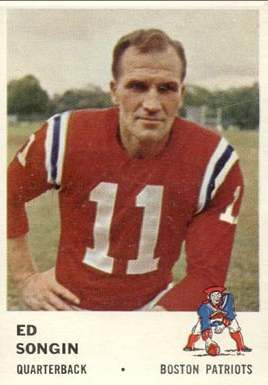 Songin, a local legend who grew up in Walpole, was able to pull off the "double grid duty" because the Patriots played their home games on Friday nights. Marian, on the other hand, usually teed it up on Sundays. He'd work out with the Pats in the morning, then drive to Framingham and run practice after school.
"The only let-up, if that is the word, Songin will get is when the Patriots are on the road," the Globe reported. "Then he will be spelled at Marian by John Ferri, former U. of Mass. back and Westwood coach. Also on deck will be Roger Smith, in his third year as line coach at Marian."
As it turned out, Songin had a better year at Marian than he did with the Patriots. His high school team went 6-2 and shared the Catholic League title. The Pats, meanwhile, lost their final four games and wound up last in the Eastern Division at 5-9 — not that their quarterback was to blame. Butch actually had a fine season, posting the second-best passer rating in the league (70.9) and throwing for 22 touchdowns.
The high point for him came in mid-November. Check out his game-by-game:
● Nov. 11 — Completes 19 of 34 passes for 234 yards, with three TDs and no interceptions (rating: 106.7) in a 38-21 win over Sammy Baugh's New York Titans.
● Nov. 13 — Marian beats Columbus, 22-8.
● Nov. 18 — Goes 25 for 35 for 220 yards, again with three TDs and no picks (rating (116.4), in a 42-14 victory over Hank Stram's Dallas Texans.
● Nov. 20 – Marian defeats St. Columbkille, 16-6.
How's that for a 10-day stretch?
After the season, it came out that Songin had suffered a pinched neck nerve in the fifth game and, to stay in the lineup, "took secret treatments for the ailment" the last two months. "I'll get another treatment," he told The Associated Press, "rest a few days and then back to work as a probation officer in Wrentham and hockey coach at Marian High."
Oops, almost forgot: Songin coached high school hockey, too. Indeed, he was an All-American at BC and led the Eagles to the 1948 Frozen Four.
Remember that when Super Bowl 49 is over — and Tom Brady goes off to wherever Tom Brady goes off to. Butch Songin, their first quarterback, went off to coach hockey at Marian High. But only after he'd coached their football team first.