This is as good a time as any to mention — in the wake of Sunday's Seahawks-Broncos classic — that this week is the 40th anniversary of the NFL's first regular-season overtime game. Yup, until 1974, we would have had to settle for a 20-20 tie at CenturyLink Field . . . and done without Seattle's eviscerating 80-yard touchdown drive in OT. Bummer.
(Actually, now that I think about it, there was no two-point conversion in '74, either. So Denver would have trailed 20-19 after its last TD and been forced to onside kick. Amazing how much of an impact these rule changes have had.)
But back to the subject at hand: ties . . . and their virtual elimination. The Broncos, it turns out, were involved in the first regular-season overtime game, too. As fate would have it, things didn't
work out that day quite as planned. Despite 15 minutes of bonus brutality, neither they nor the Steelers could break the 35-35 deadlock. Here's Vito Stellino's story in the Pittsburgh Post-Gazette about this Sorta Great Moment in NFL History.
Chuck Noll, Pittsburgh's Hall of Fame coach, had a funny quote afterward. "I don't like the idea of overtime," he said. "I have a tired football team that has to get ready for a football game next week. If we'd have one of these every week, it'd kill our team."
(One of the reasons it's funny, in retrospect, is that the Steelers didn't have another OT game for four years.)
Fortunately for the NFL, there have been only 18 more ties in the four decades since, a huge — and necessary — break from the past. In the '60s, after all, there 72 (counting the AFL), and in the first four years of the '70s, before OT came in, there were 29. Way too many.
In recent seasons, David Akers (currently team-less) has been the NFL's Prince of Ties. Akers played a principal role in two of the last three deadlocks — as a 49er in 2012 and an Eagle in '08.
Two years ago against the Rams, he kicked a 33-yard field goal with three seconds left to make it 24-24 and send the game to overtime. Then he missed a 41-yarder in OT to preserve the stalemate. (Attaboy.)
Four seasons earlier, he was good from 27 yards with 5:18 remaining to pull Philadelphia into a 13-13 tie with the Bengals. Once again, the overtime was scoreless (thanks to an errant 47-yard field goal try by Cincinnati's Shayne Graham with seven seconds to go).
Not that Akers' historical contribution figures to be remembered. That's the thing about tie games; because they lack resolution, they usually don't leave any footprints. Heck, for a long time, the league didn't even count them when calculating winning percentage. (The 7-1-6 record, for instance, compiled by the title-winning Bears in 1932 was considered a 7-1 mark. It was as if their other six games never happened.)
So why don't we pay homage to those forgotten heroes who shined brightest in tie games — even if, at the end of the day, they had to settle for half a loaf? The honor roll:
● QB Tommy Maddox, Steelers (Nov. 10, 2002, 34-34 tie vs. Falcons) — 473 passing yards (a record for a tie game and the highest total in the NFL that season) and four touchdown passes weren't enough to avoid a Dreaded Deadlock.
● LB Ken Harvey, Redskins (Nov. 23, 1997, 7-7 tie vs. Giants) — Racked up four sacks, the most in a tie game since the NFL began keeping track of the statistic in 1982. Alas, they were overshadowed
by the antics of Washington quarterback Gus Frerotte, who celebrated his team's only score — on a 1-yard bootleg — by bashing his head into the end zone wall and suffering a neck injury that knocked him out of the game.
● WR John Gilliam, Cardinals (Oct. 26, 1969, 21-21 tie vs. Cleveland) — Had four catches for 192 yards and all three St. Louis touchdowns. The first two TDs measured 84 and 75 yards; the third, a 15-yarder, came with just eight seconds to play.
● RB Gary McDermott, Bills (Oct. 12, 1968, 14-14 tie vs. Dolphins) — McDermott tied the game in the final seconds with an eight-point play, catching a three-yard touchdown pass from Dan Darragh and a two-point conversion toss from Ed Rutkowski. He's the last player, by the way, to do that. (It was also, to give it its proper due, one of only two games that year that 1-12-1 Buffalo didn't lose.)
● QB Sonny Jurgensen, Redskins (1967) — Threw four touchdown passes in a tie game not once but twice, in a 28-28 tie with the Rams (Oct. 22) and a 35-35 tie with the Eagles (Dec. 3). In the latter, Norm Snead, the quarterback Philadelphia acquired for Sonny in a 1964 deal, also tossed four TD passes. So for a day, at least, it was an even trade.
● FB Jim Taylor, Packers (Dec. 13, 1964, 24-24 tie vs. Rams) — Gained 221 yards from scrimmage (165 rushing, 56 receiving) and ran for a touchdown to knot the score with two minutes left. He accomplished this, moreover, against the Rams' vaunted Fearsome Foursome (Deacon Jones, Merlin Olsen et al.), which led the league in rushing defense.
● Lou Groza, Browns, and Jim Bakken, Cardinals (Sept. 20, 1964, 33-33 tie) — Only two kickers in history have booted as many as four field goals in a tie game: Groza and Bakken . . . in the same game. Groza connected from 32, 12, 37 and 25 yards, Bakken from 30, 51, 44 and 28 (his last with five seconds to go). That same afternoon, Lou scored his 1,000th NFL point and Jim broke the franchise record for longest field goal. All in all, not a bad day.
● WR Charley Hennigan, Houston Oilers (Oct. 13, 1961, 31-31 tie vs. Patriots) — Set an AFL mark — never broken — for receiving yards in a game with 272.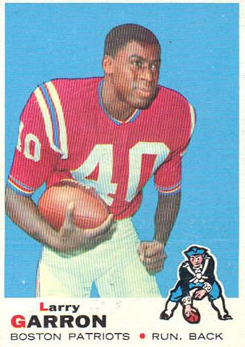 ● RB Larry Garron, Patriots — Nobody got up for the tie games like Larry. Check out his performance in four of them:
1. Oct. 13, 1961 vs. Oilers (31-31) — 89-yard kickoff return touchdown.
2. Nov. 3, 1962 vs. Bills (28-28) — 95-yard kickoff return TD and, in the fourth quarter, a 23-yard scoring grab to tie it at 28. (In case you're wondering, the aforementioned kickoff return TDs are the only two of his career.)
3. Nov. 17, 1963 vs. Chiefs (24-24) — 47-yard TD run.
4. Oct. 16, 1964 vs. Raiders (43-43) — Three TDs (one rushing, two receiving), as many as anyone has scored in a tie game.
● QB-K Bobby Layne, Steelers (Nov. 8, 1959, 10-10 tie vs. Lions) — Fired a 20-yard touchdown pass to Tom Tracy in the last few minutes, then kicked tying extra point. And consider the backdrop: It was the first time the Hall of Fame quarterback had faced the Lions since they traded him in '58. Talk about a clutch tie.
● QB Frank Filchock, Redskins (Oct. 8, 1944, 31-31 tie vs. Eagles) — Tossed five touchdown passes, the most ever in a tie game. How did the Redskins end up with only 31 points, you ask? Simple. They botched four PATs.
● WR Don Hutson, Packers (Nov. 22, 1942, 21-21 tie vs. Giants) — Caught 14 passes for 134 yards and two touchdowns. The 14 receptions tied the NFL record for a single game.
Other items of interest:
● In 1967, the Houston Oilers' Miller Farr picked off three passes in a 28-28 tie with the Jets. According to my research, that's the most in a tie game. A month later, his brother Mel Farr rushed for 197 yards for the Lions in a 10-10 tie with the Vikings — the biggest rushing day in a tie game since 1960.
● Little-known fact: Not once since 1974, when overtime was adopted, has a two-point conversion been the last score in a tie game. (The Broncos, in other words, would have been the first if Sunday's game had wound up a draw.)
● Another little-known fact: Nobody has ever kicked a really long field goal to cause a game to end in a tie. The longest I've come across is a 41-yarder by the Chiefs' Nick Lowery in a 10-10 defensive struggle with the Browns in 1989. His boot wasn't a buzzer-beater, either. It went through with 3:48 still on the clock.
● Finally, the '74 Steelers club that played the Broncos to a 35-35 standoff in the first regular-season overtime game went on to take the title — making it the last Super Bowl winner with a tie on its resumé.
Sources: pro-football-reference.com, National Football League Fact and Record Book, The Sporting News American Football League Guide, The ESPN Pro Football Encyclopedia.