Those curious about the early years of pro football might want to get their hands on the following books. They're not necessarily the best that have been written about the game's beginnings, but they're among the first (which is why some of them are so darn expensive, even used).
At any rate, if you're trying to assemble a Serious NFL Library, these should definitely be on your wish list:
● Pro Football: Its "Ups" and "Downs," by Dr. Harry A. March (J. B. Lyon, 1934) — This is thought to be the first book ever written about the pro game. The author, Harry March, helped launch the Giants as their general manager in 1925 and, two years later, put together their first championship team. (Before that, he was a physician in Canton, Ohio, home of the Bulldogs, and also served as the medical examiner — meaning he performed autopsies.)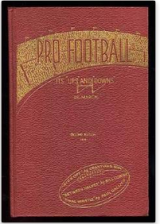 Quite a fellow, this March. And Pro Football is quite a book, a breezy blend of fact and fable. Thus its subtitle: "A Light-hearted History of the Post-Graduate Game." Sprinkled in are all kinds of Harryisms, such as, "You can't carry the mail if you dally too much with the female" and "'Tis better to have passed and lost than never to have passed at all."
Where else can you learn that "Dutch" Maulebetsch, an All-American from Michigan who played for a semipro club in Ann Arbor, was "the lowest-running back we have seen; [he] could plunge at full steam under an ordinary kitchen table without touching it with his shoulders, the arm not grasping the ball swinging like a flail to ward off tacklers or preserve his balance as would a third leg. He hit low and he hit hard" — so low and so hard that once, "intent only upon scoring a touchdown, he knocked the legs of a mounted policeman's horse from under him, the horse, policeman and 'Dutch' falling in a muddled heap." There's plenty more where that came from.
Antiquarian note: March updated the book in 1939, not long before he died. The first edition had a blue cover, the second (pictured here) a red one.
● Football, by Potsy Clark (Rand McNally, 1935) — Clark, who coached Lions to the 1935 title (and led their ancestors, the Portsmouth Spartans, to the '32 championship game) wrote a booklet rather than a book. Still, its 32 pages are packed with play diagrams and instructional photos that tell much about pro football in that period.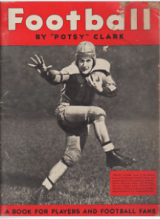 Most interesting of all might be the 100-yard "Strategy Map" that details his offensive philosophy in the various parts of the field. For instance, when the offense is backed up to its 15 or deeper — the "Bad Lands" in the Clark lexicon — it should punt "on first or second down . . . from [the] crest of [the] field." Upon reaching the opponent's 40 — the "special-play area" — it should "use such short passes, trick plays or regular plays as will gain a great number of yards and save the team for the scoring zone [i.e. the red zone]."
You'll love Potsy's description of Shipwreck Kelly, the Brooklyn Dodgers' daredevil, catching a punt by Giants Hall of Famer Ken Strong and kicking the ball right back. Kelly "caught a punt in his own territory, began his run, which brought his opponents toward him, and then booted without a chance of the kick being blocked. [If] Kelly's opponents fumbled the kick, the chances for recovery by Kelly's team were excellent, since the opponents' attention was centered downfield and Kelly's teammates were in the majority down where the ball was kicked."
● Who's Who in Major League Football, by Harold "Speed" Johnson and Wilfrid Smith (B. E. Callahan, 1935) — Before there were Sporting News Pro Football Guides and Registers (remember those?) there was Who's Who in Major League Football. I chose the 1935 edition because it's the best. Smith, by the way, was a former NFL player who became a sportswriter for the Chicago Tribune, and Johnson edited a similar series of Who's Who books for baseball.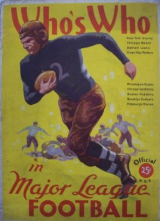 What makes the '35 Who's Who the Preferred One is the player thumbnails, which are longer than in later editions and full of fabulous trivia. You learn that Giants fullback "Lefty" Corzine, while "with the [NFL's] Cincinnati Reds in 1933, . . . played in every minute of eight consecutive games and, while so occupied, lost 18 pounds." You learn that against the Giants in 1930 — the pre-stats era — end Jim Mooney "punted 14 times for Brooklyn, his efforts averaging 64 yards each from the line of scrimmage." You even learn the Bears' home addresses. Hall of Fame tackle George Musso lived at 206 Park Ave. in Collinsville, Ill.
In the back, there are a glossary of football terms "for [the] casual fan" and bios of NFL officials. Three 1935 zebras — Paul Menton (Baltimore Evening Sun), Jack Reardon (The New York Times) and Gus Rooney (Boston Traveler) were either current or ex-sportswriters. I could go on, but you get the idea. Wish they published books like this today.
● The Modern T Formation with Man-in Motion, by Clark Shaughnessy, Ralph Jones and George Halas (self-published, 1941) — For me, The Modern T Formation was the Holy Grail. In my newspaper travels in the '80s and '90s, I searched every used bookstore from here to Seattle looking for a copy. No luck. Then the Internet was invented, and the search became a lot easier. It was the last of the Starting 11 I signed to a contract, so to speak.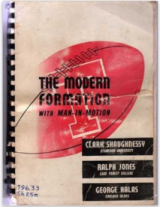 Why is this book so important? Because it basically invented modern offensive football. Or rather, its three writers — Bears coach George Halas, former Bears coach Ralph Jones and former Bears assistant Clark Shaughnessy (then at Stanford) — did. In December 1940, Halas' team, with its quarterback under center and its backs motioning right and left, had shocked the world by trampling the single-wing Redskins 73-0 in the title game. Six months later, Halas, Jones and Shaughnessy self-published their strategic masterpiece in a paperback, comb-bound edition. And the game was never the same.
Like Clark's Football, The Modern T Formation is largely an X's and O's manual — only much more extensive. It's basically the T's first playbook, written for the thousands of coaches who would adopt the formation in the next decade and add their own flourishes. As revolutionary as the offense was, though, it still emphasized running the ball. From page 97:
"The two most important plays in the 'T' formation system, not necessarily from the standpoint of yardage possibilities, but because they are the key plays, are the two fullback end runs — one to the right ([Diagram] No. 17) and the opposite one to the left, on which the halfbacks in motion block in the defensive ends. The 'T' formation field general 'sets up' the defense opposing him with these two plays. If there is no adjustment on the defensive line of scrimmage or in the play of the backers-up, these fullback end runs will produce long yardage. If the defensive line and backers-up do adjust their assignments, then other opportunities will be exposed. The quarterback looks for these adjustments as he is counting while the man-in-motion is moving across the field. The quarterback's taking of the ball from the center is merely a mechanical move and does not require the quarterback's looking at the ball [unlike the tailback in the single wing, with its shotgun snap], and for this reason he can put his entire attention to observing the defensive changes that are being made to cope with the man-in motion."
The "Do's and Don'ts" section is also fascinating. In 1941, Halas, Jones and Shaughnessy were telling coaches: "DO usually pass on second and one or two yards to go."
Must, must, must reading.
● My Life with the Redskins, by Corinne Griffith (Barnes, 1946) — Griffith, wife of team founder George Preston Marshall, was a former silent-screen star. Judging from this playful romp through Redskins history, she would have been an all-pro dinner companion — smart, funny and opinionated. (She later wrote the semi-autobiographical Papa's Delicate Condition, which was made into a movie starring Jackie Gleason as the tipsy father.)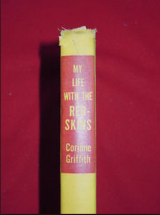 Corinne gives great Inside Scoop. Fullback Andy Farkas, she says, "had never made love to a girl; he had never proposed to a girl; he had never even kissed a girl!" when he met his wife-to-be, Ellen (who was his nurse at St. Vincent's Hospital when he was recovering from knee surgery). So "he had his coach [Ray Flaherty] write the letter of proposal; he had his coach buy the engagement ring; then he decided to do the kissing for himself."
See what I mean? The woman is a riot.
One more. Corinne on sports medicine in 1946 (in this case the treatment of an unconscious player): "Doc Bohm's assistant trainer, Kelly, arrived with his little bag of lemons. He has one of the most invidious habits I know. He is constantly rushing up to football players, cramming the open end of half a lemon against their teeth, then squeezing it. Just writing about it sets my teeth on edge. And that is assistant trainer Kelly's whole theory. He firmly believes that a football player with his teeth on edge will fight harder, run faster and score sooner. . . . Assistant trainer Kelly squeezed his lemon just as a shot rang out. I thought maybe they were putting the poor [concussed player] out of his misery, but it was the end of the third quarter."
● The Green Bay Packers, by Arch Ward (Putnam's, 1946) — Lord knows why they let somebody from Bears Country, the Tribune's Ward, write this book. But Arch does a creditable job recounting the tale of the small-market team (1930 population: 31,017) that struck it big in the NFL.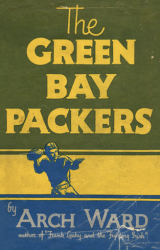 Among other things, we learn that Don Hutson, the Packers' consummate receiver, might never have played football if a friend hadn't talked him into going out for the team as a senior at Pine Bluff (Ark.) High. (Up to then, Hutson, a lean 150 pounds, had focused on basketball and baseball.)
After the season, the friend was recruited by Alabama, but he refused to go unless they also took his buddy Don. Tide coach Frank Thomas finally agreed. Two years later, the friend dropped out of school — and Hutson went on to become an NFL immortal.
We also learn why the Packers threw the ball so much in the prewar years, which was hardly the norm for a Notre Dame Box offense. In 1919, their first season, they went to Ishpeming, Mich., to play a tough semipro team, and after just three running plays they'd lost their quarterback and two tackles with serious injuries. So player-coach Curly Lambeau "suggested a drastic switch in tactics — no [running] plays, just passes and punts," Ward writes. The Packers won 33-0, proving "conclusively that that brawn could be conquered by strategy. . . . It was to become a concrete factor in Green Bay offensive play."
● My Kind of Football, by Steve Owen (David McKay, 1952) — A fine memoir by Hall of Famer Owen, who played in the NFL in the '20s and early '30s, then coached the Giants through 1953, winning two championships. (One of the reasons the book is so readable, no doubt, is because of the help he got from his "editor," Joe King of the New York World-Telegram, who had few peers as a pro football writer in those days.)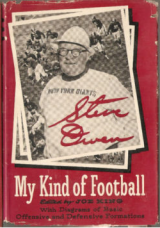 Owen barnstormed with Red Grange, tackled Bronko Nagurski and wrestled during the offseason (sometimes under the name of Jack O'Brien). That makes his autobiography a little different from those of contemporary coaching legends, most of whom never played pro ball. Steve can regale us with stories about Bronko (and others) from a player's and coach's perspective. For example:
"I never claimed I could stop Nagurski, any more than I ever insisted I could walk through a steel door, but I believe I did as well as any other tackle to annoy the Bronko. Tacklers to Nagurski were like flies on the flanks of a horse. . . . The Bronko was so rugged as a player that I ordered the Giants to simply avoid tackling him head on in the championship playoff of 1933. . . . What I did was assign two men to cover him, and three on certain plays. They were to throw themselves in front of him, blockwise, in hopes of tripping him or knocking him off stride, so that the rest could fall on him like a wolf pack. . . . In that way I did sacrifice a few yards now and then, but I made sure he didn't break loose."
● The Official National Football League Football Encyclopedia, by Roger Treat (Barnes, 1952) — Total Football and The ESPN Pro Football Encyclopedia, in their weighty splendor, would come much later. It was Treat who blazed the trail, though, and he provides a ton of information about the league's first 32 years — the evolution of the game, the coaches, the players, the records, you name it.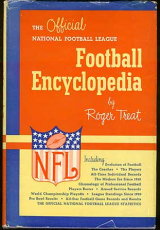 This was more than a decade before the Pro Football Hall of Fame opened, remember. So when perusing the "All-Time All-Star Team" — 33 players, voted on by a panel of experts — I couldn't help noticing that five still aren't in Canton (Lavie Dilweg, Fred Davis, Bull Behman, Ray Bray and Nate Barrager). Seems like too many. Maybe somebody should point this out to the Veterans Committee.
Treat, a sports columnist for The Washington Daily News and the Chicago Herald-American, was a great friend of the pro game. (The book jacket says he "married Gertrude Dahl, prominent Ziegfeld girl of the '30s.") He was also a great friend of researchers. On top of everything else, his encyclopedia has an index.
● The Story of Pro Football, by Howard Roberts (Rand McNally, 1953) — Roberts followed March's lead by writing an anecdotal history of the game, devoting a chapter to each of the NFL's 12 teams (and assorted other subjects). As with Pro Football: Its "Ups" and "Downs," some of the stories are apocryphal — or at the very least unverifiable — but there's more than enough substance to make up for it.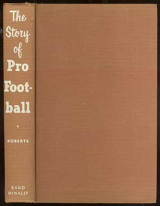 Pro football in those years was every bit as rough as you've heard. Here's Roberts, who worked for the Chicago Daily News, revisiting a particularly nasty incident between the Bears and Brooklyn Dodgers: "Bill Osmanski likes to tell the tale of a Bears-Brooklyn game in which the Dodgers' great tackle, 'Bruiser' Kinard was giving him a bad time. On one play Osmanski was knocked cold, and [teammate Joe] Stydahar, picking him up, asked, 'Who did it, buddy?'
"Osmanski said he wasn't quite sure, but it was either No. 52 or No. 25 [Kinard].
"'A couple of plays later, Stydahar and Kinard crashed together so hard the force of the collision opened a deep gash on Kinard's arm, and he had to go to the clubhouse to have some stitches taken in the wound,' Osmanski relates. 'The officials couldn't believe a mere collision, no matter how violent, could cause such an injury. They thought Joe must have been wielding a knife. In fact, they searched all of us for concealed weapons. They even looked in Stydahar's mouth to see if he could have bitten Kinard! That was a waste of time if I ever saw one. Joe couldn't bite anybody. Not without teeth.'"
● Inside Pro Football, by Joe King (Prentice-Hall, 1958) — I mentioned King earlier, as the collaborator on Owen's My Kind of Football. Inside Pro Football is every bit as good, as much as anything because of his reporting on the business end of the game, which didn't get a great deal of coverage in the '50s.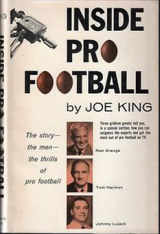 The average NFL salary in 1957, according to King, was $9,500. When the Lions fired coach Gus Dorais after a 3-9 season in '47, they had to pay him $25,000 a year for the next four years. The Redskins sold 916 season tickets in '37, their first year in Washington. Within six years they were selling 22,000. The book is full of stuff like this, stuff you won't find anywhere else.
King was as connected as any writer in that era – and in Inside Pro Football it shows. He also doesn't pull any punches, addressing the violence issue, intraleague squabbles and the NFL's insistence on controlling its product by "taking direct charge of announcers, cameramen and directors." "An announcer . . . is not a critic, a coach or an official," commissioner Bert Bell is quoted as saying. "He is a salesman for pro football."
There are wonderful vignettes, too, like the one about Owen and Eagles coach Greasy Neale. "Neale didn't learn until years later why Steve . . . presented him with a beautiful, costly white Stetson hat to wear for luck on the bench," Giants scout Jack Lavelle told King. "Steve [whose vision was lousy] wanted to pick out Greasy easily during a game to try to catch his signals."
● Pro Football's Rag Days, by Bob Curran (Prentice-Hall, 1969) — After The Glory of Their Times, Lawrence Ritter's classic oral history of baseball's early years, was published in 1966, several writers came out with a pro football version. Curran gave us Rag Days, Myron Cope followed with The Game That Was (1970) and Richard Whittingham added What a Game They Played (1984) to the pile.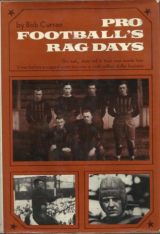 All three books have their merits — and their different voices. Curran's makes my list because, well, he did it first.
Jack Cusack, who managed the Canton Bulldogs in the Teens – before the NFL was formed – talks in Rag Days about one of his players dying of injuries suffered in a game. "In making a tackle," he says, "[Harry] Turner's back was fractured and his spinal cord completely severed."
Hall of Famer Benny Friedman, pro football's first great passer, reminisces about how he helped sell the young league to a not-always-receptive public. He and the Cleveland Bulldogs PR man, Ed Bang, "used to travel a day or two ahead of time to the city we were going to play in. Ed would buy two bottles of whiskey and we'd walk into a newspaper office. He'd hand one bottle to the sports editor and the other to the sports columnist, he'd introduce me, and then we'd kibitz. That was the way we got our publicity."
Curran also sat down with Dutch Clark, Mel Hein, Sid Luckman, Whizzer White and other legends. It was Clark who told him about the time he went to the Portsmouth Spartans treasurer to collect — with some insistence — a substantial amount of back pay. He was handed "600 single dollar bills," straight from the box office. "I had dollar bills crammed into my pants pockets, my overcoat pockets, my suit coat pockets and every other place I could find."
● The Twelfth Man (in case one of the others pulls a hamstring): The Public Calls It Sport, by Harry Wismer (Prentice Hall, 1965) — This is more of a dirty-laundry book about behind-the-scenes dealing in the NFL and AFL, but hey, who doesn't love a dirty-laundry book? Wismer was a famous sportscaster who owned pieces of the Redskins and Lions before founding the AFL's New York Titans (now the Jets) in 1960. By the time he wrote The Public Calls It Sport, he was struggling financially (and physically) because of his disastrous Titans venture and, clearly, had some scores to settle.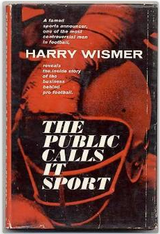 If you can work your way past that, though, Wismer's view of various events — and the men who orchestrated them — is intriguing to say the least. Consider his take on the NFL's institution of the college draft, which has always been thought of as Bert Bell's baby:
"In February 1936, when it was finally adopted, . . . Bell spoke long and argued forcefully for the draft, couching his appeal in terms of its overall advantages to the league, but his personal prestige and strategic position were not particularly high then. His franchise was one of the poorest and weakest in the league, and he was vulnerable to the charge of self-seeking. . . . [Lions owner Dick] Richards' support of the plan was critical. As one of the 'haves' who stood to lose heavily if the draft was adopted, he was open to no such selfish charge. He may have been influenced originally by a desire to humble his archrival, [George] Halas, but he would not have willingly seen his own club weakened simply to bring down the Bears."
Never looked at it that way before. But think about it: In 1936 the NFL had nine teams — five "haves" (Giants, Redskins, Bears, Packers, Lions) and four "have-nots" (Dodgers, Eagles, Pirates, Cardinals). That meant the "haves" ran the show unless one of them broke ranks. In this instance, Richards did — and the league, to its lasting benefit, took a major step toward being better-balanced and more competitive.